Quick Links
Site Rules
Contact Staff
Celestia: astral@rpgdragons.org Baldirak: baldirak@rpgdragons.org
Latest topics
»
Fish, Fins, and Scales (Poem)
by
Poem
Sun Feb 21, 2021 9:53 pm
»
Resentment (Soshi)
by
Soshi
Sat Feb 20, 2021 8:00 am
»
A Salty Encounter(Open)
by
Minnow
Sat Feb 06, 2021 9:57 am
»
Ashram(solo)
by
Richard
Fri Feb 05, 2021 7:13 pm
»
Taking the Reins? (IceWings)
by
Gemna
Fri Feb 05, 2021 2:06 pm
»
Totally Normal Humans (Paradox)
by
Soshi
Fri Feb 05, 2021 8:35 am
»
Eluuna (Finished)
by
Baldirak Sapiens Draco
Thu Jan 28, 2021 11:49 pm
»
Something to Care About
by
Abbadon
Wed Jan 27, 2021 11:22 am
»
Poem, the lost
by
Baldirak Sapiens Draco
Fri Jan 22, 2021 12:28 am
»
New Arrivals (Helia + Attor) [In need of a Guardian]
by
Attor
Tue Jan 19, 2021 10:09 pm
»
Dark Shadows
by
Poem
Wed Jan 13, 2021 11:01 pm
»
Leona's dragon
by
Baldirak Sapiens Draco
Mon Jan 11, 2021 5:25 pm
»
Dealing with Darkness Part 2 (Chogath)
by
Chogath
Mon Jan 11, 2021 12:06 pm
»
The Liber Perpetuity Mortis (Necromancy Lore, still in progress)
by
Tenebris
Mon Jan 04, 2021 8:49 am
»
Account Deletion Request
by
Baldirak Sapiens Draco
Mon Jan 04, 2021 12:24 am
»
A Difference...(Open)
by
Poem
Tue Dec 22, 2020 11:50 pm
»
Harsh Realities (Open to Humans)
by
Soshi
Mon Dec 21, 2020 1:21 pm
»
Island-Call [Wake]
by
Phantasmas
Thu Dec 10, 2020 9:06 am
»
Discord Server?
by
Lori Iolar
Wed Dec 09, 2020 9:57 am
»
Welcome To Chatbox.
by
Baldirak Sapiens Draco
Mon Dec 07, 2020 9:51 am
»
Zyra the Kind
by
Baldirak Sapiens Draco
Mon Dec 07, 2020 9:38 am
»
Wondering Lost Thoughts (Open)
by
Poem
Sat Dec 05, 2020 9:00 pm
»
Who Dat? (Tene and Family)
by
Tenebris
Sat Dec 05, 2020 3:18 pm
»
Monsters, M o n s t e r s! (open)
by
Poem
Tue Dec 01, 2020 9:59 pm
»
Well... Here we are again
by
Tenebris
Tue Dec 01, 2020 12:12 pm
Who is online?
In total there are
5
users online :: 0 Registered, 0 Hidden and 5 Guests :: 1 Bot
None
Most users ever online was
315
on Mon Nov 04, 2019 1:22 pm
Type of Character:
Human
Link to Character List Page:
Name:
Khada Dis (kuh-hod-uh dees)
Alias:
Dis, The Sapphire Knight, Blue Warrior of Lestonnia
Age:
29 years
Gender:
Female, but none know this. Everyone believes she is a male due to her bulky armor except for her fellow knights of Lestonnia and Prince Solomon Wyrmfyre himself.
Sexuality:
Heterosexual
Personality:
Khada Dis is an adventurous woman who wants to experience everything yet who also wants to keep living by her duty as a knight of Lestonnia. She is most often standoffish and stays quiet around those she does not know outside of her work, but when she is on duty she is has a burning tongue hot enough to scorch the strongest blade. She is not afraid to bark out orders to those who are inexperienced and is ruthless to those who stand against her and Lestonnia. She uses her savage thinking to claim a victory alongside her brute strength. Dis is quite a serious woman but has a temper, as she can lash out when infuriated. The woman is the type who will do anything to win or get what she wants which makes her a superb knight. However, to allies she can be calm and friendly.
Fears:
>Being banished from Lestonnia
>Failing her duty as a knight
>Losing Solomon Wyrmfyre
>Becoming a regular housewife
>Drowning
Strengths:
>Khada Dis is stronger than the average female. She has a higher pain tolerance and can cause a little more damage than an average woman would.
>She is good at dodging attacks.
>Outside her armor, Dis is an agile and swift fighter.
>In her armor, she is good at intimidation as she gives a sense of dread to enemies.
Weaknesses:
>Khada Dis is clumsy in her armor and quite slow when running.
>She is not good at swimming, both in and out of her armor. Her heavy armor makes her sink, and a traumatic event in her childhood makes her instantly freeze up when submerged in water.
>While the woman is determined, she can be overly so. She will never give up in a fight which can lead to an untimely demise. She refuses to die peacefully and would rather die fighting.
>Khada Dis is rather forgetful and has a fiery temper, which causes her to leap headfirst into danger at times.
Life InfoHome:
Lestonnia
Profession:
A true knight, bound by honor 'til her last breath.
Family:
Dis does have a family, but they are insignificant. A notable relation, however, is one of herself and Solomon Wyrmfyre who are secret off-and-on lovers. She has an illegitimate son with him named Dominic.
General AppearanceHeight:
5 feet, 7 inches out of armor, 5'11 in armor.
Hair:
Khada Dis has hair that goes halfway down her back. It is wavy and a dark chocolate brown, almost black. It does well in bringing out her fair skin and highlighting her eyes.
Eyes:
Dis' eyes are a rare shade of orange, like the color of a forest fire.
Appearance:
Behold is a tall figure in a suit of armor the color of silver, the plates large and bulky yet smooth and flawless to the touch. An elegant helmet conceals the face of a knight, only two slits across the head for the warrior to see through. Between the eye-slits is a crest of gold which resembles a lonely flame. On the sides of the helmet are two sculpted wings, and atop is a sprout of feathers the color of sapphire. Two armored plates are on each shoulder and the chest, the shoulders golden and resembling feathered wings and the chest silver with a golden engraving. The waist is covered with a blue and grey cloth. All in all, the sight of this knight tends to bring a sense of safety for allies yet a feeling of dread for enemies.
Many believe this knight is a man. They are wrong.
Beneath the armor is a woman named Khada Dis, a fair-skinned lady with long wavy dark hair and blazing orange eyes shining through a veil of thick eyelashes. Though strong, Dis still has the same slender, attractive, and feminine form as most women do. Her lips are full and a natural shade of red. Even out of her knight attire, Khada Dis never goes anywhere without armor. Outside her knight attire, Dis wears a black and bronze chestplate covering her torso and greaves of the same color. She wears a skirt the color of sapphire blue with a reddish-orange color on the inside with arm cloths and a ribbon around her neck to go with it.
The Sapphire Knight:
Khada Dis In Her Noble Attire:
Skills and AbilitiesSkills
>Khada Dis is very proficient at using weapons. She has mastered the use of them all. This makes Dis a worthy opponent.
>She is a skilled survivalist. This means if she was stuck in the wild near no civilization for days she will be able to survive with her knowledge of nature and how to improvise with what she has.
Equipment:
In Knight Attire
>A double-bladed sword. It is made of steel and has serrated sides of both blades. It is 5 feet and 5 inches long and is most often equipped on her back. It is good for stabbing and going against multiple opponents at once. Its weakness is the grip in the center of the two blades which is weaker than the blades themselves, allowing the weapon to be able to be broken in two pieces.
>Dual daggers made of steel. They are six inches long each and while they are not as durable, they let Dis move as fast as a whirlwind(figurative language) and they cause a good amount of damage that can sting like a bee. It is capable of causing deep cuts but can be knocked out of a hand with ease.
>A large greatsword. It is also made of steel but is considerably weaker than the double-bladed sword and the combined strength of the dual blades. It is used as a last resort in combat if all else fails. It is durable but cannot cause as much damage. Its total length is 4 and a half feet.
In Noble Attire
>A miniature scythe with a 2-foot long handle and 3-foot long blade. It is made of steel. Mainly used for blocking attacks but can cause a small amount of damage if Khada Dis must fight.
>A gauntlet containing a hidden blade on her left wrist. It is made of steel. It is mostly used as a weapon if her scythe fails, but it is better at slashing and stabbing instead of blocking considering it is only six inches long.
Khada Dis' miniature scythe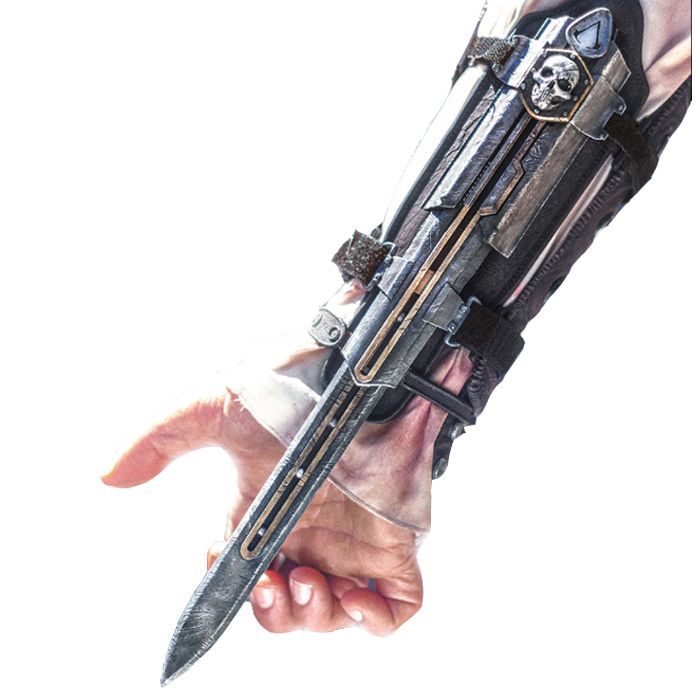 Combat Style:
If it cannot be inferred by her equipment, Khada Dis is a melee fighter. While she can use bows as well as she can use her melee weapons, she does not own one as she prefers using blades. She most often uses brute strength in combat and rarely flees.
BackgroundHistory:
Khada Dis was born to a pirate father and a housewife mother. She was an only child and was born on a ship out at sea on her father's ship. For years in her childhood Dis lived on that ship, cleaning the decks and helping her father's crew with trivial tasks. She was ten years old when suddenly there was a shipwreck and she nearly drowned. If it wasn't for a brave knight who dived into the water to save her, the girl would have perished. Upon discovering her mother was dead and her father undiscovered, the knight sent Khada Dis to an orphanage in Lestonnia. Ever since that day, Dis was determined to be a hero just like the knight who saved her.
At age 18, Khada Dis was sent away from the orphanage to begin a life of her own. She immediately headed off to be a knight, and coincidentally, the knight who saved her years ago was the man appointed to be her trainer. The two bonded quickly until he retired to live a peaceful life among his own family. Dis became one of the best knights of Lestonnia, renowned for her strength and being the mysterious sapphire knight. At some point, Khada Dis and Prince Solomon Wrymfyre fell in love and had an illegitimate son named Dominic. However, their relationship could not last due to their duties, but they still fall into each other's embrace every now and again.

Khada Dis




Posts

: 2


Reputation

: 0


Location

: Lestonnia



Denied because Svad has too many kids now to have time for another rival.

Approved.
_______________________
Astral's favorite person. ^.^

Baldirak Sapiens Draco

Grand Champion Y1 Earthwing King








Posts

: 2541


Reputation

: 97


Age

: 26


Location

: Wherever the Dragon Cat goes



---
Permissions in this forum:
You
cannot
reply to topics in this forum