Quick Links
Site Rules
Contact Staff
Celestia: astral@rpgdragons.org Baldirak: baldirak@rpgdragons.org
Latest topics
»
Resentment (Soshi)
by
Incus
Today at 7:30 am
»
Reluctant Announcement (Gifted Crystals)
by
Gemna
Today at 5:19 am
»
The Kingdom of Twilight/Twilight Industries [WIP]
by
Lady Aurora Twilight
Mon Jul 26, 2021 2:12 pm
»
A Summons! (Open to all Tribe leaders)
by
Baldirak Sapiens Draco
Fri Jul 09, 2021 9:56 pm
»
Totally Normal Humans (Paradox)
by
Discord
Thu Jun 24, 2021 4:35 pm
»
Taking the Reins? (IceWings)
by
Snowblaze
Tue Jun 15, 2021 5:25 pm
»
A Walk in the Darkness (Open to all)
by
malaki
Thu Jun 10, 2021 10:02 pm
»
Trials and Tribulations (Tenebris)
by
Cyclone and Typhoon
Thu Jun 10, 2021 2:51 pm
»
Harsh Realities (Open to Humans)
by
Soshi
Wed Jun 09, 2021 7:50 pm
»
Dark Shadows
by
Tenebris
Sat Jun 05, 2021 3:07 pm
»
Dealing with Darkness Part 2 (Chogath)
by
Tenebris
Sat Jun 05, 2021 2:36 pm
»
Fish, Fins, and Scales (Poem)
by
Poem
Wed Apr 28, 2021 7:07 am
»
Delete this account thanks
by
Baldirak Sapiens Draco
Mon Apr 26, 2021 9:19 pm
»
FELWORLD
by
Grimone
Wed Apr 14, 2021 4:45 pm
»
My characters
by
Zappy
Sun Feb 28, 2021 10:31 pm
»
Zappy
by
Baldirak Sapiens Draco
Sun Feb 28, 2021 10:18 pm
»
hello???
by
Bassasail
Fri Feb 26, 2021 8:17 pm
»
A Salty Encounter(Open)
by
Minnow
Sat Feb 06, 2021 9:57 am
»
Ashram(solo)
by
Richard
Fri Feb 05, 2021 7:13 pm
»
Eluuna (Finished)
by
Baldirak Sapiens Draco
Thu Jan 28, 2021 11:49 pm
»
Something to Care About
by
Abbadon
Wed Jan 27, 2021 11:22 am
»
Poem, the lost
by
Baldirak Sapiens Draco
Fri Jan 22, 2021 12:28 am
»
New Arrivals (Helia + Attor) [In need of a Guardian]
by
Attor
Tue Jan 19, 2021 10:09 pm
»
Leona's dragon
by
Baldirak Sapiens Draco
Mon Jan 11, 2021 5:25 pm
»
The Liber Perpetuity Mortis (Necromancy Lore, still in progress)
by
Tenebris
Mon Jan 04, 2021 8:49 am
Who is online?
In total there are
3
users online :: 0 Registered, 0 Hidden and 3 Guests :: 2 Bots
None
Most users ever online was
315
on Mon Nov 04, 2019 1:22 pm
Type of Character:
Dragon
Link to Character List Page:
https://www.rpgdragons.org/t4862-rylatha-s-characters
Personal InfoName:
Eros
Alias:
The GalaxyWing, Dark Vibrant Beauty
Age:
Middle-aged, around 30 in dragon years
Gender:
Female
Sexuality:
Heterosexual
Personality:
What do you think of when you think of NightWings? Cold, cunning, manipulative? If this is what you thought of, then this is what Eros is.
Eros is a dragon who is quite tricky, one who has lots of smarts and not afraid to use it for her own gain. She can be cold and distant but not unfriendly. She is on good terms for anyone who is a NightWing or at least has NightWing blood but has a considerable amount of distrust for anyone who is anything else. She believes NightWings are superior to the other Tribes, which can lead to her being snobby with a holier-than-thou attitude to any other 'Wings. Eros is determined to show others how much better NightWings can be, which makes her fiercely loyal to the NightWing Archon Tenebris due to his similar views.
This dragoness is well-reserved and quite secretive, which can make her a rather alluring and interesting dragon to talk to, one who tends to pull you in and wondering what secrets this dragon might be hiding. Knowing this, Eros tends to string these dragons along for a while for her own amusement until she gets bored. Other than this, Eros is civil and patient with NightWings but can be short-tempered and snarky with other Tribes and species. She is also quite confident in herself, knowing she is beautiful and intelligent and not afraid to show it off. At the same time, however, she can be humble when she pleases in order to impress dragons she wants to leave a good impression on.
All in all, Eros is sneaky, manipulative, but at the same time, the most loyal dragon you can ever meet.
Fears:
-Eros is afraid of disappointing her Tribe, despite her being quite confident in her abilities.
-She also fears the death or collapse of her Tribe.
Strengths:
-Eros is a very intelligent and cunning dragon, one who can outwit opponents with ease and get away with it. It is without a doubt that her superb use of trickery is her greatest strength.
-She has a way of speaking that somehow manages to sway dragons to her side. How does she do it? Perhaps it is her smooth, silky tone. Or maybe it is another trick that is yet to be discovered. Who could ever know?
-Eros knows quite a lot about medicines, and she is able to whip up a cure in a short amount of time to save a dragon in need.
-The dragon has good leadership skills, as she would not hesitate to do what she needs to win and would not hesitate to put a dragon in their place.
Weaknesses:
-Eros has more brains than brawn, so she is not very physically strong in head-to-head combat.
-She is not very fast either.
-Her confidence can be an issue, meaning she can get into conflicts she can't get out of thanks to her being over confident.
-While she is 100% loyal to the NightWing leader, she has trouble following orders from anyone else which can get her in big trouble.
General AppearanceHeight:
Eros stands at 35 feet tall with an impressive wingspan of 70 feet.
Scales:
Eros is a dragoness of primarily purple scales which shimmer and glint various other shades such as sapphire blue and a pale green, her hide mimicking an aurora. The underside of her wings are a very dark shade of black, darker than the night sky in the latest hours of twilight, darker than the abyss itself. This is to disguise herself while soaring in the night sky.
Eyes:
Eros has glimmering yellowish-orange eyes which sometimes glow like sparks.
Appearance:
Slender yet muscular, vibrant yet dark, there is no doubt Eros is a particularly attractive female. While most NightWings are of black or grey color, Eros is a more rich, dark shade of purple with scales that shimmer varying shades of blue and green in the light. She has a rather narrow, pointed snout and two twisting horns upon her head nestled behind her shimmering frill, elegantly swirling as a pleasant shade of sky-blue. Between her horns stands a row of impressive webbed spikes which naturally lay flat on Eros' neck but flare up upon threat. Her wings are large and have a spiky appearance to them. Uniquely, the flesh in her maw is a bright fiery color like her eyes.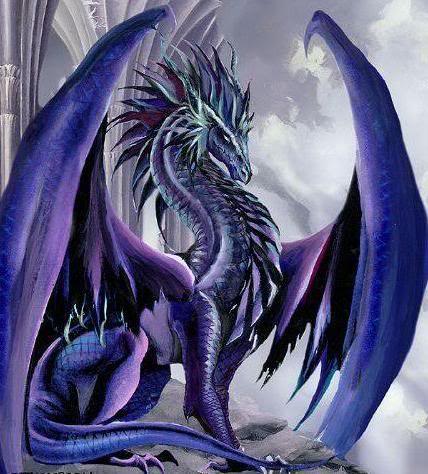 Tribe Information and StatusTribe:
NightWings
Inheritance:
Purebred NightWing
Rank:
Healer/Scholar
Family:
Eros was raised by a Tracker mother and a Scholar father, born in a clutch of two other eggs. She was the first hatched of two brothers and was always the more mature, cunning of the three.
Mate:
None.
Hatchlings:
None.
Thor:

As you can see, Eros and Thor look very much alike. Thor, however, does not have the shimmering scales like his older sister.
Hades:

Unlike his siblings, Hades looks like a standard NightWing: as black as the night with the fearsome look to go with it.
Skills and AbilitiesAbilities:
Normal Abilities:
-Like most NightWings, Eros can exhale a smoky gas from her maw which causes victims to become very fatigued and sleepy. The smoke can extend across a radius of twenty feet, and Eros can perform this power once every three posts.
-Another common NightWing ability is the power to blend into the shadows. When she steps into the shadows, Eros seems to have some sort of enchantment placed upon her as her scales turn shady and black, and after a post she is almost completely hidden in the shadows. She can be detected if she moves too frequently and by a pale outline of her body. This ability lasts as long as three posts and cannot be used for another two.
-Like all NightWings, Eros can see in the dark.
Special Abilities:
-Eros' unique ability revolves around her scales. With a swift motion of her wings or tail, she can fling three scales up to fifteen feet away. When the scales land on the ground, a dark, shadowy gas rises which causes great fatigue and also effects the victim's vision as it produces a thick fog as well.This gives Eros time to flee, hide, or perform a surprise attack on her opponent. This ability can also be performed by Eros flying and dropping her scales down to the earth below. This ability can last for three posts, and after the third post Eros must wait five posts before performing the ability again (so all in all, eight posts).
Combat Style:
Eros is more of the sneaky type than the fighting type. Rather than facing her opponents head-on, she prefers to outsmart them and lead them into ambushes or traps. She is brave, however, and will not back down from a fight unless she knows she will die if she keeps fighting.
BackgroundHistory:
Eros was the first hatched out of a clutch of three eggs. Soon after her hatching, her younger brothers came into the world, and their parents named them Thor and Hades. From the beginning, the three were very different from each other. Eros, as the oldest, was bossy and liked to play tricks on her brothers, sometimes manipulating them and her parents in order to get her way. Thor had just as much strength as Eros had brains, so he would often win their quarrels using tooth and claw. Hades, on the other claw, was just as smart as Eros but used his intelligence for good, much to Eros' annoyance who had a rather jolly time confusing and frustrating other dragons.
Soon enough, their parents sent their hatchlings to be trained. Thor was assigned to be a Guardian, thanks to his bulky build and no-nonsense attitude. Hades was sent to be a Healer due to his vast intelligence and desire to help dragons in need. Eros was trained under her father to be a Scholar because of her booksmarts and ambitions. The three hatchlings were very good at what they did and became full-fledged providers of the Tribe as soon as they could. However, the strike of the Monsterlypse was a rude awakening for Hades, who realized at last he could not save all dragons under his care. After watching plenty of NightWings die under his watch, he fell into a depression and left the NightWings. Thor became furious at both Hades and Eros; angry at Hades for abandoning their Tribe and angry at Eros for not being able to help from her rank of Scholar. Eros was outraged at her brother's blame, so she took the rank of Healer alongside her rank of Scholar.
Now, Eros is determined the Tribe as best she can in this hard time.

Eros

NightWing Scholar





Posts

: 3


Reputation

: 0



Right, reviewing this character, I can see no issues truly. Your special abilities and strengths are in proportion to your weaknesses. As you know having several characters this is a very easy Character for me to review as you know exactly from experience what we're looking for. You've went int the distance of your abilities, and I see no issue with them having those distances as its more than appropriate and within Reason. This character sheet represents a good over all impression of Nightwing ideologies and personality. A paragon of the Tribe, haha. To that end.
Approved.
_______________________
Tenebris's
Bio
A look at one of Tenebris's
Publications
as a Scholar
Tenebris's
backstory
"
Destiny isn't a matter of chance, its a matter of choice. Only we can claim our Destiny when the path opens
" ~ Tenebris lamenting.
"
Oftentimes in reality, the realists are in the position of the antihero. Neither those on the side of good, nor the side of bad really trust them, as their truth is universal.
" ~ Tenebris, Archon of the Ebonwing Potentate.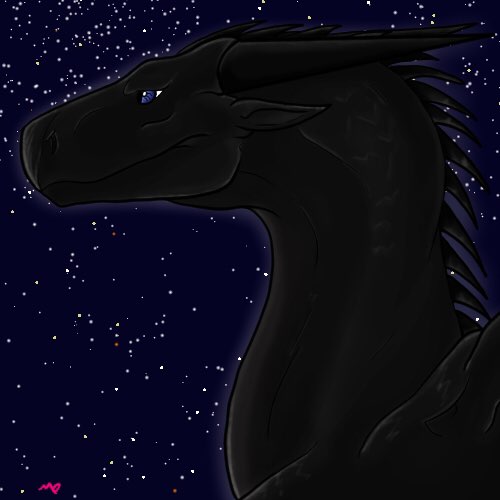 Tenebris

Archon of the Nightwings







Posts

: 597


Reputation

: 7


Age

: 25



---
Permissions in this forum:
You
cannot
reply to topics in this forum