Quick Links
Site Rules
Contact Staff
Celestia: astral@rpgdragons.org Baldirak: baldirak@rpgdragons.org
Latest topics
»
Two Heads are Better than One (Twilight Imperium)
by
Noctis Umbra
Sat May 23, 2020 10:42 am
»
Hush, you need to heal [Attor ]
by
Helia
Fri May 22, 2020 9:53 am
»
Leaving Home, Story Submission
by
Attor
Thu May 21, 2020 1:10 pm
»
To the Market (Elara)
by
Elara
Sat May 09, 2020 5:23 pm
»
Reclamation, Part 1 [All Starlights]
by
Helia
Fri May 08, 2020 1:09 am
»
There can only be one (open)
by
Helia
Sun May 03, 2020 2:13 am
»
Introducing: RISK, DRF Edition!
by
Baldirak Sapiens Draco
Sat May 02, 2020 5:03 pm
»
In Need of Direction (Gifted Crystals)
by
Atarijor XVI
Sat May 02, 2020 4:49 pm
»
Dragon Masters
by
Noctis Umbra
Thu Apr 30, 2020 2:03 pm
»
Fishing in the Dark (Seawing)
by
Minnow
Thu Apr 30, 2020 8:28 am
»
Storms and Mountains [Nelthy]
by
Àlamei
Tue Apr 28, 2020 1:06 am
»
Ice and Fire [Xajiva]
by
Àlamei
Mon Apr 27, 2020 11:40 pm
»
Updated Active Characters List
by
Jackie
Mon Apr 27, 2020 12:40 pm
»
Leaving Home [Attor] | Finished
by
Helia
Sun Apr 26, 2020 8:42 am
»
Looking to rp with anyone
by
Tharasis
Sat Apr 25, 2020 7:31 pm
»
Kneel, Baldirak Che'le. Rise, Baldirak Sapiens Draco (Open to all)
by
Noctis Umbra
Thu Apr 23, 2020 1:54 pm
»
Recreational Break (Incus)
by
Incus
Mon Apr 20, 2020 8:00 pm
»
Crazy How Things Change [Baldi]
by
Baldirak Sapiens Draco
Mon Apr 20, 2020 11:58 am
»
Gleam, the Healer
by
Bassasail
Sun Apr 19, 2020 10:15 am
»
Prophet of Madness [Paradox]
by
Neltharion
Sat Apr 18, 2020 7:34 pm
»
The Wrong Land (Gleam)
by
Petram
Sat Apr 18, 2020 1:43 pm
»
The Assumptions and the Truth [Neltharion]
by
Ragnarock
Sat Apr 18, 2020 10:52 am
»
Snapping turtles and bedside manners [Burner]
by
Àlamei
Fri Apr 17, 2020 6:07 am
»
Beek-Jin, Thief of NightWings
by
Bassasail
Thu Apr 16, 2020 5:43 pm
»
Take These Broken Wings ((Vilkas))
by
Perula
Tue Apr 14, 2020 6:00 pm
Top posting users this month
Who is online?
In total there are
3
users online :: 0 Registered, 0 Hidden and 3 Guests :: 1 Bot
None
Most users ever online was
315
on Mon Nov 04, 2019 1:22 pm
The small parchment of paper fluttered in the taller man's fingers his eyes focused heavily on the sheet that threatened to be torn from his fingers. This precious thing was something that his father had so graciously given him, something that he was incredibly protective of. Joseph always knew how to entertain the younger man, although truthfully, teaching Elric how to read and write was another matter entirely. That was anything but entertaining and was incredibly hard work, for both the student as well as the student. On more than one occasion Elric almost lost his cool and brought the house down on top of them, it being much, much smaller than his dragon form.

That was an interesting time.

With a small hum, he continued to try and read the list. On the top were something called 'potatoes'... Were they a pot of toes? Was it some form of human delicacy? Questions came through his mind almost constantly as he blindly wandered through the different twists and turns of the small village that they were visiting. Of course, the pair were travelling to where Joseph would be able to find work, but thanks to his age, they weren't as accepting of him.

A merchant with an array of steel containers seemed to appear out of nowhere- as well as something else. Something would hit his side, a rather large force causing him to stumble to the side. He snatched the paper down, stuffing it underneath his cloak and into the pockets of his pants as Elric turned his blue eyes towards what just hit him. Thankfully, it was just someone moving some sacks, some heavy looking sacks.

But there was a coating of white over his cape and the floor...

And why was the person shouting at him?

What was going on?

Trying to avoid them, he turned away from him and attempted to walk away- much against the wishes of what he actually wanted to do. He was interested in fighting that man and putting him in his place; but with his fists, he could do next to nothing. But now his shouting had begun to draw attention to him. People were beginning to stare. Something he truly didn't want. His pace quickened. People began trying to hold him back, demanding something about a monkey. Just as easily, he brushed them off, pushing them away, an attempt to get out of the rabble.

What worse could happen?

Elric




Posts

: 5


Reputation

: 0



Nope Navi didn't feel like doing anything today. Her family had plenty of money from her last job. So much so that even if they were in dept it would pay it off or at least she hoped. Naviera hung her head in conflicted sorrow. Maybe she should go see her family just once. Her worrying about them was affecting her own health at this point.

An elderly man approached the outdoor table she was sitting at and brought her the tea she ordered. It was a quiet quaint village but this location had this amazing tea place. He set the tea before her. "Enjoy." The old man didn't leave though. He just sat there staring at her. Naviera returned his gaze with her own glare. Older men tended to be kind but she wouldn't afford that benefit of a doubt long. She'd been at the mercy of an older man before.

He soon broke the not so awkward silence. "You couldn't possibly be the Nightflame could you? You're too young."

Navi took a sip of her tea. "And you couldn't possibly be alive at your age with all the monsters out and about."

The man chuckled. "I suppose you're right. What brings you to our village. Am I going to wake up tomorrow to find the village down a person?"

"I'm here because I thought you guys had good tea but I must have been mistaken because right now it's tasting rather bitter."

"Right, my apologies. Enjoy your tea ma'am." With that the man departed back into his shop.

Navi sighed and took another sip of her tea. Eventually her nerves began to settle once again. It really was great tea. It seemed though this village wasn't too quiet today. Some bumbling man got the local populace upset and seemed to be trying to run away from it. Normally she wouldn't care but he was making the village restless and she was trying to relax.

Naviera stepped out of her chair and made her way over. She drew her sword and then pointed it at the guy as he exited the growing mob. "Hey!" She grabbed his attention so he didn't skewer himself on her sword by accident. It's been done before. All eyes were on her now and there were a few gasps as some of the bystanders recognized her. There were some murmurs and the mob very slowly put some distance between themselves and her. They didn't leave though. No doubt this would be the gossip of the year something to tell travelers as they passed through their village. "Why did you got to go and get them all stirred up? I was enjoying the relative quiet."
_______________________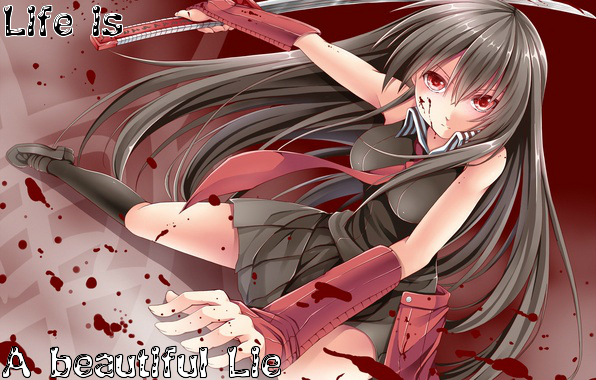 Naviera




Posts

: 9


Reputation

: 0



---
Permissions in this forum:
You
cannot
reply to topics in this forum