Quick Links
Site Rules
Contact Staff
Celestia: astral@rpgdragons.org Baldirak: baldirak@rpgdragons.org
Latest topics
»
Rex, a 2 foot living disaster
by
Cyrus
Tue Nov 23, 2021 3:23 pm
»
Sir Mendigan Whyte
by
roryb
Sun Nov 21, 2021 11:10 pm
»
Fishing (solo)
by
malaki
Sun Nov 21, 2021 3:59 pm
»
Miko Lowtide
by
Miko
Wed Nov 03, 2021 1:42 pm
»
Prexijandilin Krarrvek
by
Prexijandilin Krarrvek
Mon Nov 01, 2021 10:27 pm
»
Totally Normal Humans (Paradox)
by
Soshi
Sun Aug 29, 2021 8:24 am
»
Hello fellas!
by
Baldirak Sapiens Draco
Mon Aug 16, 2021 5:34 pm
»
Resentment (Soshi)
by
Incus
Thu Aug 05, 2021 7:30 am
»
Reluctant Announcement (Gifted Crystals)
by
Gemna
Thu Aug 05, 2021 5:19 am
»
The Kingdom of Twilight/Twilight Industries [WIP]
by
Lady Aurora Twilight
Mon Jul 26, 2021 2:12 pm
»
A Summons! (Open to all Tribe leaders)
by
Baldirak Sapiens Draco
Fri Jul 09, 2021 9:56 pm
»
Taking the Reins? (IceWings)
by
Snowblaze
Tue Jun 15, 2021 5:25 pm
»
A Walk in the Darkness (Open to all)
by
malaki
Thu Jun 10, 2021 10:02 pm
»
Trials and Tribulations (Tenebris)
by
Cyclone and Typhoon
Thu Jun 10, 2021 2:51 pm
»
Harsh Realities (Open to Humans)
by
Soshi
Wed Jun 09, 2021 7:50 pm
»
Dark Shadows
by
Tenebris
Sat Jun 05, 2021 3:07 pm
»
Dealing with Darkness Part 2 (Chogath)
by
Tenebris
Sat Jun 05, 2021 2:36 pm
»
Fish, Fins, and Scales (Poem)
by
Poem
Wed Apr 28, 2021 7:07 am
»
Delete this account thanks
by
Baldirak Sapiens Draco
Mon Apr 26, 2021 9:19 pm
»
FELWORLD
by
Grimone
Wed Apr 14, 2021 4:45 pm
»
My characters
by
Zappy
Sun Feb 28, 2021 10:31 pm
»
Zappy
by
Baldirak Sapiens Draco
Sun Feb 28, 2021 10:18 pm
»
hello???
by
Bassasail
Fri Feb 26, 2021 8:17 pm
»
A Salty Encounter(Open)
by
Minnow
Sat Feb 06, 2021 9:57 am
»
Ashram(solo)
by
Richard
Fri Feb 05, 2021 7:13 pm
Top posting users this month
Who is online?
In total there are
3
users online :: 0 Registered, 0 Hidden and 3 Guests
None
Most users ever online was
315
on Mon Nov 04, 2019 1:22 pm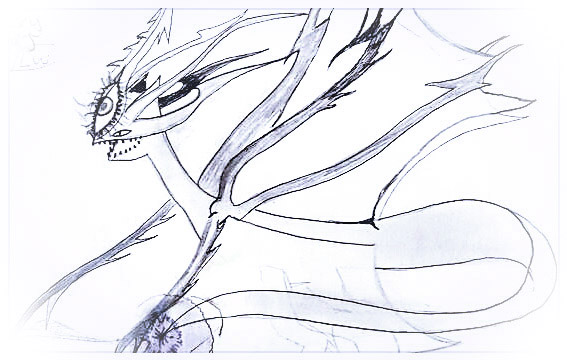 Personal InfoName:
Soulcry
Alias:
Serapharch Soulcry, Masked Shark Angel
Age:
33 Dragon years
Gender:
Male
Sexuality:
Heterosexual
Personality:
Soulcry is a very bipolar dragon, though more often than not he is depressed.  He often shows a jolly mood on the outside but his core is dark.
 His mask and eyes strike an uncanny resemblance to a shark, and like a shark he is willfully aggressive.  Even though he is very moral, he is dark and mysterious.  Many who see him at first mistake him for being a jolly and exuberant dragon, while he is very lonesome and sad inside.  Like his name, meaning soul of ice or crying soul, he can be very cold towards others, thinking they owe him something for his sorrow; however, this doesn't happen very often, for even though he is sad often he tries his best to be nice to others.  He is intellectual and enjoys philosophical dialogue as well as many other studies like science, though he never really liked history.  His voice is naturally very light, but he acts with a very deep voice to try to hide his sadness.  Deep down he knows he is kind of awkward when he uses his deep voice, since he is such a small dragon, and his echolocation makes a very high pitched screeching sound, it is perhaps a bit out of proportion; therefore, it's something he should perhaps overcome.  But, he is worried that if he does, people may notice his sadness.
With an adventurous background, and a dark past, he has matured a lot.  He cries to the Gods for forgiveness now and again, but not as frequent as when he first left Skywing Territory, but it shows his inner turmoil between dark and light.  He is always moral, deep, mysterious and highly misunderstood.  He is also very shy when meeting someone he is romantically interested in.    
Interests:
Adventures and exploring, magic, fighting, mysteries.
Dislikes:
Shallow dragons or people, seeing death, foolishness, dullness.
Fears:
Isolation
General AppearanceHeight:
Soulcry: 17 feet
Serapharch Soulcy: 67 feet
Scales:
Eyes:Appearance:Tribe Information and StatusTribe:Inheritance:Rank:Family:Mate:Hatchlings:Skills and AbilitiesStrengths:Special Abilities:Weaknesses:Combat Style:BackgroundHistory:RP Sample:
Last edited by Soulcry on Mon May 01, 2017 2:34 pm; edited 17 times in total

_______________________
ﬥ
Waiting for permission to become a Demi - would like information on Demi apps, too...

_______________________
ﬥ
Hey dude, Ill just get straight to the point, you wont be getting the demi-god role. Reasons you might askas? The demi/semi "god-like" role will not be open for any for a little bit, and usually the role is rewarded through a contest that you win ( one that the other staff set up through their approval). But with the lack of peeps on here we're more concentrated on getting more members and fixing the site up, plus we already did have demis and semis on here as it is. You csn shoot for regular app? Id recommend that, sometime the role you want might be open, until then though we're not accepting at the moment, sorry man. If you got other questions or need help feel free to ask. Hope you enjoy your day dude.
_______________________
Bassasail, SeaWing Guardian
Attor, Starlight Sovereign
Gemna, The Last IceWing Scholar
Ragnarok, EarthWing Adviser
Abbadon, Hildrhilts Hatchling
Incus, Demigod of Fire
Malek, EarthWing Scout
____________

Bassasail







Posts

: 417


Reputation

: 5


Age

: 24


Location

: Deep in the abyss of the seas



---
Permissions in this forum:
You
cannot
reply to topics in this forum