Quick Links
Site Rules
Contact Staff
Celestia: astral@rpgdragons.org Baldirak: baldirak@rpgdragons.org
Latest topics
»
FELWORLD
by
Grimone
Wed Apr 14, 2021 4:45 pm
»
Totally Normal Humans (Paradox)
by
Discord
Sun Apr 04, 2021 11:29 am
»
Taking the Reins? (IceWings)
by
Gemna
Mon Mar 22, 2021 12:49 pm
»
My characters
by
Zappy
Sun Feb 28, 2021 10:31 pm
»
Zappy
by
Baldirak Sapiens Draco
Sun Feb 28, 2021 10:18 pm
»
Resentment (Soshi)
by
Incus
Fri Feb 26, 2021 8:56 pm
»
Fish, Fins, and Scales (Poem)
by
Bassasail
Fri Feb 26, 2021 8:33 pm
»
hello???
by
Bassasail
Fri Feb 26, 2021 8:17 pm
»
A Salty Encounter(Open)
by
Minnow
Sat Feb 06, 2021 9:57 am
»
Ashram(solo)
by
Richard
Fri Feb 05, 2021 7:13 pm
»
Eluuna (Finished)
by
Baldirak Sapiens Draco
Thu Jan 28, 2021 11:49 pm
»
Something to Care About
by
Abbadon
Wed Jan 27, 2021 11:22 am
»
Poem, the lost
by
Baldirak Sapiens Draco
Fri Jan 22, 2021 12:28 am
»
New Arrivals (Helia + Attor) [In need of a Guardian]
by
Attor
Tue Jan 19, 2021 10:09 pm
»
Dark Shadows
by
Poem
Wed Jan 13, 2021 11:01 pm
»
Leona's dragon
by
Baldirak Sapiens Draco
Mon Jan 11, 2021 5:25 pm
»
Dealing with Darkness Part 2 (Chogath)
by
Chogath
Mon Jan 11, 2021 12:06 pm
»
The Liber Perpetuity Mortis (Necromancy Lore, still in progress)
by
Tenebris
Mon Jan 04, 2021 8:49 am
»
Account Deletion Request
by
Baldirak Sapiens Draco
Mon Jan 04, 2021 12:24 am
»
A Difference...(Open)
by
Poem
Tue Dec 22, 2020 11:50 pm
»
Harsh Realities (Open to Humans)
by
Soshi
Mon Dec 21, 2020 1:21 pm
»
Island-Call [Wake]
by
Phantasmas
Thu Dec 10, 2020 9:06 am
»
Discord Server?
by
Lori Iolar
Wed Dec 09, 2020 9:57 am
»
Welcome To Chatbox.
by
Baldirak Sapiens Draco
Mon Dec 07, 2020 9:51 am
»
Zyra the Kind
by
Baldirak Sapiens Draco
Mon Dec 07, 2020 9:38 am
Who is online?
In total there are
5
users online :: 0 Registered, 0 Hidden and 5 Guests :: 2 Bots
None
Most users ever online was
315
on Mon Nov 04, 2019 1:22 pm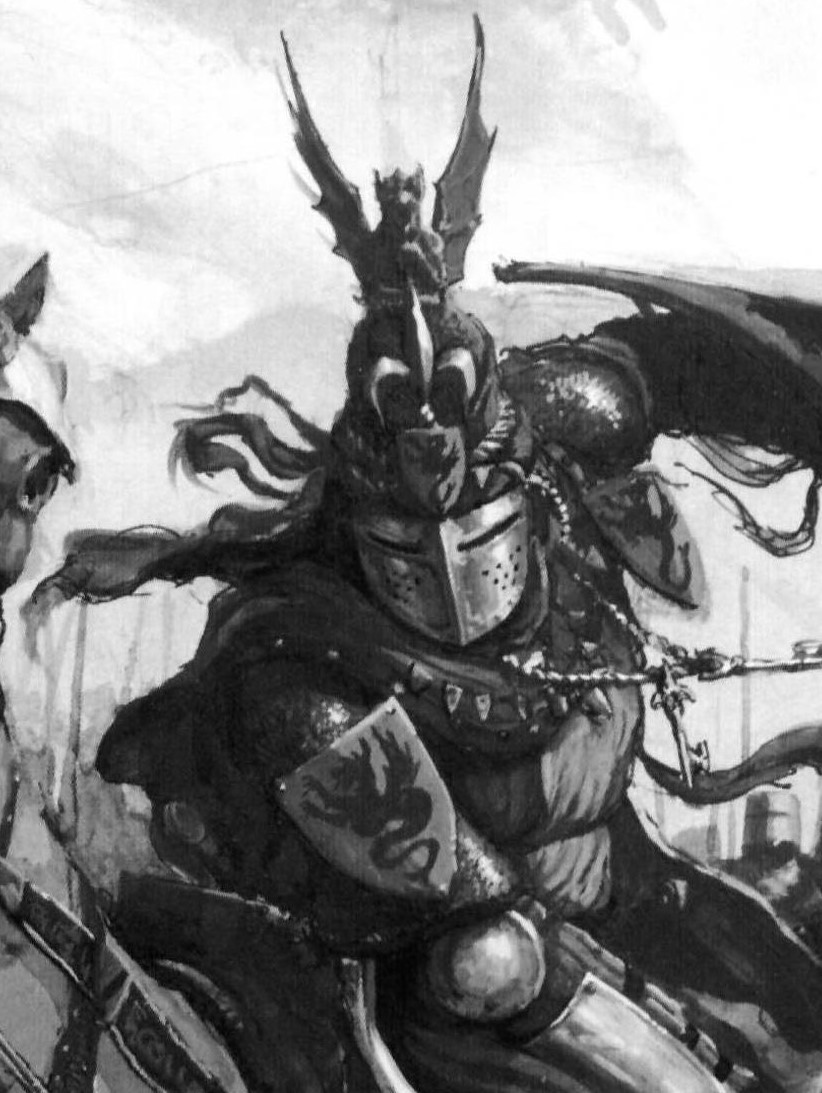 Type of Character:
Human Aristocrat.
Name:
Solomon
Tiberius Wyrmfyre.
Alias:
Knight of the burning blade, Prince of Leostonnia, Duke of Candor.
Age:
26
Gender:
Male
Sexuality:
Heterosexual  
Personality:
"It is both my burden and my pleasure to be a custodian of my family's legacy"
- Solomon Wyrmfyre on discussing his role as the second heir of House Wyrmfyre
Solomon
is a complex character, at first he could be seen as the epitome of Leostonnian Knighthood, portraying a highly courageous, honourable, dutiful and just personality in accordance with the laws of chivalry. Seen as an intelligent man, who usually excelling at anything to which he put his mind to, from his youth he grew up to be a grand Knight and a skilled musician, however at first in his life he was considered bookish and didn't seem initially inclined to martial habits, often choosing to read than play with his brothers or the younger sons of the courtly retinue what made up his father's household. This changed in his adolescent years however when he became a squire to his eldest brother and suddenly was overcome with an almost fervent desire to prove himself.
Solomon
's fairness is a particularly noteworthy element of his character. Always seen as seeking to do the right thing,
Solomon
is at times conflicted when presented with difficult moral dilemmas, such as being torn between what is expected of him as a member of the nobility of Leostonnia and protection of the innocent which in truth is one of the many internal moral conflicts what reside within Leostonnia as the code of chivalry demands protection of the innocent, while the law of the land dictates sometimes that the lower classes of Leostonnia suffer innocent or not.
Solomon
is a talented and charismatic leader, capable of inspiring great loyalty in people, though at times he doubts whether or not he deserves such devotion. However, since he would never ask his men to do anything he would not do himself, loyalty is generally forthcoming. Many characters have remarked on
Solomon
's good nature, and to this end he is far more at home on a Knights errants quest with his companions than he is at lording over his Dukedom (To whose duties he leaves in the capable hands of his Steward).
Despite being a hardened soldier and Knight with an appearance of arrogance and violence,
Solomon
has proven himself to be empathetic to those under him and particularly to those in need who are helpless, this has even been documented of once aiding Serfs. He maintains an idealistic belief of respecting fellow warriors even with his aristocratic background (A trait not often seen in the Nobility of Leostonnia as they view themselves superior) to value all enemies and allies alike as equals. Even with his devotion to the Light and his desire to bring what he believes righteous retribution towards all enemies of Leostonnia and the Dragons he never underestimates their resolve and is frequently impressed at their tactical abilities even with their lack of morals.
Within his personal cadre of companions and friends, the facade of stubborn regalism and image of piety as expected of a Knight falters. Retains some of the boyish elements of his personality from before the time he took his oath as a Knight and later his oath as a Duke, particularly when regarding those closest to him. Often teasing his companions and joking with the playfulness of a spirited youth,
Solomon
has a passionate belief in enjoying life, despite the harshness what can be displayed in court, the Prince is often seen smiling and being light hearted while out questing, hence one of the very reasons he is often absent from his own court of Candor and his father's court in the Capital.
Solomon
's extensive adventuring has led to him becoming one of the most well known Knights of the realm, unlike his brothers who
Solomon
is often seen all around Leostonnia appearing at tournaments or questing on behalf of the small folk. This notoriety has been noted to the degree
Solomon
is known as the Hero Prince.
Fears:
Never surpassing his Father. His Older brother. Being inadequate. Failing in his quests.
Strengths:
Political acumen. Jousting. Swordsmanship. Chess. Gardening. Horse Riding.  
Weaknesses:
Vanity. Refuses to use Ranged Weaponry personally outside of hunting.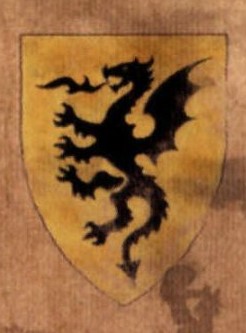 Personal Heraldry of Solomon Wyrmfyre, the Wyrmfyre's of Candor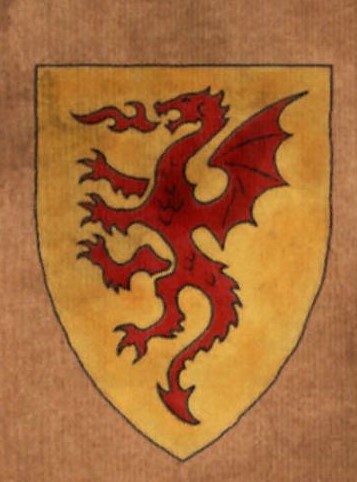 Crown Heraldry of House Wyrmfyre
Life InfoHome:
Candor Keep, Kingdom of Leostonnia.
Profession:
Prince, Duke, Knight.
Family:
Alexander (Brother), Landuin (Brother), Lucretia (Sister), Taranaw (Illegitimate Sister), Solayn (Brother), Liam (Illegitimate Brother), Mallobaude (Deceased Grand Father), Damitian (Father), Helena Wyrmscar (Grand Mother), Lucinta M. Wyrmscar (Cousin), Gilford J. Wyrmscar (Cousin).
General AppearanceHeight:
Six foot two.
Hair:
Silvery-Blonde
Eyes:
Eerie Sapphire
Appearance:
Solomon
is known for his defining features such as his eerie metallic sapphire gaze and his silvery-blonde hair which gives him both an almost unnatural appearance and a domineering sense of authority, these qualities are also present in all members of the royal family of Leostonnia. Unlike many who claim aristocratic blood who are clean-shaven with smart hair, he has shoulder length hair to his shoulders and a small beard as remnants to his expeditions and Quests as a Knight. Other than having a muscular build despite his age of Twenty six he remains lean and tall, in all
Solomon
has been described as handsome and attractive yet unnerving and intimidating as a whole.
Skills and AbilitiesSkills
Like all members of the Nobility of Leostonnia
Solomon
can read and write, having been trained by Monks as a child. He is famed throughout the Kingdom for his mastery of the Joust and unseating his opponents in tourneys.
Equipment:
Armour -
Under his tabard,
Solomon
wears a long-sleeved mail coat laced up the front with leather lacings. The hooded coif comes to a point in the front. The shirt and coif have three rows of gold links on the outer edges. He also has leggings of chain mail, under which he wears the brown hose of his camp clothes.
On his upper body,
Solomon
wears plate armor mostly on his right side, the side not protected by his shield. His pauldrons have four lames (plate layers) each, held together by steel rivets. In the middle of the lowest lame is a gold medallion. The highest lame on his right side extends straight upward from his shoulder about 1 1/2 inches.
Solomon
often also chooses to wear ailettes for lighter based combat. The vambraces on the lower arms are full-circle, wrapping all the way around the arm. He has black leather gloves, but the right glove is covered with small steel plates, while the left glove (holding the shield) is bare. His legs are girded with greaves for his shins and sabatons for his feet. The greaves have a gold medallion in the kneecap area.
All the plate armor is edged in gold and etched in places with "bands" of tiny Dragon Busts (
Solomon
's motif). The plates have been worked to form smooth, veinlike lines on the pauldrons, vambraces and greaves. The straps that buckle the plates in place are red leather with gold buckles.
When riding, he wears a basinet-style helm with a folding visor. The visor has holes so he can breathe and leaves a small space for him to see through when it is down.The basinet has a ridge running from the center of the forehead to the back of the neck. In the center of the forehead is gold bar extending from the gold edging surrounded by etched oak leaves. The etching wraps around the helmet and meets in the back with a gold medallion.
Bergen and personal admin kit -
Eighty Litre Bergen - two detachable side pouches, small front pouch and finally a compression strap top flap.
Cutlery - pewter spoon, steel knife and fork, pewter goblet, wooden bowl and plate.
Washing kit and Straight Razor (Cut throat Razor).
Entrenching Tool (Shovel).
Basic sewing kit for making repairs to rips and tears in the field.
Flint and Striker.
First aid kit including the tourniquet and field dressings.
Sleeping bag and roll mat.
Costrel, water bottle.
Additional equipment-
Linen shirt and a pair of breeches.
Coist, to be worn underneath the hat to absorb sweat and keep hair back.
Belt with bandoliers.
Brass sundial compass.
Regional Maps.
Model kit, to plan out battle strategy.

Solomon

Human Prince




Posts

: 14


Reputation

: 0




Baldirak Sapiens Draco

Grand Champion Y1 Earthwing King








Posts

: 2545


Reputation

: 97


Age

: 26


Location

: Wherever the Dragon Cat goes



---
Permissions in this forum:
You
cannot
reply to topics in this forum