Quick Links
Site Rules
Contact Staff
Celestia: astral@rpgdragons.org Baldirak: baldirak@rpgdragons.org
Latest topics
»
Wondering Lost Thoughts
by
Poem
Yesterday at 2:49 pm
»
Red Vs. Blue: Highlands
by
Bassasail
Tue Nov 17, 2020 11:04 am
»
Island-Call [Wake]
by
Phantasmas
Tue Nov 17, 2020 8:25 am
»
Resentment (Soshi)
by
Incus
Sun Nov 15, 2020 9:29 am
»
Totally Normal Humans (Paradox)
by
Soshi
Mon Nov 09, 2020 5:22 pm
»
Takeo (Barbarian)
by
Takeo Takeuchi
Tue Oct 20, 2020 12:24 pm
»
Cyclone and Typhoon (Ranger)
by
Cyclone and Typhoon
Fri Oct 16, 2020 12:41 pm
»
Kohzahn Usk, Dragonborn Barbarian
by
Bassasail
Thu Oct 15, 2020 5:09 pm
»
Vauban, Kenku Artificer (WIP)
by
Astral
Thu Oct 15, 2020 1:36 pm
»
D&D Topic Signup
by
Cygnus
Thu Oct 15, 2020 9:32 am
»
Nyx Jawawa (Ranger) [WIP]
by
Nyx Jawawa
Wed Oct 14, 2020 9:44 pm
»
Takeo Takeuchi
by
Astral
Tue Oct 13, 2020 9:24 am
»
Lightleap, Frogfolk Druid
by
Bassasail
Mon Oct 12, 2020 8:35 pm
»
Cygnus (Fighter)
by
Cygnus
Mon Oct 12, 2020 5:34 pm
»
Baldirak (Cleric)
by
Baldirak Sapiens Draco
Sun Oct 11, 2020 10:08 pm
»
Jericho Twilight (Fighter)
by
Jericho
Sun Oct 11, 2020 6:09 pm
»
Andromeda Twilight (Ranger)
by
Andromeda
Sun Oct 11, 2020 12:54 pm
»
Aurora Twilight (Rogue)
by
Aurora
Sun Oct 11, 2020 12:08 pm
»
Kenina (Sorceress)
by
Kenina
Sun Oct 11, 2020 1:28 am
»
Dealing with Darkness (Tenebris)
by
Chogath
Fri Oct 09, 2020 9:22 am
»
Stupid Islands (Open, Twilight Imperium)
by
Cyclone and Typhoon
Fri Oct 09, 2020 9:11 am
»
D&D Character Sheet
by
Astral
Thu Oct 08, 2020 10:20 pm
»
DRF D&D Getting Started
by
Astral
Thu Oct 08, 2020 10:20 pm
»
Forbidden Lore : Reflections and Deceptions [solo/closdd]
by
Hydra
Wed Oct 07, 2020 10:28 am
»
Racun the poison wielder
by
Baldirak Sapiens Draco
Thu Oct 01, 2020 9:45 pm
Top posting users this month
Who is online?
In total there is
1
user online :: 0 Registered, 0 Hidden and 1 Guest :: 2 Bots
None
Most users ever online was
315
on Mon Nov 04, 2019 1:22 pm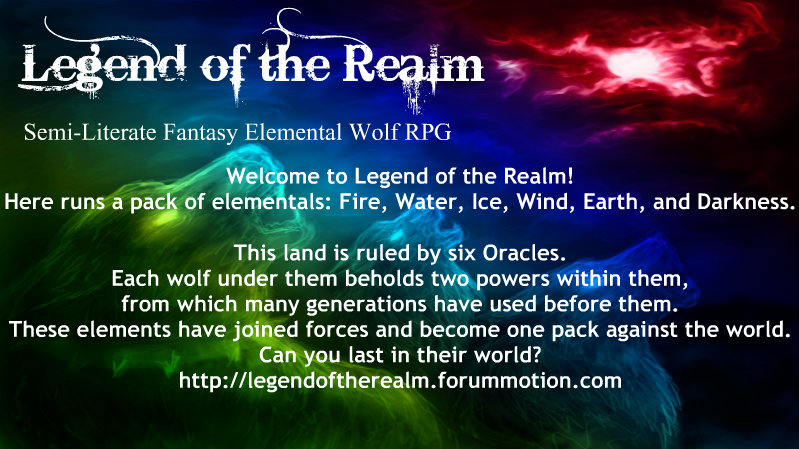 Six Oracles, six Elements, one pack. Elements such as Fire, Water, Ice, Wind, Earth, and Darkness all live together in lands claimed by the Oracles. They keep each other safe, whether it be from humans or from invading packs.
Come and join us today!
Owner: Oracle Syrinx (Talon)
CO-Owner: Oracle Fiametta (Vesta)
Admins: Shadow, Tundra, Arian, and Ferra

Vasilios







Posts

: 7


Reputation

: 0


Age

: 24



---
Permissions in this forum:
You
cannot
reply to topics in this forum