Quick Links
Site Rules
Contact Staff
Celestia: astral@rpgdragons.org Baldirak: baldirak@rpgdragons.org
Latest topics
»
Rex, a 2 foot living disaster
by
Cyrus
Tue Nov 23, 2021 3:23 pm
»
Sir Mendigan Whyte
by
roryb
Sun Nov 21, 2021 11:10 pm
»
Fishing (solo)
by
malaki
Sun Nov 21, 2021 3:59 pm
»
Miko Lowtide
by
Miko
Wed Nov 03, 2021 1:42 pm
»
Prexijandilin Krarrvek
by
Prexijandilin Krarrvek
Mon Nov 01, 2021 10:27 pm
»
Totally Normal Humans (Paradox)
by
Soshi
Sun Aug 29, 2021 8:24 am
»
Hello fellas!
by
Baldirak Sapiens Draco
Mon Aug 16, 2021 5:34 pm
»
Resentment (Soshi)
by
Incus
Thu Aug 05, 2021 7:30 am
»
Reluctant Announcement (Gifted Crystals)
by
Gemna
Thu Aug 05, 2021 5:19 am
»
The Kingdom of Twilight/Twilight Industries [WIP]
by
Lady Aurora Twilight
Mon Jul 26, 2021 2:12 pm
»
A Summons! (Open to all Tribe leaders)
by
Baldirak Sapiens Draco
Fri Jul 09, 2021 9:56 pm
»
Taking the Reins? (IceWings)
by
Snowblaze
Tue Jun 15, 2021 5:25 pm
»
A Walk in the Darkness (Open to all)
by
malaki
Thu Jun 10, 2021 10:02 pm
»
Trials and Tribulations (Tenebris)
by
Cyclone and Typhoon
Thu Jun 10, 2021 2:51 pm
»
Harsh Realities (Open to Humans)
by
Soshi
Wed Jun 09, 2021 7:50 pm
»
Dark Shadows
by
Tenebris
Sat Jun 05, 2021 3:07 pm
»
Dealing with Darkness Part 2 (Chogath)
by
Tenebris
Sat Jun 05, 2021 2:36 pm
»
Fish, Fins, and Scales (Poem)
by
Poem
Wed Apr 28, 2021 7:07 am
»
Delete this account thanks
by
Baldirak Sapiens Draco
Mon Apr 26, 2021 9:19 pm
»
FELWORLD
by
Grimone
Wed Apr 14, 2021 4:45 pm
»
My characters
by
Zappy
Sun Feb 28, 2021 10:31 pm
»
Zappy
by
Baldirak Sapiens Draco
Sun Feb 28, 2021 10:18 pm
»
hello???
by
Bassasail
Fri Feb 26, 2021 8:17 pm
»
A Salty Encounter(Open)
by
Minnow
Sat Feb 06, 2021 9:57 am
»
Ashram(solo)
by
Richard
Fri Feb 05, 2021 7:13 pm
Top posting users this month
Who is online?
In total there are
5
users online :: 0 Registered, 0 Hidden and 5 Guests :: 1 Bot
None
Most users ever online was
315
on Mon Nov 04, 2019 1:22 pm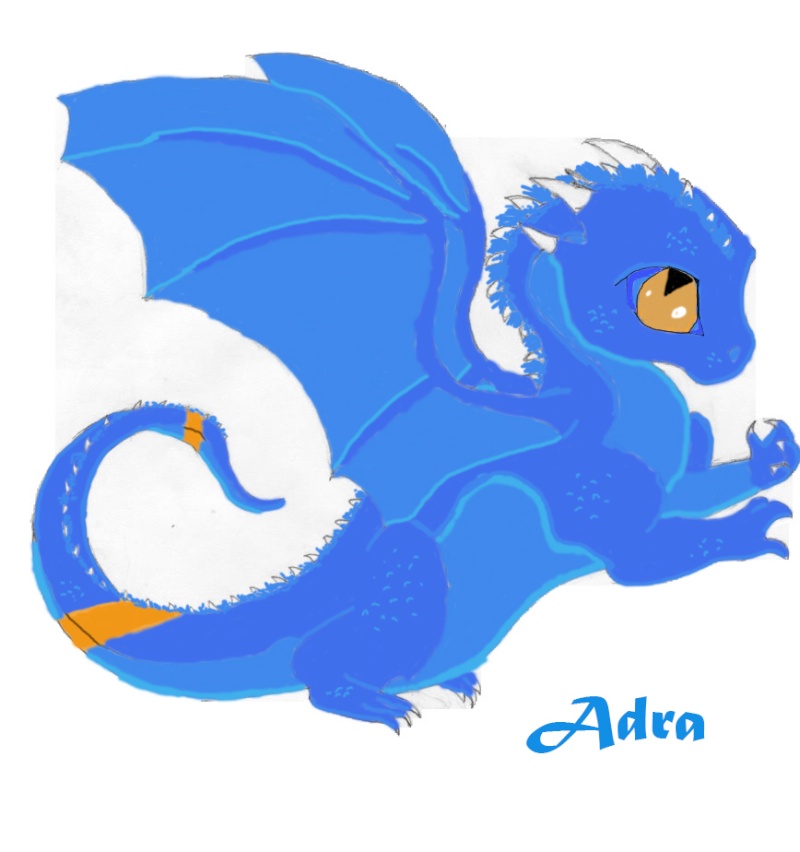 Personal InfoName:
Adra
Alias:
N/A
Age:
Newborn
Gender:
Female
Personality:
Adra, all in all, is a curious mind. A question often pops out of her mouth before she thinks about what the answer might be. Due to this, barely a few seconds later she'll make some sort of exclamation if she figures it out.
Interests:
Climbing pretty much anything, chasing after fish in the ocean, and she LOVES shiny things. Anything shiny, or interesting at all. She will eventually have a large collection of shells.
Dislikes:
She doesn't like being dirty, especially on her feet. She hates being trapped under things, and will let out a high-pitched squeal when that happens. She doesn't like prey with shells or scales, as it makes them harder to eat, in her mind.
Fears:
She is terrified of humans, and will often hide at the sight of one. When she gets older, this fear will tend to come out as aggression instead of simply hiding.
General AppearanceHeight:
Barely 5 feet right now. Will be 20 ft as an adult.
Scales:
Aqua and sky blue, with one orange stripe. The scales are rounder in shape rather than diamond-shaped.
Eyes:
A light orange-yellow
Appearance:
Her claws, spikes, and horns are all pure white, in contrast to her body color. Her back and tail spikes are surrounded by a soft, almost fur-like substance. A two yellow-orange stripes similar in color two her eyes are on her tail. As an adult, she will have a light amount of armor, so she can move better. Will find a small, blue gem that she will have put on a chain. Adra wears this around most always.
Tribe Information and StatusTribe:
SeaWings
Rank:
Hatchling
Family:
Mother: Oceana
Father: Arkhor
Sister: Fraya
Brother: Delphin
Mate:
N/A
Hatchlings:
N/A
Skills and AbilitiesStrengths:
She is good at swimming, as all SeaWings are, and is pretty acrobatic in the air. She is also good at climbing things.
Special Abilities:
Can pull water to her. Like how a magnet attracts metal, Adra is the magnet and water is the metal. Unlike a magnet, though, she can turn this on and off.
Weaknesses:
She's a bit clumsy on the ground, and avoids fighting on the ground at all occasions.
Combat Style:
((All after she learns to fight)) She prefers to fight near water, though she will fly if need be. She hates fighting on the ground at all. Her style will tend to be more trickster-like, and she will lean more towards the speed side than relying on strength.
BackgroundHistory:
((Too young..))
RP Sample:
((See Wisp's sign-up))

Adra

SeaWing Hatchling





Posts

: 110


Reputation

: 5



New hatcling
Approved ^^
_______________________
Watch out about my other account: Xangor

Atlantis

SeaWing Scholar





Posts

: 742


Reputation

: 8


Location

: From the Atlantic Ocean



---
Permissions in this forum:
You
cannot
reply to topics in this forum