Quick Links
Site Rules
Contact Staff
Celestia: astral@rpgdragons.org Baldirak: baldirak@rpgdragons.org
Latest topics
»
Passing the Torch... One Day.. For Now, We Train (Cygnus)
by
Svadilfare
Yesterday at 9:39 pm
»
Elara
by
Wake
Yesterday at 5:28 pm
»
What is an "Ebonwing"?
by
Baldirak Che'le
Yesterday at 5:19 pm
»
Cygnus
by
Baldirak Che'le
Yesterday at 11:56 am
»
Father and Child Bonding Time (Cygnus/Sul and El)
by
Svadilfare
Wed Jan 15, 2020 12:14 pm
»
On The Moon (Baldi)
by
Baldirak Che'le
Wed Jan 15, 2020 10:55 am
»
Festival of ascendants (Open to All)
by
Noctis Umbra
Wed Jan 15, 2020 9:39 am
»
OATHIA AFFILIATE REQUEST
by
Grimone
Fri Jan 10, 2020 3:37 am
»
The Mentor Program
by
Baldirak Che'le
Sun Dec 29, 2019 11:21 pm
»
Dragon Naming Game
by
Crag
Sun Dec 22, 2019 8:10 pm
»
Greatest Naruto RP (Celestia lolol ahem ahem)
by
Robo
Sun Dec 08, 2019 12:08 pm
»
Soshi: Goddess of the Elements
by
Astral
Thu Dec 05, 2019 12:26 pm
»
Ragnarock (Finished)
by
Baldirak Che'le
Fri Nov 22, 2019 5:25 pm
»
Draciel (Ready For Review!)
by
Baldirak Che'le
Fri Nov 22, 2019 5:20 pm
»
You know, a mate could do her well
by
Draciel
Fri Nov 22, 2019 11:11 am
»
Left to the Forest (Starlight order)
by
Attor
Mon Nov 18, 2019 6:41 am
»
Zio, a Lightwing trainee
by
Zio
Sun Nov 17, 2019 9:39 am
»
Introducing: RISK, DRF Edition!
by
Baldirak Che'le
Tue Nov 05, 2019 3:58 pm
»
Tundra the Icewing/nightwing assassin
by
Baldirak Che'le
Tue Nov 05, 2019 3:57 pm
»
Live Finds a Way (Order of Starlights)
by
Destella
Sun Oct 27, 2019 4:31 pm
»
EarthWing Ranks
by
Baldirak Che'le
Sat Oct 26, 2019 6:27 pm
»
Our Ruin (Hanuel)
by
Attor
Sat Oct 26, 2019 12:32 pm
»
Reunion (Astral)
by
Incus
Sat Oct 26, 2019 11:47 am
»
To Claim an Island (RISK, DRF Edition)
by
Baldirak Che'le
Sat Oct 26, 2019 11:37 am
»
Sins of the Fathers (Tenebris)
by
malaki
Tue Oct 22, 2019 7:08 pm
Top posting users this month
Who is online?
In total there are
6
users online :: 1 Registered, 0 Hidden and 5 Guests :: 1 Bot
Baldirak Che'le
Most users ever online was
315
on Mon Nov 04, 2019 1:22 pm

Type of Character: Dragon
Link to Character List Page: http://www.rpgdragons.org/t5429-hydrangea-s-characters
Personal InfoName: Ashia Tssura
Alias: Ashia
Age: 6 years of age
Gender: Female
Personality: Ashia is a cunning trickster. She loves to play pranks on her fellow Nightwings. She is short tempered and gets put in time out a lot. She always fights if she thinks she is right to fight with her colleges. She might even attack them physically. She is also very greedy. She hates sharing and never lets anyone touch her stuff. She is very curious as well.
Fears: She is afraid of Manticores, because they killed her mama and almost her. She is also afraid of death (Who isn't?), and getting lost. She also has Germaphobia.
Strengths: She is very smart and cunning. She likes to make things as well. She is very crafty, and likes to make little necklaces out of string and pretty plants.
Weaknesses: She is weak to stronger, bulkier dragons. because she is not strong, she would easily be pummeled. She is also weak to dirty things. Because of her Germaphobia, she is extremely sensitive to the world around her.General AppearanceHeight: 8 feet
Scales: Blackish blue torso, and whitish blue underbelly
Eyes: a very pale aqua
Appearance: Ashia is mostly black, with a white underbelly. Some of her black torso bleeds into her underbelly, creating black zig-zags along her neck.  She has blue shades by her wings, and her horns are blue. She has blue above her eyelids that looks like mascara. She can be seen sometimes with a necklace made of rocks and leaves.
Tribe Information and StatusTribe: Nightwings
Inheritance: 100% Nightwing
Rank: Hatchling
Family: N/A (Deceased)
Mate: Um... No
Hatchlings: N/A
Skills and AbilitiesNormal Abilities: She can breathe a toxic sleeping gas. Hence she is a baby, this gas is not strong and can only make someone drowsy. She is also half nocturnal and blends (somewhat) into the shadows.
Special Abilities: She can create a field of darkness. It looks like a bubble that is filled with ink. She can spawn this, and the opponent won't be able to see her. This can be extremely useful during daytime. This will not do damage, and will last for 10 seconds flat. This can be used every 5 posts.
Combat Style: She's a hatchling.
Background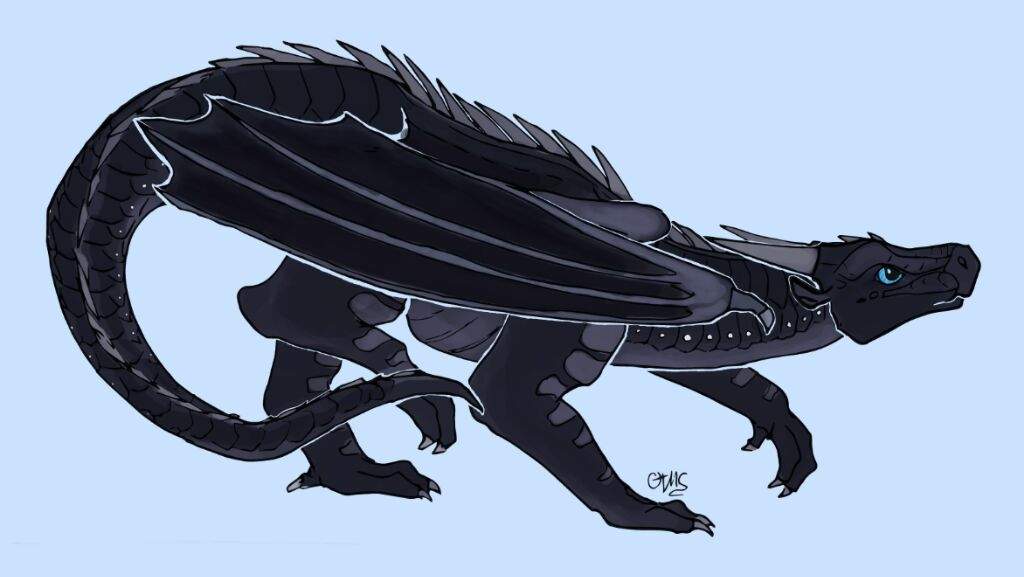 History: She was laid in the wilderness by her mother. A Manticore swooped down and killed her mama, almost killing her. She crawled into a crevice for safety. Later, she was found by Nightwings and brought to the village.
RP Sample: Yeah no.
Last edited by Ashia on Tue Jul 09, 2019 6:52 pm; edited 1 time in total

Ashia




Posts

: 1


Reputation

: 0



Because she is just a Hatchling, it should be noted that her sleeping gas isn't going to be as effective as an adult, and would likely just make someone drowsy. Also, you mention that she is completely nocturnal, but then you say that her special ability can be extremely useful during the day.
_______________________
Astral's favorite person. ^.^

Baldirak Che'le

Grand Champion Y1 Earthwing King








Posts

: 2420


Reputation

: 90


Age

: 25


Location

: Wherever the Dragon Cat goes




---
Permissions in this forum:
You
cannot
reply to topics in this forum