Quick Links
Site Rules
Contact Staff
Celestia: astral@rpgdragons.org Baldirak: baldirak@rpgdragons.org
Latest topics
»
Isle of Storms (Open)
by
Wake
Today at 6:49 pm
»
Unexpected Repercussions (Tenebris)
by
Shira
Today at 3:55 pm
»
Kingdom of Leostonnia
by
Tenebris
Today at 1:05 pm
»
Finally Meeting (Paradox)
by
Discord
Today at 12:41 pm
»
Harsh Realities (Open to Humans)
by
Tenebris
Today at 12:02 pm
»
Passing the Torch... One Day.. For Now, We Train (Cygnus)
by
Cygnus
Today at 10:09 am
»
Fishing in the Dark (Seawing)
by
Bassasail
Yesterday at 2:32 pm
»
History Repeating (Baldi)
by
Baldirak Che'le
Yesterday at 1:37 pm
»
Starlights: Lore Redux (WIP)
by
Attor
Yesterday at 11:22 am
»
Lesser is Superior (Open to all)
by
Servius
Yesterday at 11:10 am
»
Two Heads are Better than One (Twilight Imperium)
by
Cyclone and Typhoon
Sun Feb 23, 2020 5:48 pm
»
Foray Into The Frozen North (Tharasis)
by
Noctis Umbra
Sun Feb 23, 2020 3:07 pm
»
My reasoning
by
Baldirak Che'le
Thu Feb 20, 2020 6:09 pm
»
Erebus, the condemned.
by
Baldirak Che'le
Thu Feb 20, 2020 4:19 pm
»
Before Mankind (Read Only)
by
Baldirak Che'le
Wed Feb 19, 2020 7:34 pm
»
Nightwing Society
by
Tenebris
Wed Feb 19, 2020 2:00 pm
»
A starry night makes for good conversation (Open to all)
by
Helia
Wed Feb 19, 2020 1:19 pm
»
Akarui
by
Baldirak Che'le
Tue Feb 18, 2020 5:39 pm
»
Sins of the Fathers (Tenebris)
by
Tenebris
Tue Feb 18, 2020 3:24 pm
»
Dealing with Darkness (Tenebris)
by
Tenebris
Tue Feb 18, 2020 2:59 pm
»
Hello World (Starlights)
by
Destella
Tue Feb 18, 2020 7:27 am
»
Gleam's Characters
by
Gleam
Mon Feb 17, 2020 5:37 pm
»
Gleam, the Healer
by
Baldirak Che'le
Mon Feb 17, 2020 3:03 pm
»
Looking to rp with anyone
by
Tharasis
Sun Feb 16, 2020 4:36 am
»
Character Compilation - Sun
by
Selthies
Fri Feb 14, 2020 8:39 pm
Top posting users this month
Who is online?
In total there are
10
users online :: 0 Registered, 0 Hidden and 10 Guests :: 1 Bot
None
Most users ever online was
315
on Mon Nov 04, 2019 1:22 pm

Type of Character:
Dragon
Link to Character List Page:
http://www.rpgdragons.org/t4862-rylatha-s-characters
Personal InfoName:
Wylandriah
Alias:
None.
Age:
27 years
Gender:
Female
Sexuality:
Bisexual  
Personality:
To begin with, Wylandriah the LightWing is appreciative of beauty-- both the beauty of others and herself. She will be happy to help any achieve true fabulousness be it by the use of primping or jewelry. This connects with her particularity for cleanliness. Wylandriah will panic in avoiding a mud puddle or running out of a downpour to avoid ruining her pristine scales. Her fashion consciousness even extends to times of peril, as she will sneak right into a Tribe's territory and question if she looks beautiful enough for a good first impression. Her obsession with beauty also refers to inner beauty and letting it shine from the inside out.
This dragoness also loves being in the center of attention and can't help but get envious when another dragon is in the spotlight. This might tempt her to try to overthrow the dragon, and the possibility of this actually happening is 50/50. It is an unpredictable area in Wylandriah's behavior.
Now for her mannerisms. Wylandriah is very formal and is prone to using complex words and more elaborate, sophisticated wording than others. She sometimes gets carried away with her attention to detail, determined to fix up messes and making things look perfect, even when there are more important things for her to attend to. In times of danger, she can be tough and resourceful. Wylandriah can sometimes be manipulative and trick her enemies into letting things go her way.
Fears:
>Wylandriah fears being ugly. This steers her away from filth.
Strengths:
>Unlike most LightWings, Wylandriah is able to control the color of her scales-- and quite well, too. She is able to mimic the colors of other Tribes and blend in quite well, even being able to sneak in. However, this doesn't stop color marching along her scales at times of intense emotion.
>This dragoness has a large amount of courage. She is not afraid of anything, not even death itself. In fact, the only thing she is afraid of is dirt, of all things.
>Her tail is long and goes to a whip-thin tip, curling up like a monkey's at the end. This makes it prehensile, able to grasp things. This makes Wylandriah good at climbing, though she finds it unladylike.
>She is quite fast, flying at the maximum LightWing speed, 70 mph.
Weaknesses:
>Wylandriah is not physically strong. Anyone is able to push her around (physically, of course).
>When it comes to beautiful trinkets such as beauty and gems, she gets very greedy and snaps at others. This causes her to be mean, which is undesirable if one hopes to be her friend.
>She is very much prissy and ladylike, which steers her away from things she considers 'uncouth'. This includes combat, dirt, physical labor, and more. This might make her defenseless in a dire situation, as she will refuse to fight, swim, or climb to escape the danger, leaving her quite vulnerable.
>The LightWing is very arrogant, thinking of herself as very important. This can make her come across as snobby to others.
General AppearanceHeight:
40 feet
Scales:
Wylandriah has scales of many colors. Her colors include green, aqua, blue, purple, red, yellow, and orange. However, she can change the color of her scales according to her emotions, but she can also do this at will. Her scales are smooth and circular, looking like pebbles.
Eyes:
Emerald green
Appearance:
Wylandriah is a sleek-scaled, thin, slender dragon with large wings and a long prehensile tail. She has long, impressively sharp black claws and thin fangs from her upper jaw that go below the bottom lip. This dragoness is covered in aqua scales with a pale underbelly. Small bright yellow stripes travel from the back of her neck, along her spine, and to the tip of her tail. Her spine is lined with a dark violet shade, ridged with tiny red spikes. Along the side of her are light blue dots, barely visible against the aqua. She has green and yellow shoulders and red scales upon her talons. Her head is topped with the same violet color of her spine, the pattern somewhat resembling a helmet, with blue spots over her eyes. The wings she adorns have membranes the color of fire.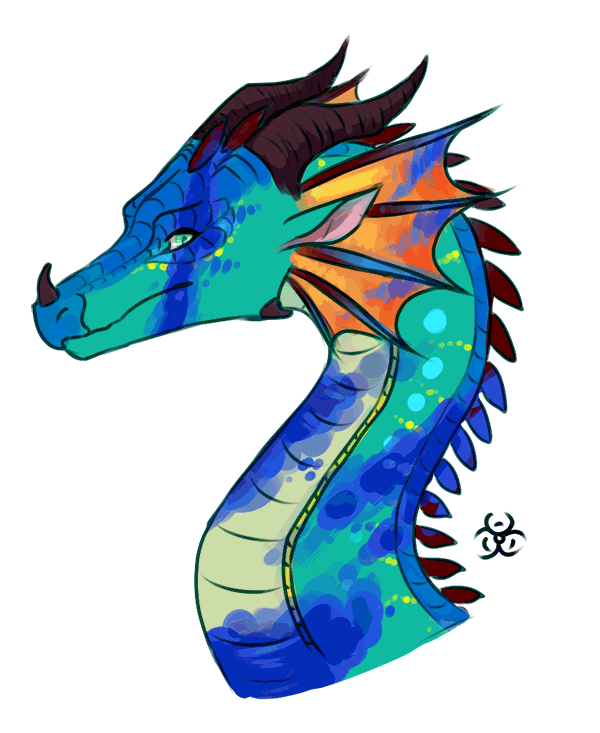 Wylandriah briefly turning blue in confusion.
Wylandriah's EarthWing Disguise:
Wylandriah's FireWing Disguise:
Wylandriah's NightWing Disguise:
Wylandriah's SkyWiing Disguise:
Wylandriah's IceWing Disguise:
Wylandriah's SeaWing Disguise:
Tribe Information and StatusTribe:
LightWing
Inheritance:
Purebred
Rank:
Citizen
Family:
Wylandriah has a set of parents living in the SkyWing territory. However, she also has a little sister named Vici who lives with her.
Mate:
None.
Hatchlings:
Not interested.
Skills and AbilitiesNormal Abilities:
>Like all LightWings, Wylandriah can exhale blinding light from her jaws which both harms the victim's eyes and burns on contact. The breath can travel as far as 25 feet and causes third degree burns. It harms the eyes by temporarily blinding them, which lasts only two posts.
Special Abilities:
>Wylandriah's unique ability is within her scales. She has a special scale on her tailtip and on the edges of her wings that she can activate to glow at will. This is a mere aesthetic ability, but it is also used in flying at night so the dragon she is flying with can follow her thanks to the lights on her tail and wings.
Combat Style:
Fighting?! Excuse me, I am a lady. Fighting is quite uncouth, wouldn't you agree?
BackgroundHistory:
Wylandriah has a simple history. She was born in the Dazzling Jungle to two parents, and her sister came along 21 years later. When she was 25, the SkyWings and LightWings merged which resulted in her parents moving to the SkyWing territory. However, her sister Vici wanted to stay with Wylandriah, so Wylandriah has spent her last few years with her little sibling under her wing. She sometimes sneaks away to the other territories. She has only visited the SkyWings and NightWings but desires to visit them all.
_______________________

Wylandriah




Posts

: 1


Reputation

: 0



_______________________
Tenebris's
Bio
A look at one of Tenebris's
Publications
as a Scholar
Tenebris's
backstory
"
Destiny isn't a matter of chance, its a matter of choice. Only we can claim our Destiny when the path opens
" ~ Tenebris lamenting.
"
Oftentimes in reality, the realists are in the position of the antihero. Neither those on the side of good, nor the side of bad really trust them, as their truth is universal.
" ~ Tenebris, Archon of the Ebonwing Potentate.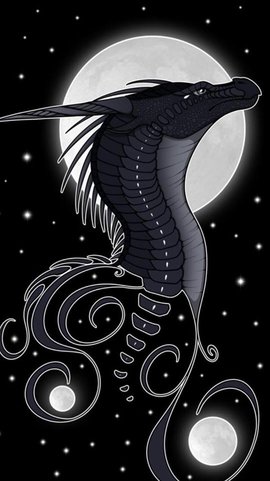 Tenebris

Archon of the Nightwings







Posts

: 554


Reputation

: 5


Age

: 24




---
Permissions in this forum:
You
cannot
reply to topics in this forum