Quick Links
Site Rules
Contact Staff
Celestia: astral@rpgdragons.org Baldirak: baldirak@rpgdragons.org
Latest topics
»
To Claim a Future (Risk Event)
by
Ragnarock
Today at 9:13 pm
»
Zylah Youngest Daughter of the Archon
by
Zylah
Today at 12:44 pm
»
Father and Child Bonding Time (Cygnus/Sul and El)
by
Celestia
Yesterday at 2:03 pm
»
claiming an island ( Risk, DRF edition )
by
Celestia
Yesterday at 1:22 pm
»
Chogath, the Alchemist of Ink
by
Baldirak Sapiens Draco
Yesterday at 9:47 am
»
Share your character theme music
by
Baldirak Sapiens Draco
Yesterday at 6:06 am
»
On the Road Again, Part 2 [Open to Everyone]
by
Reality Glitch
Mon Jun 24, 2019 6:46 pm
»
Double Trouble (Open to All, Located in Twilight Imperium)
by
Tharasis
Mon Jun 24, 2019 8:33 am
»
ORKEV(edit)
by
Baldirak Sapiens Draco
Sun Jun 23, 2019 1:08 pm
»
Advisory Training: Part 2 (Wake)
by
Wake
Sun Jun 23, 2019 12:22 pm
»
To Claim an Island (RISK, DRF Edition)
by
Wake
Sun Jun 23, 2019 11:59 am
»
claiming of amethyst isle(RISK DRF)
by
Orkev
Sun Jun 23, 2019 6:51 am
»
All Alone? (Open)
by
Minnow
Sun Jun 23, 2019 6:13 am
»
Finding My Way Back (Kenina)
by
Baldirak Sapiens Draco
Sat Jun 22, 2019 4:30 pm
»
Updated Active Characters List
by
Baldirak Sapiens Draco
Sat Jun 22, 2019 7:43 am
»
Sins of Empire (Nerokius)
by
Nerokius
Sat Jun 22, 2019 7:15 am
»
Surviving Sovereigns (Baldirak)
by
Attor
Fri Jun 21, 2019 9:37 pm
»
Labors of Love (Khada Dís + Solomon)
by
Solomon
Fri Jun 21, 2019 7:51 pm
»
Introducing: RISK, DRF Edition!
by
Baldirak Sapiens Draco
Fri Jun 21, 2019 1:11 pm
»
Live Finds a Way (Order of Starlights)
by
Destella
Thu Jun 20, 2019 6:43 pm
»
Comfort Zones (Hildrhilt)
by
Hildrhilt
Thu Jun 20, 2019 3:59 pm
»
Map of Pyyria
by
Tenebris
Thu Jun 20, 2019 10:07 am
»
New Members Guide: Lore[WIP]
by
Tenebris
Thu Jun 20, 2019 10:00 am
»
City State of Ariophia
by
Tenebris
Thu Jun 20, 2019 9:56 am
»
Nation of Skaldgarde
by
Tenebris
Thu Jun 20, 2019 9:53 am
Top posting users this month
Who is online?
In total there are
6
users online :: 0 Registered, 0 Hidden and 6 Guests :: 1 Bot
None
Most users ever online was
110
on Mon Jan 25, 2016 3:47 pm

"Where is the stawbewwies?"

The tiny hatchling snuffed in the nearby undergrowth for any trace of the berries she loved so much. Upon scenting no such thing, she let out an angry squawk and batted the bush with her stumpy talons. "Hurumph! I want stawbewwies! Where is them?" Mephala grabbed a branch with her tiny teeth and tugged on it in her anger. The branch whipped back and smacked her right in the snout. The baby dragon cried out. She sat back on her haunches and rubbed her snout forlornly. She sniffed. It was sore. She could tell that would be an owwie soon.

Mephala was the daughter of the NightWing Archon, Tenebris. Usually her father had an eye on her at all times, but Mephala got impatient waiting for strawberries. It was hard to sneak away, but she did it. The tiny four-year-old was out alone in the territory, not bothering to be quiet. She snorted and galloped lazily to another bush. "Any bewwies here?" She stuck her head in the bush to see. "No. . . Them is gone." The little one sighed and tried to pull her head out only to face a scary discovery: her head was stuck.

"No!" She began struggling, trying to pull away. The branches were tight and tangled around her neck. Mephala began to whimper. "Help! Help! The bush is eating me!! It mad at me! Help! Pwease!"
_______________________
Tinuvel flew towards the forest with teary eyes. She always did. She couldn't take the teasing and her being made fun of. She was headed to the outskirts of the forest, where it was quiet.

Huh? What's that sound?

She dove down for a closer look. There was a small hatchling, calling for help, who was no doubt stuck. She landed gracefully and ran towards the hatchling. She grabbed  the branches and brambles within her teeth and started pulling violently. After what seemed like hours, she finally snapped the branches. She approached the small hatchling and said,

Hello, I'm Tinuvel, are you okay?
The small dragon whimpered and leapt away from the bush as soon as she was free. She snuffled miserably, rubbing her snout which caused her to wince. It was still sore. Mephala nodded sullenly. "Ye. . . I- I mean!" She mimicked her father's posture and dipped her head, trying to be graceful and elegant like him. "Yes, ma'am."

Mephala squinted at the NightWing. She wasn't big like the other ones. . . And she didn't look very scary, either. "Is you a hatchling like me?" She suddenly realized she didn't thank her savior so she tucked in her wings. "And thanks you. . ." Mephala shuffled her feet shyly. She was usually so hyper around other dragons, but she was always with Tenebris then. Now, she was alone. This dragon didn't look mean, at least. . .
_______________________
Yes, I am a hatchling, and why are you out here all alone?

Tinuvel was sort of startled and relieved at the same time. She had never known this hatchling, and this hathling had never known her. She was always made fun of by her fellow Nightwing hatchlings, and they felt "obliged" to make her feel like she was a helpless newborn, stuck in a mud pile. She had no parents to defend her. She started to cry just thinking about her mother's and father's death. They abandoned her and died. She sat down, covered her head, and started to sob, almost ignoring the hatchling standing in front of her. All she knew, was that she was going to have to go back to the village, oh that dreaded Nightwing village!
Mephala opened her maw to answer the NightWing's question before the older hatchling suddenly began sobbing, causing the baby dragon to gaze at her in confusion. She had never seen anyone else cry before. Mephala herself was the only one she knew to ever cry until now, but that was just because she stubbed her talon one time and another instance when she was upset that Tenebris wasn't with her.

Befuddled on what to do, Mephala shyly inched closer to the other female. "Heys there, is you okay?" She awkwardly reached out her talon and patted her wing. "Is okay. . . Is alls okay." She didn't know what to do. Her father always knew what to do when she was crying. Mephala was suddenly regretting running away.
_______________________
You-your caring about me?

Tinuvel was amazed and excited. No one had ever cared for her before. Tinuvel became happier and enlightened. She got up and wiped tears off of her face.

I'm sorry. I was thinking about my parents. They- they're... not coming back.

She looked sad as she said this, and choked on the last few words.

Okay. Do you need help getting home? I know the way.
Tenebris was blind sighted to the departure of Mephala from the Nightwing citadel, she was to await within the grand hall, the forum in which official addresses and ceremonies were held, and while the Archon saw to his own studies, he had came down from his private quarters to find that Mephala had already departed. The next few moments were a flurry and influx of events and emotion, first the Archon would feel the inescapable dread that only a Father could feel at the helpless state of losing a child, and then a fury would over take him, flaring his wings he'd summon his personal guard to his side. The next events unfolded in but a few moments, the Citadels staff including Tenebris would ascend to the sky, scouring the local area.

It was after a considerable time that a young Scout had come forth to Tenebris with news, but despite the time what had passed, such rage continued to swell within the usually composed dignified Archon, it would of taken all his will power not to simply bite down on the throat of the Scout merely for the satisfaction of watching his life blood drain from him in a synthony of torment if only to give Tenebris relief from his current influxing emotions, yet he would follow the Scout to the location mentioned.

It was in this that Tenebris would descend now towards Mephala and her companion, lead by the young Scout little more than a hatchling himself, and flanked by two of his most loyal Inqusitors, the illustrious order what served directly under the Archon. Their descend was not graceful nor regal, it was more of a plummet as Tenebris emerged from the Nightsky to land before the two Hatchlings, his wounded foreleg causing him to snarl in an animalistic fashion due to the harshness of the landing, he'd take only a moment to collect himself as his eerie sapphire eyes pierced down at the two Hatchlings, unable to withhold the unbridled fury in the tone of his voice "Mephala, what is the meaning of this, explain yourself", before Mephala would even have a chance to fully make her reply he'd then crane his neck forward to the other hatchling fixating his intense stare now upon her "And who are exactly are you, did you bring my Mephala here?".
_______________________
Tenebris's
Bio
A look at one of Tenebris's
Publications
as a Scholar
"
Destiny isn't a matter of chance, its a matter of choice. Only we can claim our Destiny when the path opens
" ~ Tenebris lamenting.
"
Oftentimes in reality, the realists are in the position of the antihero. Neither those on the side of good, nor the side of bad really trust them, as their truth is universal.
" ~ Tenebris, Archon of the Ebonwing Potentate.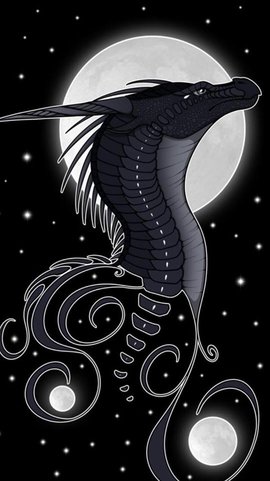 Archon of the Nightwings







Posts

: 523


Reputation

: 5


Age

: 23




---
Permissions in this forum:
You
cannot
reply to topics in this forum