Quick Links
Site Rules
Contact Staff
Celestia: astral@rpgdragons.org Baldirak: baldirak@rpgdragons.org
Latest topics
»
Once I'm gone
by
Cygnus
Thu Sep 12, 2019 7:32 am
»
To Claim an Island (RISK, DRF Edition)
by
Wake
Thu Sep 12, 2019 7:15 am
»
Advisory Training: Part 2 (Wake)
by
Phantasmas
Tue Sep 10, 2019 6:29 pm
»
Festival of ascendants (Open to All)
by
Incus
Mon Sep 09, 2019 12:29 pm
»
The Hunter's Return ((Open to All))
by
Solomon
Sun Sep 08, 2019 6:10 pm
»
Grey meets Blue (Wake)
by
Tharasis
Sun Sep 08, 2019 8:08 am
»
Akarui
by
Tenebris
Wed Sep 04, 2019 8:21 pm
»
A Knight of Leostonnia Chapters 5-8 [Read only]
by
Tenebris
Wed Sep 04, 2019 7:58 pm
»
Sins of the Fathers (Tenebris)
by
Tenebris
Wed Sep 04, 2019 7:14 pm
»
Nightwing Society
by
Tenebris
Wed Sep 04, 2019 6:45 pm
»
Unexpected Repercussions (Tenebris)
by
Tenebris
Mon Sep 02, 2019 8:36 pm
»
You've Got A Friend in Me (Wake)
by
Wake
Fri Aug 30, 2019 3:43 pm
»
Cyclone and Typhoon: The Twin Storms
by
Baldirak Che'le
Thu Aug 29, 2019 4:46 pm
»
Keeping up Appearances (Vilkas)
by
Vilkas
Wed Aug 21, 2019 8:01 am
»
Kulden, Exploring Griffin
by
Baldirak Che'le
Wed Aug 21, 2019 6:26 am
»
Silent Watch(Open to Twilight)
by
Galeon
Tue Aug 20, 2019 9:08 am
»
Venture Into Adulthood (open)
by
Noctis Umbra
Sat Aug 17, 2019 7:26 pm
»
Noctis Umbra's Characters
by
Noctis Umbra
Tue Aug 13, 2019 9:38 pm
»
Noctis Umbra Jr.
by
Baldirak Che'le
Tue Aug 13, 2019 8:13 pm
»
Adder, the Icewing
by
Baldirak Che'le
Tue Aug 13, 2019 7:59 pm
»
Silence, Lies, and Ink (Hildrhilt)
by
Chogath
Mon Aug 12, 2019 3:03 pm
»
On the Road Again, Part 2 [Open to Everyone]
by
Hildrhilt
Mon Aug 12, 2019 11:28 am
»
Slender, creatures of the Downside Under
by
Bassasail
Sun Aug 11, 2019 4:30 pm
»
Addali the Bounty Hunter
by
Wake
Sun Aug 11, 2019 3:00 pm
»
Lost and Found (Hildrehilt, Destella, Snowscale)
by
Snowscale
Sun Aug 11, 2019 9:34 am
Top posting users this month
Who is online?
In total there are
10
users online :: 0 Registered, 0 Hidden and 10 Guests
None
Most users ever online was
110
on Mon Jan 25, 2016 3:47 pm

EarthWings. . . Baldirak. . . Can it be close? It must be!

Lilith was three years old now and had been searching for the home of her past body ever since she hatched. It was very hard, as Lilith had forgotten to fly. It was because of this she travelled on foot, which proved to be a very long, painstaking journey.

But she was close. She could feel it.

The SkyWing paused to look at her wings. This would go by much faster if she could fly. . . She leapt in the air with a great beat of her wings. The hatchling flapped her wings desperately, but she must have been doing something wrong because she landed with an oof! snout-first into the dirt.

". . .Ow.

Lilith pushed herself back upright with a sigh. "Well. Just keep going forth, I guess." With a rather agitated sigh, the small dragon pressed on through the undergrowth.
_______________________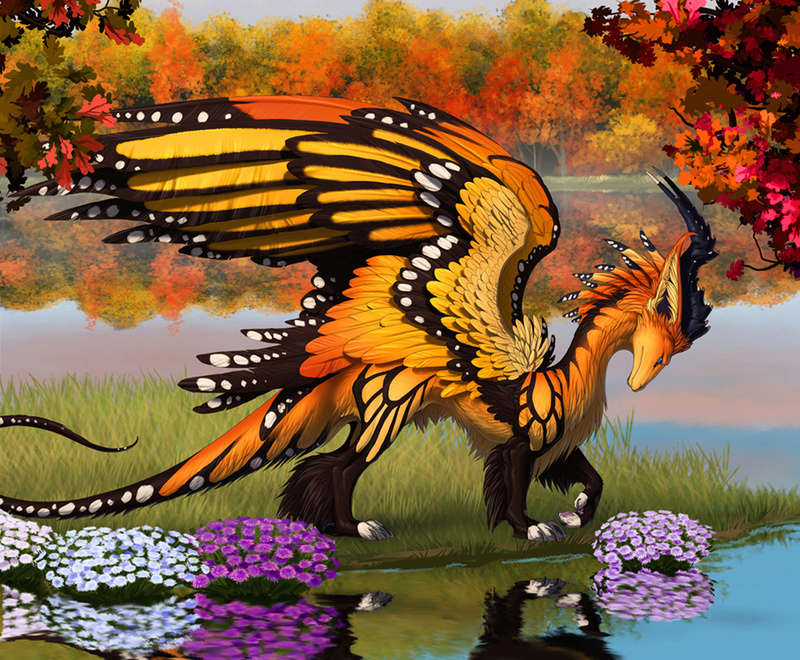 Walking along the forest floor was a male dragon. Having to be pretty large and wings that can easily shade a good amount of the ground below him.
As large as he was, the trees and the sky could easily tower over him.

Well, unless he just flies. But that isn't part of where he was heading towards in the first place.

Anywho, the male kept going forwards, following a small stone path. He then picked something up, causing him to stop for a moment.
He sensed small vibrations on the ground, and they were near.

He then heard a small voice, his snout pointing towards the sound.
Ruin decided to follow the noise, being careful of where he placed his talons at. For a big dragon, he was really careful and surprisingly gentle. He created calm stomps at every step he took.

Who knows? This might be the key to what he was looking for.


EarthWing Guardian





Posts

: 7


Reputation

: 0



Vilkas was a few paces behind the older EarthWing, currently in his mutant form. His uncle had stressed the importance of not traveling alone. It didn't stop the Survivors from venturing out alone, anyway. But the difference between Vilkas and the others was he had permission to go alone; his demi god power allowed him to be able to do so. The young half-FireWing sighed a bit. "What are you doing?" he asked when he noticed the other EarthWing practically trying to tiptoe. "We're supposed to be looking for potential bases on this trip." The King had sent out parties to look for areas that could sustain the Survivors, then mark it and determine how many high threat level monsters occupied it.
As the little SkyWing kept forth she began feeling vibrations in the earth under her feet. She stopped, pricking her furry orange ears and listening closely. Was that. . . footsteps? Her curiosity peaked, Lilith broke into a swift trot towards the sound. In a high-pitched voice, "Baldirak? Brother? Could that be you?"

Now in a full sprint, Lilith stumbled into the coverage of the forest and was practically almost stomped on by the gentle EarthWing. The hatchling flared her wings open with a squeak of surprise, diving right out of the way of the giant dragon's foot. Fluttering her wings, Lilith glared up at the EarthWing with a hiss. "Hey, watch it! Your honking great claws almost squashed me!" While she was agitated, Lilith knew that was her fault for rushing foolishly towards the sounds of a dragon she didn't know in hopes it could be her brother. "I know I'm a little SkyWing, but I need to get to my brother. Do you--? Oh!!"

Piercing blue eyes fell on Vilkas. Lilith's heart suddenly rose and starting thumping. "Vilkas!" Her wings bat happily as she trilled. You're alive! And okay!" Though he was in his mutant form and quite dangerous, Lilith purred and bounced to her son, circling him happily.
_______________________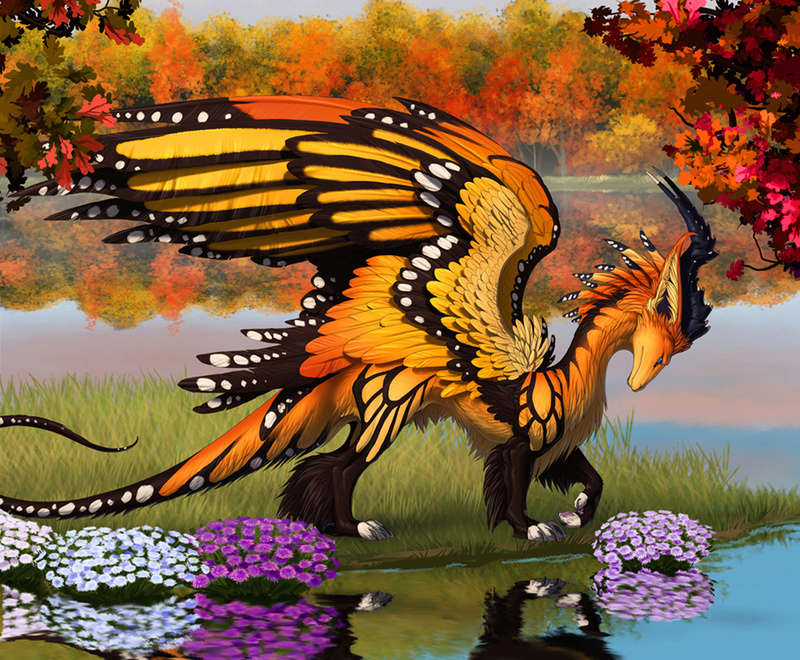 ".........................."

Vilkas had no idea how to respond to what he just heard. Not yet, anyway. Actually, he wasn't entirely sure he had heard it right. Had this tiny Hatchling just spoken his name? This tiny Hatchling whom he'd never met before? And the demigod was most puzzled by what she said after. 'You're alive! And okay!'... Yes, he was alive... But why should that matter to this tiny Hatchling he didn't know? And then she started bouncing around him. "...Uh.... Yes, I'm alive..."

And then something occurred to Vilkas. He was in his mutant form. No stranger could possibly know that he wasn't actually a monster, let alone his name. "..How do you know me?"
Suddenly Lilith deflated. Oh... Yeah, that's right. He doesn't know me... She perked back up. Yet!

"Yeah. . . Sorry, I forgot you wouldn't know me. In this form, anyway." She spread her wings and trotted elegantly in a circle, letting Vilkas look at her new SkyWing body. Lilith then frowned and sat down. How was she supposed to break this, exactly? What if he didn't believe her? I must make him believe me. I must!

The hatchling took a deep breath. "To be honest, Vilkas. . . I am Rylatha. Reincarnated. I was hatched in the IceWing territory. She looked at Vilkas for a moment then leapt at him again. "I'm just so happy to see you!"
_______________________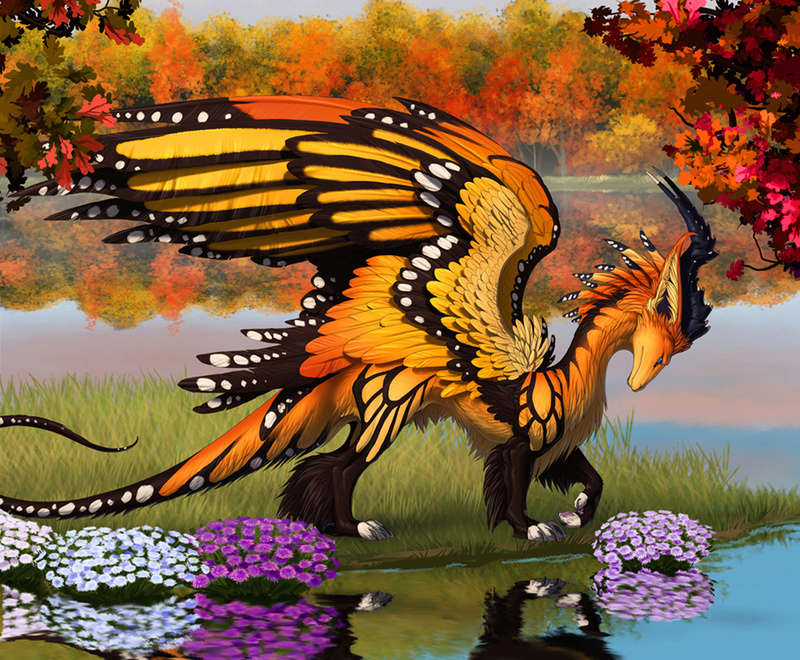 The demi-god raised his club and brought down to the earth with a snarl. "My mother is dead!"
I am walking through a forest when I hear something hitting the ground so I stop and look around to see what it was "wonder what that nose was"






Posts

: 63


Reputation

: 0


Age

: 20


Location

: dude where's my car



Lilith sensed vibrations in the earth. . . Another dragon was near. It'll be fine. I can deal with them later. The most important thing now is my son. She leapt back with a squeak when Vilkas brought down his club, causing the hatchling to cover her face with her wings in terror. She was tiny, so Vilkas could easily kill her if he wanted to. The SkyWing growled and glared up at him.

"Vilkas, you know better than to snarl at your mother." She held her glare with piercing blue eyes before sighing and stepping forth. "I'm sorry, honey. I know you. Let me prove it." Lilith took a deep breath then looked at her son with a tilted head. "You were hatched near a volcano in the FireWing territory in honor of your deceased father, Vyur. You were hatched in a batch of four: Amadeus, Evaleen, Tangromaven, and yourself. Your sister Tangromaven sadly passed on, but she will always be in our hearts. I am sorry for leaving you. . . For dying like I did. I could have stopped it from happening, but I didn't. I thought I was a burden. . . Well." Her face dropped. "I was, blind and all. But this is a new chapter. If you will not believe me, I will ask you to take me to your uncle Baldirak-- my brother. That is, if he will accept me."
_______________________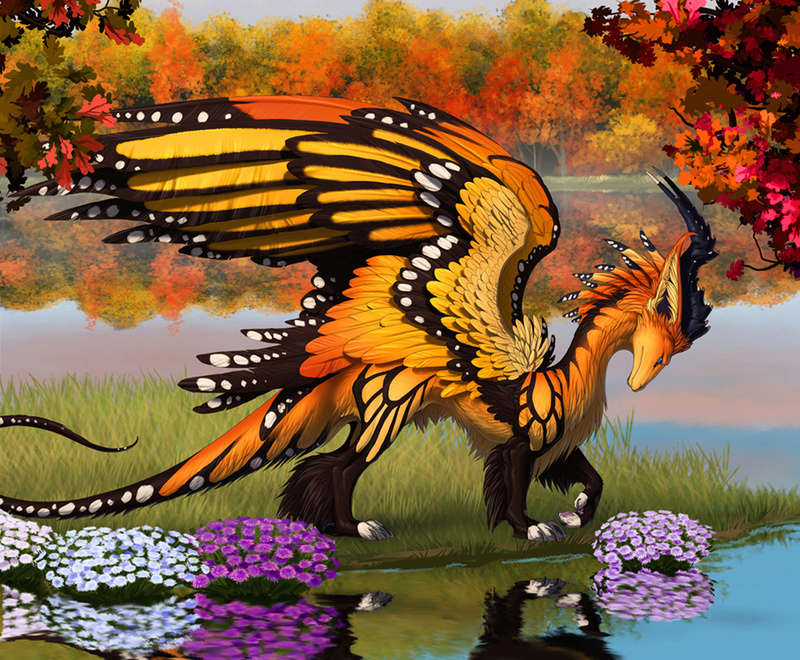 Smoke billowed from Vilkas' nostrils and slightly opened maw. He was ready to strike again when the tiny Hatchling started speaking things no one could have known. No one, except his uncle... and mother. "...Mother?" The demigod shifted back to his normal self. He laid down and lowered his head to get a better look a the Hatchling. "It is you... I'm sorry, Mother.. You're really back? But how?"

---
Permissions in this forum:
You
cannot
reply to topics in this forum