Quick Links
Site Rules
Contact Staff
Celestia: astral@rpgdragons.org Baldirak: baldirak@rpgdragons.org
Latest topics
»
The Monsterlypse [Major Site Event] (part of the DP Revamp)
by
Baldirak Sapiens Draco
Yesterday at 12:39 pm
»
A Hermit's Lament
by
Aquantei
Yesterday at 12:28 pm
»
How to Raise A Captive-Born Dragon (Snowblaze/Soulcry)
by
Atarijor XVI
Yesterday at 10:48 am
»
The Alpha Beckons [Gifted Crystals]
by
Atarijor XVI
Fri Apr 19, 2019 3:43 pm
»
Very Special Agent Dinnozo
by
Wake
Thu Apr 18, 2019 2:29 pm
»
A Walk Through the Cold (Open)
by
Tharasis
Thu Apr 18, 2019 10:24 am
»
Advisory Training: Part 2 (Wake)
by
Phantasmas
Thu Apr 18, 2019 9:14 am
»
Red:Titan Of the North Winds (WiP)
by
RedNorthernWinds
Thu Apr 18, 2019 8:11 am
»
Tinuvel, The Wise Earthwing Scholar
by
Baldirak Sapiens Draco
Wed Apr 17, 2019 9:01 pm
»
Nessesary Evil For A Greater Good (Tenebris)
by
malaki
Wed Apr 17, 2019 5:00 pm
»
Little Dragon, Big World [OPEN]
by
Ruin
Wed Apr 17, 2019 7:02 am
»
Trading Post (open)
by
Solomon
Tue Apr 16, 2019 7:06 pm
»
The Ranks of the IceWings
by
Atarijor XVI
Tue Apr 16, 2019 6:54 pm
»
The IceWing Law
by
Ra'Shei
Mon Apr 15, 2019 3:05 pm
»
Phantasmas: Demi-god Sage
by
Baldirak Sapiens Draco
Mon Apr 15, 2019 2:12 pm
»
First Demi: Phatasmas, Sage of Illusion
by
Baldirak Sapiens Draco
Sun Apr 14, 2019 6:49 pm
»
Father and Child Bonding Time (Cygnus/Sul and El)
by
Svadilfare
Sun Apr 14, 2019 12:20 pm
»
Grave Robbers (Svad, open)
by
Svadilfare
Sun Apr 14, 2019 9:49 am
»
my character (W.I.P)
by
Baldirak Sapiens Draco
Sun Apr 14, 2019 9:23 am
»
To Beileve or Not Believe (Kenina)
by
Baldirak Sapiens Draco
Sun Apr 14, 2019 9:19 am
»
Aquantei, The Sea Hermit
by
Wake
Sat Apr 13, 2019 4:41 pm
»
IceWing Alpha, Ra'Shei
by
Baldirak Sapiens Draco
Sat Apr 13, 2019 4:13 pm
»
Warmth in the Cold ((Svadilfare and Lulu))
by
Svadilfare
Fri Apr 12, 2019 7:01 pm
»
Stricken with a Sickness. . . Or Something More? (Súl Iolar)
by
Súl Iolar
Fri Apr 12, 2019 10:44 am
»
How to raise your dragons (Private Svad)
by
Svadilfare
Wed Apr 10, 2019 6:54 pm
Top posting users this month
Who is online?
In total there are
4
users online :: 0 Registered, 0 Hidden and 4 Guests :: 1 Bot
None
Most users ever online was
110
on Mon Jan 25, 2016 3:47 pm

EarthWings. . . Baldirak. . . Can it be close? It must be!

Lilith was three years old now and had been searching for the home of her past body ever since she hatched. It was very hard, as Lilith had forgotten to fly. It was because of this she travelled on foot, which proved to be a very long, painstaking journey.

But she was close. She could feel it.

The SkyWing paused to look at her wings. This would go by much faster if she could fly. . . She leapt in the air with a great beat of her wings. The hatchling flapped her wings desperately, but she must have been doing something wrong because she landed with an oof! snout-first into the dirt.

". . .Ow.

Lilith pushed herself back upright with a sigh. "Well. Just keep going forth, I guess." With a rather agitated sigh, the small dragon pressed on through the undergrowth.
_______________________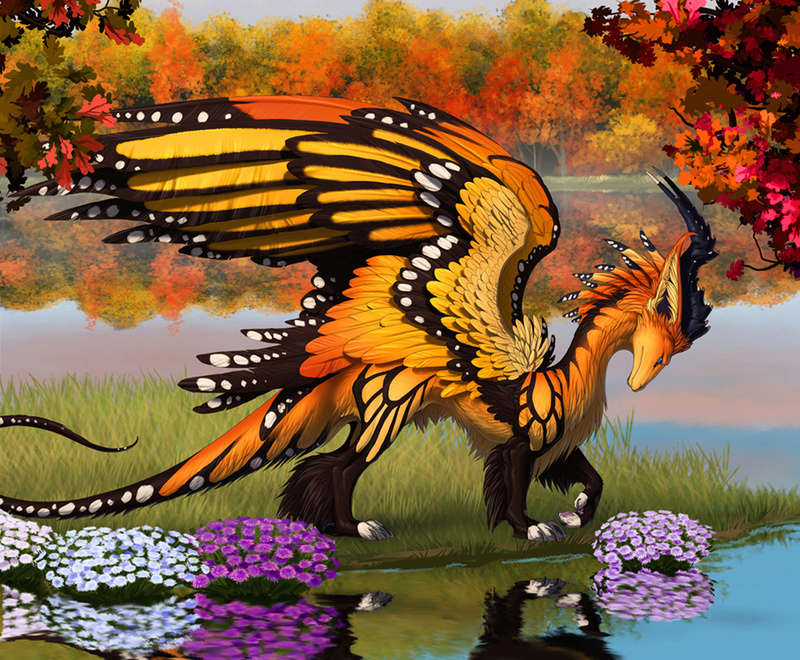 Posts

: 9


Reputation

: 0


Location

: I just want to be home.



Walking along the forest floor was a male dragon. Having to be pretty large and wings that can easily shade a good amount of the ground below him.
As large as he was, the trees and the sky could easily tower over him.

Well, unless he just flies. But that isn't part of where he was heading towards in the first place.

Anywho, the male kept going forwards, following a small stone path. He then picked something up, causing him to stop for a moment.
He sensed small vibrations on the ground, and they were near.

He then heard a small voice, his snout pointing towards the sound.
Ruin decided to follow the noise, being careful of where he placed his talons at. For a big dragon, he was really careful and surprisingly gentle. He created calm stomps at every step he took.

Who knows? This might be the key to what he was looking for.


EarthWing Guardian





Posts

: 6


Reputation

: 0




---
Permissions in this forum:
You
cannot
reply to topics in this forum