Quick Links
Site Rules
Contact Staff
Celestia: astral@rpgdragons.org Baldirak: baldirak@rpgdragons.org
Latest topics
»
claiming of amethyst isle(RISK DRF)
by
Orkev
Today at 6:56 pm
»
A gift left behind (Hildrhilt-)
by
Abbadon
Today at 5:44 pm
»
Perula the White
by
Perula
Today at 4:50 pm
»
Silent Watch(Open to Twilight)
by
Galeon
Today at 3:55 pm
»
Small Problems(Open to Twilight)
by
Calemvir
Today at 1:18 pm
»
Incus
by
Incus
Today at 1:14 pm
»
To Claim an Island (RISK, DRF Edition)
by
Wake
Today at 10:50 am
»
You've Got A Friend in Me (Wake)
by
Hildrhilt
Today at 9:53 am
»
Silence, Lies, and Ink (Hildrhilt)
by
Hildrhilt
Today at 9:48 am
»
Keeping up Appearances (Vilkas)
by
Hildrhilt
Today at 9:26 am
»
Galeon Jr.
by
Baldirak Che'le
Today at 8:35 am
»
Unexpected Repercussions (Tenebris)
by
Shira
Yesterday at 5:57 pm
»
Festival of ascendants (Open to All)
by
Phantasmas
Yesterday at 2:52 pm
»
Father and Child Bonding Time (Cygnus/Sul and El)
by
Cygnus
Thu Jul 18, 2019 10:41 am
»
Share your character theme music
by
Tenebris
Wed Jul 17, 2019 9:35 pm
»
Live Finds a Way (Order of Starlights)
by
Snowscale
Tue Jul 16, 2019 9:11 pm
»
All Alone? (Open)
by
Minnow
Tue Jul 16, 2019 1:34 pm
»
Vilkas Molten-Earth (Needs Re-approval)
by
Vilkas
Tue Jul 16, 2019 12:41 pm
»
Concerning Us (Open to Starlights)
by
Haneul
Tue Jul 16, 2019 12:33 pm
»
claiming an island ( Risk, DRF edition ) [Lost]
by
Astral
Tue Jul 16, 2019 11:59 am
»
Shira of Shadows
by
Wake
Mon Jul 15, 2019 7:30 pm
»
Abbadon
by
Astral
Thu Jul 11, 2019 7:19 pm
»
My Choice (Wake)
by
Súl Iolar
Thu Jul 11, 2019 11:53 am
»
To Claim a Future (Risk Event)
by
Ragnarock
Wed Jul 10, 2019 7:22 pm
»
Fishing for a mate... Again..
by
Bassasail
Tue Jul 09, 2019 6:55 pm
Who is online?
In total there are
6
users online :: 1 Registered, 0 Hidden and 5 Guests :: 1 Bot
Galeon
Most users ever online was
110
on Mon Jan 25, 2016 3:47 pm

A 15 year old walks into a bar. No this isn't a set up to a joke. Navi made her way into the bar garnering most of the patrons attention. It was highly unusual to see a young girl with a sword at her side walk into such a place. It was just as unusual for her to be here. The high concentration of men was very unsettling to her. Nobody here would even dare think of anything though. Everyone in Kakos knew who she was or at least her name just as everyone in Kakos knew every notable assassin. They all adverted their eyes upon remembering her reputation for being a little unhinged. Some stilled stared on though. Some always did unable to believe that this girl before them was an infamous assassin especially those with kids of their own.

Naviera made her way up to the barkeeper. "One cold glass of milk please."

The barkeep raised an eyebrow with curiosity but was otherwise polite. "Right away miss."

A moment later he was back and set the glass down. "Enjoy."

"Thank you." Navi picked up the glass and did in fact enjoy the cold liquid making it's way down her throat. The barkeep just stood there watching.

"Yes?" She inquired.

"If I may be so bold?" He asked again politely.

"You may."

"What brings you here?"

"I'm glad you asked." Navi said with a smile. "I heard the dragon owner was in town I want to speak with him."

Again everyone turned their heads to look again at the girl. The dragon had been quite the talk of the town. Apparently it wasn't in a cage nor did it even have a leash. It just walked right beside it's owner and only showed aggression towards those that got too close to said owner. People naturally concluded that if she was asking about him then she had been hired to kill him. In truth if the stories about this dragon were real she wanted to buy it. It was money she would have much rather given to her family a lot in fact. At the same time though many people wanted her dead. She wasn't as secretive as the infamous Svadilfare and many saw her age as easy bounty money. At first it didn't bother her at all but it's steadily been getting more and more annoying. It was only a matter of time before someone got lucky and she lost her life.

"Yea he's in town. I don't know where he is at, but I doubt his dragon is hard to find."

"Thank you very much sir." With that Navi left the bar and began searching the stinking city for a dragon.
_______________________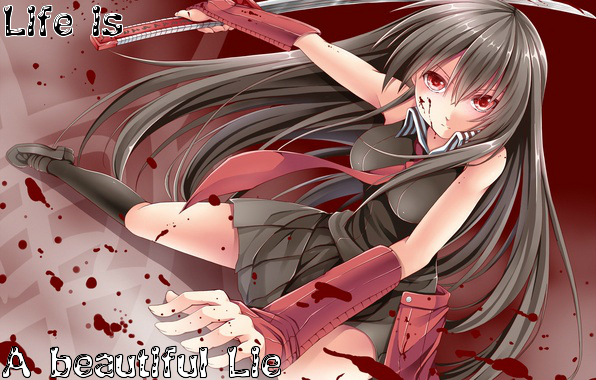 Posts

: 8


Reputation

: 0



Nari casually wiped her dagger clean the blood covering it. The man to whom it belonged was laying on the ground at her feet, howling with pain as he grasped the three bloody stumps that were once fingers. "I'd advise you to keep your hands to yourself from now on, lest you lose more fingers." The woman stepped over him, dropping the cloth--which happened to be a piece of his shirt--she'd cleaned her dagger with onto the ground. "You might need that to clean up the mess you made," she said in reference to all the blood.

Nari settled back into her chair. The bar keeper quickly shuffled over with Nari's drink. She tossed him a single coin which he took graciously despite it being significantly less than what it should have been. As a couple men helped the bar keeper to get Nari's latest victim off the floor, the Gynaikes assassin sipped her drink as if nothing had happened.

Some time later, a girl walked into the bar. She was only vaguely familiar to Taloe. Appearance-wise, Nari knew every assassin in Kakos. Reputation-wise, however, Nari Taloe couldn't be bothered to remember anyone. No one was good enough to be compared to herself. No one except the Kryoan assassin, Svadilfare, and even then, she considered herself better. Nari watched as the girl made her way up to the bar. She wracked her brain trying to remember the girl's name. It was something close to her own, she remembered, because once some idiot got them mixed up. To think she, Nari Taloe, the best assassin in Kakos and--at least in her mind--the world, could be mistaken for some kid! At least the girl had a decent enough reputation, Nari had thought, but still.

Nari was just leaving when she happened to hear some of the girl's conversation with the tavern keeper. A dragon owner? Not the one I do business with? Nari decided to follow the girl. If she had been sent to kill the dragon owner, she was going to put a stop to it. It wasn't hard to find her in a place like Kakos. Even among other seasoned criminals and assassins, Naviera stuck out like a sore thumb, solely due to her age. "Hey, kid!" Nari shouted as she caught up to the 15 year old.



Posts

: 155


Reputation

: 0




---
Permissions in this forum:
You
cannot
reply to topics in this forum