Quick Links
Site Rules
Contact Staff
Celestia: astral@rpgdragons.org Baldirak: baldirak@rpgdragons.org
Latest topics
»
Unexpected Repercussions (Tenebris)
by
Shira
Today at 3:55 pm
»
Kingdom of Leostonnia
by
Tenebris
Today at 1:05 pm
»
Finally Meeting (Paradox)
by
Discord
Today at 12:41 pm
»
Harsh Realities (Open to Humans)
by
Tenebris
Today at 12:02 pm
»
Isle of Storms (Open)
by
Helia
Today at 11:41 am
»
Passing the Torch... One Day.. For Now, We Train (Cygnus)
by
Cygnus
Today at 10:09 am
»
Fishing in the Dark (Seawing)
by
Bassasail
Yesterday at 2:32 pm
»
History Repeating (Baldi)
by
Baldirak Che'le
Yesterday at 1:37 pm
»
Starlights: Lore Redux (WIP)
by
Attor
Yesterday at 11:22 am
»
Lesser is Superior (Open to all)
by
Servius
Yesterday at 11:10 am
»
Two Heads are Better than One (Twilight Imperium)
by
Cyclone and Typhoon
Sun Feb 23, 2020 5:48 pm
»
Foray Into The Frozen North (Tharasis)
by
Noctis Umbra
Sun Feb 23, 2020 3:07 pm
»
My reasoning
by
Baldirak Che'le
Thu Feb 20, 2020 6:09 pm
»
Erebus, the condemned.
by
Baldirak Che'le
Thu Feb 20, 2020 4:19 pm
»
Before Mankind (Read Only)
by
Baldirak Che'le
Wed Feb 19, 2020 7:34 pm
»
Nightwing Society
by
Tenebris
Wed Feb 19, 2020 2:00 pm
»
A starry night makes for good conversation (Open to all)
by
Helia
Wed Feb 19, 2020 1:19 pm
»
Akarui
by
Baldirak Che'le
Tue Feb 18, 2020 5:39 pm
»
Sins of the Fathers (Tenebris)
by
Tenebris
Tue Feb 18, 2020 3:24 pm
»
Dealing with Darkness (Tenebris)
by
Tenebris
Tue Feb 18, 2020 2:59 pm
»
Hello World (Starlights)
by
Destella
Tue Feb 18, 2020 7:27 am
»
Gleam's Characters
by
Gleam
Mon Feb 17, 2020 5:37 pm
»
Gleam, the Healer
by
Baldirak Che'le
Mon Feb 17, 2020 3:03 pm
»
Looking to rp with anyone
by
Tharasis
Sun Feb 16, 2020 4:36 am
»
Character Compilation - Sun
by
Selthies
Fri Feb 14, 2020 8:39 pm
Top posting users this month
Who is online?
In total there are
9
users online :: 0 Registered, 0 Hidden and 9 Guests
None
Most users ever online was
315
on Mon Nov 04, 2019 1:22 pm

"I've hired a girl," the old man had rasped.  He had been idly thumbing a polished tankard, staring through me at the street below.  Leaned back in his chair, he looked like he owned the place.  He did.  He had owned the whole town at one point, wall-to-wall.  Had shipped in the weapons they used to claim the lot, had funded the walls, the drugs, the law.

That was then, before I met him.  When I had first met him he was just like this, leaning on the back legs, clouded blue eyes staring into the distance.

"She's a killer...  Got those eyes to her...  Bit of a brat, though.  Won't work with me, any of my men.  Might work with you.  Now, she's dangerous, but you've got experience and a solid head on you.  I want you to take her leash- find the man that did this to me, and sic her on him."

That had been the conversation that led me to the streets, out of the stagnant heat of Malkin's office.  The girl would show up or not, regardless I had been hired and I would have his rival's head.

A walk had taken me outside.  Down the stairs from the squished office, the streets were little more than thin alleys of brick slicked with mud.  Men and women in svelte, flashy outfits and high boots clopped down the angled road, down the stairs they led to and out into the wider streets of the main city.  They mostly steered clear of me, clad in my armor, leather mask, and goggles as I was.  They probably saw little else than the hilt of my sword and the wild tresses of golden hair.

From there, it was through the claustrophobic alleys for me.  The buildings were all high, a couple stories each, with such little room between them that most simply leaned against one another as if they had no structure of their own.  In the heart of the city, here where all of the administration went on, it was loud with echoing shouts and the grumbles of city life.  The smell of sewage and mud sunk in through my breathing mask, clinging to me as tightly as the heat of the place did.

Thankfully, it wasn't too far to the Broker.  The first man I had met in this city was a foreigner, foreign again to me, with one large monocle that sat on the edge of his nose and a thick mustache atop his lip.  Against the fashion of the time, he wore tight-waisted pants and a twin-tailed coat, with a hat like a chimney over what little he had left of hair.

"Trecker!"  He called, voice high and lilting, when he saw me step .  "Do whet do I owe tis pleasure?"

"A man seems to think he's running things around here.  I need to prove otherwise," I explained, voice barely a breath through my mask.

"No interess in de girl ten?"  He asked, pinching his fingers together with a laugh.  "Yees, I know all about tis girl who comes wit you.  She is... someting else."

Mithridae




Posts

: 14


Reputation

: 0



She wasn't the number one pick for assassination. That was reserved for a guy from Kryo. Still she was infamous enough to have plenty of contracts to pick and chose from. She could hardly imagine how many options Svadilfare must have. Though he was a lot less active these days. Rumor was getting around he was settling down a little bit. Navi nor anyone she knew had any plans of striking at him. She held no grudge and the well known assassins like herself had plenty of work to chose from. Going through her notes Naviera mulled over what mission was to be next. There was an interesting one about slaying a dragon but most assassins didn't touch that for good reason. Unlike "knights in shining armor" had this thing called self preservation priority. Not enough was known about dragons only that they were monsters. They could have armor that prevented you from even causing a scratch heat that melted your weapons and your body or cold that froze you in place. Navi didn't know how much of it she believed but it remained something she would continue to stay away from.

Hmm another contract request from that guy who didn't seem to want her to take care of things herself. Why did he even bother. She wasn't going to work with any of his guys. Seemed he's increased the offered payment quite a bit and had a woman partner in mind. She was still bothered she couldn't do it herself and the details were very slim. The coin was really good though. None of the other apps offered that much at least not any of the sane ones. Her family probably didn't need it though. But what if they did what if they had fallen into debt or something. Maybe just in case she should do this one. Naviera gave a great sigh.

The city stank. It was gross. Not the place she wanted to be for learning more about the job. It put her in a foul mood. She walked through the street searching for her path. Some recognized her as she walked by and then quickly many recognized her. Those she passed were quiet and tense as if they could be her target. Some others were in disbelief that the rumors were true. She was just some girl and that she elicited such a reaction. Passing through some tight alleys she would eventually reach her destination. She approached the duo wordlessly and silently though was in plain view. One had some strange fashion sense and not surprise was male. The other appeared to be a female in some heavy armor. A soldier, knight, maybe paladin or whatever they heck different title stuff was called? Was odd either way.

She still didn't say anything. Expected them to fill her in of their own accord. If neither of them was the person she was suppose to meet with then she wasn't going to bother looking. She'd find a less tedious contract to take. It would harm her record but she didn't give a crap if it meant putting up with this the whole time. Her unusual red eyes didn't bother to hide their impatience.

_______________________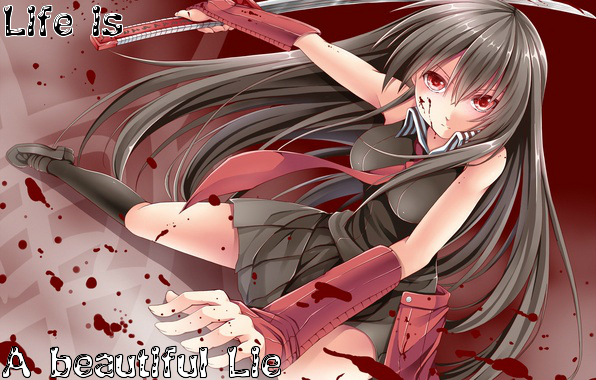 Naviera




Posts

: 9


Reputation

: 0



The broker knew little, but I gained much from him. The thing about some people was that everyone knew them. Everyone had a vague sense of who Malkin was because he had always run things. Everyone who was in the know had met the Broker once or twice, and could recognize him for his tight pants and high stature, if not the bush over his lip.

Whoever I was after, the Broker did not know- had never met. And that intrigued me.

"You'll hev to tek my word for tis, Trekker. Te one you look for, is net one of my contacts."

I gave a nod, letting myself think a moment, spacing out as he gave a look of curious excitement. Much of the underground was brimming for a war, excited to see what came of it, or cautious of impending doom.

"Ooh... Speak of te devil and she shows," the Broker said, breaking into a low chuckle. His eyes, dark and mischievous, were turned slightly to my side. Before I could speak, he was turning away, boots squelching into the mud on the side of the pavement as he left me.

I let myself turn, taking my time. Whatever had drawn his attention didn't deserve mine, so I looked over casually, taking in the drab colors of the commoners of the slums, with their dirty faces and weary walks.

There, walking down the cobbled stone of the path, was a girl. She was a head shorter than my own short frame, with long black hair that only partially concealed how young she was, and perhaps the most atrocious outfit I had ever seen. It was like a dark under-dress, but she must have cut the bottoms off to show her legs. Compared to that, I felt heavily armored, even though I was only wearing a few layers, my leather armor, and random plates of metal.

This must have been the girl. Malkin told me I would recognize her out of a crowd. The Broker seemed to know of her. She had a sword, although it was a questionable one at that. I supposed I should make an impression.

With one hand I loosed the clasp on the back of my riding helmet, then pulled the metal mouth-guard off, followed by the leather, and finally the metal cap that protected me. My hair was matted to my head and my face, the braids and ponytail I kept it in pulled loose. But, without the tortoiseshell lenses over my eyes, I could see her clearly, and she could see the bright blues of my eyes.

"You're the one Malkin hired?" I asked as she approached, letting myself stand casually with my hands at my hips. She walked quiet, at least, I couldn't smell her over the acrid air of the city, but from her looks alone I was not impressed.

Mithridae




Posts

: 14


Reputation

: 0




---
Permissions in this forum:
You
cannot
reply to topics in this forum