Quick Links
Site Rules
Contact Staff
Celestia: astral@rpgdragons.org Baldirak: baldirak@rpgdragons.org
Latest topics
»
Chogath, the Alchemist of Ink
by
Baldirak Sapiens Draco
Today at 6:13 pm
»
Comfort Zones (Hildrhilt)
by
Hildrhilt
Today at 3:00 pm
»
Father and Child Bonding Time (Cygnus/Sul and El)
by
Súl Iolar
Today at 8:48 am
»
Seriously? Could you be any ruder to me? (Nightwings only)
by
Ozone
Yesterday at 7:06 pm
»
Updated Active Characters List
by
Orkev
Yesterday at 5:16 pm
»
Nessesary Evil For A Greater Good (Story submission)
by
Tenebris
Yesterday at 5:07 pm
»
A Knight of Leostonnia Chapters 5-8 [Read only]
by
Tenebris
Yesterday at 4:49 pm
»
Akarui
by
Tenebris
Yesterday at 4:46 pm
»
Live Finds a Way (Order of Starlights)
by
Snowscale
Yesterday at 1:20 pm
»
My Choice (Wake)
by
Súl Iolar
Yesterday at 7:35 am
»
All Alone? (Open)
by
Minnow
Yesterday at 5:50 am
»
Festival of ascendants (Open to All)
by
Phantasmas
Mon Jun 17, 2019 10:13 pm
»
Predators Amongst Prey [ASSASSINS ONLY]
by
Svadilfare
Mon Jun 17, 2019 8:41 pm
»
Knight of Leostonnia Chapters 1-4 (Story Submission)
by
Lori Iolar
Mon Jun 17, 2019 7:05 pm
»
How Often One Returns (For Kip)
by
Bassasail
Mon Jun 17, 2019 6:57 pm
»
Minnow
by
Lori Iolar
Mon Jun 17, 2019 6:42 pm
»
Advisory Training: Part 2 (Wake)
by
Phantasmas
Mon Jun 17, 2019 4:42 pm
»
To Beileve or Not Believe (Kenina)
by
Baldirak Sapiens Draco
Mon Jun 17, 2019 3:59 pm
»
the search for elderwings {open to dragons and or until elderwings are found]
by
Orkev
Sun Jun 16, 2019 10:15 pm
»
Sweet Dreams [OPEN TO NIGHTWINGS]
by
Balthazar
Sun Jun 16, 2019 8:47 pm
»
A Knight of Leostonnia Chapters 1-4 [Read only]
by
Tenebris
Sun Jun 16, 2019 8:06 pm
»
Skycrossed Meeting (Lilith)
by
Wake
Sun Jun 16, 2019 6:41 am
»
Boys vs. Girls
by
Baldirak Sapiens Draco
Sat Jun 15, 2019 8:13 pm
»
Captive-Born Meets Held-Captive (Tenebris)
by
Tenebris
Sat Jun 15, 2019 10:01 am
»
Trading Post (open)
by
Tenebris
Sat Jun 15, 2019 9:31 am
Top posting users this month
Who is online?
In total there are
7
users online :: 0 Registered, 0 Hidden and 7 Guests :: 2 Bots
None
Most users ever online was
110
on Mon Jan 25, 2016 3:47 pm

"How much you selling it for." Asked a man with brown hair that almost looked mushroom like. He was dressed in business attire and was facing a a noble man with short blond hair and a horse shoe mustache. He was in his mid 30s and his name was Fredrick.

"How much you have available? This isn't a just any old dragon stuck in a cage requiring high maintenance and little yield. She is very unique the world of men will never see another dragon like this one. She is extremely docile and tame." Fredrick said.

"She?" the business man asked.

"Yes she. Just like any other animal they go into heat and it wasn't hard to figure out from there through observation that she is female."

"These are grand claims to be sure. I have yet to so much as see the beast. I assure you I have the coin to pay whatever price you seek."

"Ah yes of course. Right this way." Fredrick led the buisness man over to a very large very sturdy cage. Inside was the massive form of an adult dragon. If one could so small as a human was capable of looking past the large and intimidating beast that could level a city they might take notice of the particular illusion of softness her scales portrayed. Clean corners and graceful in form like a snake but tougher than an alligator. She actually didn't look all that scary if you didn't notice her accentuated claws and her teeth filled snout was closed, which was the case as the blue and white dragon appeared to be sleeping.

"Watch this." Fredrick said as he opened a human sized door and went inside the cage before closing it shut behind him not that the dragon could dream of fitting through an exit that small.

"Are you mad?" The brown haired man stressed in a hushed voice for fear of stirring the beast.

Fredrick approached her rather casually. "Hey Crystal." The business man froze as the beasts great red eyes snapped open and it's gazed flicked between the two men, but it otherwise didn't move a muscle. Fredrick continued advancing unfazed till he stood right next to her head and began petting the top of it. Her eyes slowly closed shut. "See, very docile."

"Excellent I'll take it!"

"What do you plan on doing with her?"

"What does it matter name your price and it's sold."

"Because a prize this magnificent shouldn't be spoiled it'll lose it's value. Look at how unharmed she is. She has been in human captivity for a long time and yet not a sign of of revenge afflicted upon her. Each of her owners before me recognized Crystal's worth."

"Well I was going to use her as a circus act. A motivation so to speak to show that we need not fear the dragons. A little taste of revenge everyone in the audience. It'd be an act worthy of royalty and the wealth they'll bring with them. It is perfect. Any other dragon would be too dangerous with those sort of patrons around."

"You are not worthy of this priceless treasure."

The the two had a disgruntled parting but it matter not. There would be other buyers to come and surely one among them would be able to see past their prejudice and realize what a rare creature they could potentially have.

Sul slowly made his way to the location he had been given by a trapper who couldn't hold his liquor too well. Always nice when their loose lipped, the man thought to himself as he pressed forward. He had been extra careful no to be followed, and soon, he set his sights on the place he was looking for. The Marksman of Ammos crept closer until he saw a caged dragon, and two humans near it.

The two men looked quite high up on the social totem pole, which honestly made Sul a little more happy to free the dragon soon. But when he saw one step into the cage... well... he didn't know what to think. The dragon did nothing. Nothing! She just let him pet her. He rarely got lucky enough not to be growled or snapped at when he released dragons as healthy as her. Maybe she was just trying to avoid being hurt? That had to be it.

With that thought, the Dragon's Tongue waited until the men left, and began to make his way down, being sure to dispatch any guards with an arrow to the neck to prevent any sort of call for help. He quickly retrieved his arrows, and hunted for keys. If he finds them, he quickly begins to unlock the cage. If not he would simply pick the locks. Either way once he had opened the cage fully, the man walked in and looked at the dragon, speaking in the dragon's tongue with a calm, assuring tone. "Ok you, best get outta here while the getting's good."
If Aari cared what was going on around her she might have noticed something was amiss. But what did it matter the humans were always up to something. 525,607 The annoying clinking of metal coming from her cage was enough for her to at least open her eyes. 525,608 A human appeared to be picking the lock. Was she being stolen? 525,609 How the heck did he plan on moving her? 525,610 The stranger bravely stepped inside her cage and then surprised her when he spoke in the tongue of the dragons. It surprised her so much she lost count of what number she was on. Standing up Aari towered over the human she stood at a 20 feet tall though she was more sitting on her hunches, so half standing up. She shook her head back and forth trying to remember what number she was on with no success. Whatever she'll see what this human wants and then try and figure it out. Hopefully she wouldn't have to restart. Wait he spoke in the dragon language. How did he know the dragon language?

"Who are you?" She replied in dragonic.
The marksman looked at the dragoness. She seemed shocked by the fact that he could speak draconic. Then again, most dragons were. It wasn't a common thing among humans to even fake a decent call, let alone actually speak their tongue. She sat up and shook her head. Honestly it was kinda cute looking, and he really wished El and Lori could see this one. She then asked who the man was.

"My name's Súl Iolar," the hooded man began, still speaking in a dragon's voice. "And since I know it'll come up, I'm basically a freer of dragons. I know your kind aren't mere creatures, and I try to help y'all get out of cages."
Huh this human was rather sympathetic to dragons it seemed. Why though? It was one thing to feel for them and another to act on it and actively free dragons. This was clearly some trick. Fredrick probably hired some guy who somehow was fluent in the dragon language, somehow and was giving her a test. Or maybe a potential buyer. Aari hated being sold. Whenever she got a new owner they were always super rough like they had something to prove or something up until they realized she didn't care and was up for doing whatever they wanted. Her only advantage was they didn't want her to do too much since they thought her simply an animal. Wait but then why was this guy here and how come he could speak dragonic. Whatever it didn't matter.

"Thanks Mr.Human but no thanks." Aari said as she laid herself back down. "I don't want to go anywhere."
Wha... what did she just say? She didn't want to leave? Súl had never met a dragon that didn't want to be free. It made the Ammosian wonder what was going through this dragoness's mind. What would make a dragon not want to be free? The man just shook his head, rubbing his temples some as he tried to think. Súl would have understood the being attacked, not anything new for him, but he just couldn't understand this. Was she worried about her safety? Thanks to those beasts it was a possibility. He just couldn't know for sure. He soon looked back at Aari, and began to speak again. "You know. You're the first dragon to not attack me or go running once they get the chance. Why's that?"
"And you're the first human I've met who knows my language." Aari said but this time in the human language which just like humans, dragons tended not to bother learning let alone speaking. Aari let a long sigh out of her nose. "I didn't attack you because there is no point. I don't leave because this is my home. I am fed and I am safe or at least as safe as I can be. Now if you could please. If they think I tried to escape they are going to get angry and you made me lose what number I was on. Go release other dragons so they can see what is left of the world and maybe by some miracle they have family or at least friends left alive." Aari said solemnly and closed her eyes. She was the only survivor of her family and the only survivor of her tribe.
Súl could actually empathize with the dragoness's views. He lived in Ammos after all, and had seen the hardships that many there had gone through. Granted, nothing was like this. The possibility that your entire family was just... gone. He still had never seen a dragon so content with being caged, and had rarely heard one speak with a human tongue! The marksman slowly walked up before speaking again, this time speaking a more expected human tongue. "You know, a little over a decade ago, I may've agreed with you, but I learned something a long time ago. Being trapped, whether by force, safety..., or blood, will always leave you wanting freedom. I learned your tongue from a dragon in my mothers own keep, one she threw me into for a night after I told her I didn't want to be a dragon keeper like her. I could have stayed. Probably would have had a better life too. But I would have miss so much of what I love now."

Súl then walked closer, placing a hand on the dragon's head, and spoke again, this time in draconic. "You may be fine living in a cage now, but what about when those creature are gone. What if you still have family, or a tribe, out there?"
Aari wasn't bothered at all by the touch. 1 She was touched by humans all the time. This human seemed pretty passionate about freedom. 2 He had no idea the magnitude of death the monsters had brought to dragon kind. In comparison the humans have hardly been bothered. 3 Aren't worth the effort for so little meat. Freedom brought death. Captivity brought safety and food. 4 "My father is dead and he was a god, 5. My mom abandoned me and my siblings, 6. Both of those siblings are dead. My first step mom abandoned me and my half siblings and they are all probably death, 7. My second step mom, guess what? Also left, 8. My mate, he betrayed me, then died. I was there when the monsters descended upon my tribe, 9. I watched as they all were slaughtered and eaten. Anyone who might be left like myself can hardly call themselves a tribe, 10. And they are probably dead already without a group to protect them."

Aari laid back down and closed her eyes hoping the silly human would leave now. 11
Ever since purchasing her dragon Naviera started hearing rumors about another dragon in captivity. Clients began asking if she was going to get that one too and start a collection. It was dumb she was an assassin not a collector. Drakon did his job very well. What use could she possibly have for another dragon. Then it hit hurt, what if her family had one. If she could find one as well behaved as Drakon she could guarantee her family will be safe.

As it turns out after digging for a bit there were more captive dragons than she would have thought possible. Though it seems the majority of them had escaped. Some think with the help of some human vigilante. There was one rumored to be incredibly tame though that as far as she knew hadn't escaped. Crystal was her name if she remembered right. She didn't have the money to buy her. The going price was just as much as Drakon had been. That was hardly and obstacle though. She had nothing against killing the current owner and taking the dragon especially if it meant her families guaranteed future safety.

There wasn't anything special about this night being the night she was making her move. Just happen to be the time when she was ready. She killed the current owner after the prospective buyer left. She had no reason to kill him not if he hadn't purchased the dragon. Drakon of course followed her everywhere as insurance if anything ever went wrong and he would be very useful in dealing with the dragon if it wasn't well behaved. There was no way she could take one down herself. Those things were scary powerful. She kinda envied it.

Silently she approached the cage. It seemed as if the vigilante had beaten her here though. In fact he seemed to be trying to have a conversation with it. It was really amusing to see him make sounds humans were never intended to make. Though the dragon did seem to be responding. If she wasn't mistaken it was kinda of in a go away kind of way. And holy crap was that dragon a beauty. She didn't think it was possible for a dragon not too look purely terrifying. She looked back at Drakon who was a ways away staying out of sight and not making a sound and then back at Crystal. The differences but at the same time similarities were very intriguing.

With masterful skill Naviera stepped into the cage without a sound. She got a little closer before drawing her sword allowing herself to be noticed. "I don't think it likes you." Hopefully he recognized her as one of the infamous assassins. She did have a unique appearance. The less complications the better. She didn't normally care but she didn't want to startle the dragon. "I suggest you find some other dragon to save. I'm taking this one."
_______________________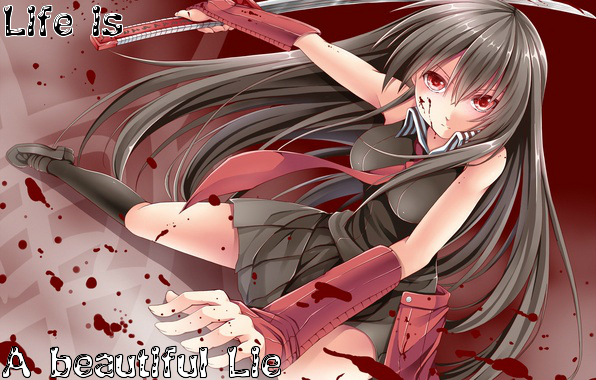 Posts

: 7


Reputation

: 0



The marksman sighed, looking at Aari before patting her.

"Fine. If you don't wanna leave, I'll just leave ya here, but think about it. What happens when your masters tire of you, or don't see you as useful anymo...." It was then that he heard a voice, and turned towards it, knocking an arrow and drawing his bow as he did. It was an assassin, who looked like one he'd heard of. What was her name? Naviera? That was it! He stared her down before looking back to Aari.

"You wanna go with this one," he asked her in dragon before speaking to Naviera. "Not liking the idea is a bit more like it, and I'd rather not let you take her if she wants to stay here."

---
Permissions in this forum:
You
cannot
reply to topics in this forum