Quick Links
Site Rules
Contact Staff
Celestia: astral@rpgdragons.org Baldirak: baldirak@rpgdragons.org
Latest topics
»
Festival of ascendants (Open to All)
by
Noctis Umbra
Sat Aug 17, 2019 9:33 pm
»
Kulden, Exploring Griffin
by
Kulden
Sat Aug 17, 2019 7:44 pm
»
Venture Into Adulthood (open)
by
Noctis Umbra
Sat Aug 17, 2019 7:26 pm
»
Silent Watch(Open to Twilight)
by
Cyclone and Typhoon
Sat Aug 17, 2019 11:27 am
»
To Claim an Island (RISK, DRF Edition)
by
Wake
Sat Aug 17, 2019 11:04 am
»
Noctis Umbra's Characters
by
Noctis Umbra
Tue Aug 13, 2019 9:38 pm
»
Noctis Umbra Jr.
by
Baldirak Che'le
Tue Aug 13, 2019 8:13 pm
»
Adder, the Icewing
by
Baldirak Che'le
Tue Aug 13, 2019 7:59 pm
»
Akarui
by
Akarui
Mon Aug 12, 2019 7:24 pm
»
The Hunter's Return ((Open to All))
by
Addali Chezie
Mon Aug 12, 2019 4:50 pm
»
Silence, Lies, and Ink (Hildrhilt)
by
Chogath
Mon Aug 12, 2019 3:03 pm
»
You've Got A Friend in Me (Wake)
by
Hildrhilt
Mon Aug 12, 2019 11:31 am
»
On the Road Again, Part 2 [Open to Everyone]
by
Hildrhilt
Mon Aug 12, 2019 11:28 am
»
Slender, creatures of the Downside Under
by
Bassasail
Sun Aug 11, 2019 4:30 pm
»
Addali the Bounty Hunter
by
Wake
Sun Aug 11, 2019 3:00 pm
»
Once I'm gone
by
Cygnus
Sun Aug 11, 2019 11:19 am
»
Lost and Found (Hildrehilt, Destella, Snowscale)
by
Snowscale
Sun Aug 11, 2019 9:34 am
»
Hello everyone
by
Noctis Umbra
Sun Aug 11, 2019 9:22 am
»
Dragon Masters
by
Noctis Umbra
Sun Aug 11, 2019 7:23 am
»
Nightwing Society
by
Noctis Umbra
Sun Aug 11, 2019 12:44 am
»
Keeping up Appearances (Vilkas)
by
Hildrhilt
Sat Aug 10, 2019 11:47 am
»
To Claim a Future (Risk Event)
by
Ragnarock
Tue Aug 06, 2019 11:31 am
»
claiming of amethyst isle(RISK DRF) [Lost]
by
Baldirak Che'le
Sun Aug 04, 2019 6:13 pm
»
Surviving Sovereigns (Baldirak)
by
Baldirak Che'le
Wed Jul 31, 2019 6:32 pm
»
Shira of Shadows
by
Baldirak Che'le
Mon Jul 22, 2019 12:10 pm
Top posting users this month
Who is online?
In total there are
17
users online :: 0 Registered, 0 Hidden and 17 Guests :: 1 Bot
None
Most users ever online was
110
on Mon Jan 25, 2016 3:47 pm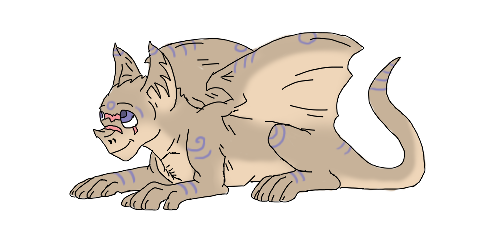 Personal Info
Name:
Kaen of Motria
Alias:
Kaen, Ka
Age:
10 Dragon Years
Gender:
Male
Sexuality:
Asexual
Personality:
Very talkative, curious, a little cocky, intelligent, mad scientist.
Interests:
Science, experiments, interesting conversations.
Dislikes:
Ignorance, being treated like a hatchling, talking about his past.
Fears:
Being captured by his uncle.
General Appearance
Height:
11 ft. (current height) / 25 ft. (adult size)
Scales:
Pale cool brown. His scales are smooth and flexible like rubber.
Eyes:
Big and curious. His irises are purple like lavender.
Appearance:
Kaen is a very small and petite Dragon. His big, cute head and his big hands and feet make him look more friendly and innocent than he actually is.
Tribe Information and Status
Tribe:
None, used to be a part of The Motria Cult.
Inheritance:
The entire Motria Temple and it's prisoners.
Rank:
Orphan.
Family:
Kíli of Motria (Father), Maya Sun (Mother), Gozok of Motria (Uncle).
Mate:
"I like chemical reactions, but not THAT kind of reactions!"
Hatchlings:
None
Skills and Abilities
Strengths:
Very intelligent, agile, fast.
Special Abilities:
None
Weaknesses:
Weak muscles, brittle bones.
Combat Style:
Trying to avoid battle in the first place.
If there's no other option, he will flee.
Background
History:
Kaen was born to a broodmother of the Motria Cult and a lone soldier. Despite being the only bastard in the nursery, Kaen was loved by both his nest-mates and the other broodmothers. Unfortunately, his mother happened to be the sister of Motria Cult's leader. Kaen's uncle didn't know about his half-blood nephew, but when he turned 7 years old and was supposed to be appointed to a Trademaster, Gozok of Motria began to question why the young lad had those strange, foreign markings. When Kaen reached the age of 8,5, his mother Maya died of some random disease. Everyone was in sorrow, except the young Dragon himself. When he turned 9, his uncle finally realized that Kaen's dad was not a member of the Motria Cult. Gozok tried to kill his nephew, but he escaped. After a month of chasing, Gozok returned to the Motria Temple, though he was not giving up the hunt. Kaen was free... for now...
RP Sample:

Suddenly, the foul liquid began the fizz. Large indigo bubbles popped from the wooden bowl. 'Of course... of course!!' The small Dragon began the grin. He began to write a calculation down zealously, while his grin extended into a mad laugh. 'Hahaha!! Of course! Who'd thought that Drake-butter would fume when it's mixed with dehydrated Nirnroot?!' He snorted contended. 'Probably nobody. All those Scalebutts around here are to ignorant to distinguish steam from smoke..' Kaen inhaled the purple fume and smiled. This... this was perfect. This was, like, the biggest breakthrough since his escape!






Posts

: 1


Reputation

: 0


Age

: 16



Hello Kaen! Welcome  to Dragons Roleplaying Forum! It's nice to have you!
Now, first of all, I'd like to let you know that there are seven distinct tribes on this site, the EarthWings, FireWings, NightWings, IceWings, SeaWings, SkyWings, and LightWings. For more information on the tribes, you can search here.
This first link will provide you with details about making your character app, as well as descriptions of the dragons from each tribe, and what inheritance is.
http://www.rpgdragons.org/t4665-new-members-guide-character-creation
http://www.rpgdragons.org/t4666-new-members-guide-lorewip
This will not only give you an overview of the tribes, but also a brief history of the site and its lore.
As for your personality, we ask that you go a bit more in depth with your descriptions, and have at least 5 full sentences.
After you've updated your app, go ahead and reply letting us know! If you have any questions, you can either visit the chat to get them clarified, or you can pm a mod or admin.






Posts

: 77


Reputation

: 0


Age

: 23


Location

: Somewhere reading a book, minding my own business




---
Permissions in this forum:
You
cannot
reply to topics in this forum