Quick Links
Site Rules
Contact Staff
Celestia: astral@rpgdragons.org Baldirak: baldirak@rpgdragons.org
Latest topics
»
=|:|+ Ruin +|:|= (Ready 4 Review.)
by
Ruin
Yesterday at 8:37 am
»
The Hatchling in The Snow (Open)
by
Snowblaze
Mon Mar 18, 2019 8:03 am
»
Blood Trail in The Sand (Open)
by
Azorius
Sat Mar 16, 2019 8:01 am
»
The Search (Open to All)
by
Baldirak Sapiens Draco
Mon Mar 11, 2019 4:08 pm
»
|:|= Albino's Return =|:|
by
Baldirak Sapiens Draco
Thu Mar 07, 2019 10:51 am
»
The Mentor Program
by
Baldirak Sapiens Draco
Sat Feb 23, 2019 3:59 pm
»
Hi, everyone!
by
Baldirak Sapiens Draco
Wed Feb 20, 2019 5:17 pm
»
Comfort Zones (Hildrhilt)
by
Hildrhilt
Wed Feb 20, 2019 4:14 pm
»
Father and Child Bonding Time (Cygnus/Sul and El)
by
Súl Iolar
Tue Feb 12, 2019 4:35 pm
»
How to raise your dragons (Private Svad)
by
Cygnus
Sun Feb 10, 2019 1:56 pm
»
Finaly Home(Private/Snowblaze)
by
Snowblaze
Sun Feb 10, 2019 12:23 pm
»
Anguis Tenebris
by
Baldirak Sapiens Draco
Sat Feb 09, 2019 3:39 pm
»
The Hot Spot For Assassins (OPEN)
by
Svadilfare
Fri Feb 08, 2019 10:20 am
»
Drakon the Pet
by
Baldirak Sapiens Draco
Mon Feb 04, 2019 4:59 pm
»
A Hatching [OPEN]
by
Ptelea
Mon Feb 04, 2019 1:16 pm
»
the vulpine clans
by
tvc member
Thu Jan 31, 2019 2:42 pm
»
Stricken with a Sickness. . . Or Something More? (Súl Iolar)
by
Súl Iolar
Thu Jan 31, 2019 10:44 am
»
A Walk Through the Cold (Open)
by
Snowblaze
Thu Jan 31, 2019 9:25 am
»
Alternate Origins: A Multiverse Adventure (Open to all)
by
Azorius
Wed Jan 30, 2019 12:12 pm
»
Snowball
by
Wake
Mon Jan 28, 2019 10:49 am
»
On the Hunt (Tharasis)
by
Tharasis
Sat Jan 26, 2019 1:43 pm
»
Character Voices!!
by
Wake
Tue Jan 22, 2019 12:54 pm
»
Phealyn
by
Baldirak Sapiens Draco
Sun Jan 20, 2019 8:30 am
»
An unexpected encounter ( Private w/ Hildrhilt )
by
Tharasis
Sat Jan 19, 2019 6:35 pm
»
Bit of a character builder
by
Hildrhilt
Wed Jan 16, 2019 7:20 pm
Top posting users this month
Who is online?
In total there are
5
users online :: 0 Registered, 0 Hidden and 5 Guests :: 2 Bots
None
Most users ever online was
110
on Mon Jan 25, 2016 3:47 pm



The ocean was truly a magnificent Eco-system. While the cold depths did warrant for the survival of the fittest, it seldom produced one strong individual. However every life form played to its greatest strength. Masters of camouflage would become one with their surroundings, passing for a rock for both predator or prey. Some, predatory by heritage learned to mask their presence, becoming as cold as the depths themselves. Some, however worked together. The Red Turtle Crab for example, heavily shelled, lethargic; slow to move but its exterior shell leaves it with few predators to worry about. However its hulking size of 5 by 3 meters leaves a lot to be desired. Being such a slow mover, algae and seaweed alike attaches and grows in the red crustacean. This causes more than a few problems, for one mates seek each other by their bright crimson color, the brighter you are the more suitable mate you are. The second more important reason, is that as the plants grow, the crustacean becomes heavier and heavier. Eventually it becomes too heavy to even swim! Now, the Marble Koi is where the two co-exist.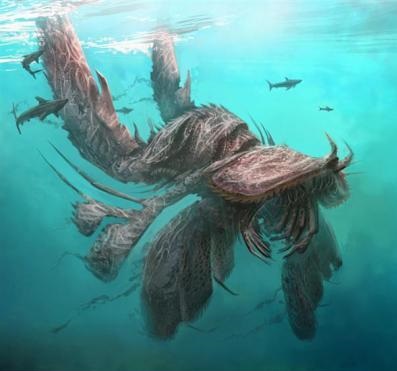 Contradictory to its name, the Marble Koi is neither pretty nor valuable. Instead its face has a perpetual disgusted or drooling facial expression as if their very being had just been insulted. See-through and soft bodied, its a perfect snack for even the smallest of predators. Extending no bigger than 2 feet at most, these roam in packs on the body of the Red Turtle Crab. In exchange for safety between the boulder like crevices, the dumbfound fish graze and clean up the plants which grow on the crab! Nature, surely is amazing! Two completely different species working together to fulfill their own individual short comings!

Now, such red crabs move in shells of 3 or 4, across the ocean floor, feeding on giant muscles and the occasional fish. It was explained before that the brighter red they are, the more of a suitable mate they are. To explain this simply, when they get too big, they molt, leaving their dark red shell to be home to plants and other creatures. Once they molt, their shell is brighter, a little softer. A brighter crab means they feed better, hence is a better survivor! In some sort of logic. Now, 3 such crabs were diving deep within the outer borders of Seawing territory. They sat peacefully vibrating their bodies to relieve themselves of the old constricting Armour. All the while the Marble Koi's looked dumbfounded and scared, darting from the crabs to the nearby coral beds in which they hid. Their massive eyes darted from one end of the ocean to the other. It didn't help that they had little webbed feet instead of fins right underneath their faces (Over time they developed webbed feet instead of fins. They needed to hold on more than they needed to swim. But they still have a tail on the back!).


NPC




Posts

: 47


Reputation

: 0



(Sorry this is so short and kinda ignoring the koi for now. Couldn't think of anything else. I'll probably have a better idea of what to do next post.)


Vann was swimming with a pod of dolphins. He had known them since he was a Hatchling and often went hunting with them. They had been hunting for most of the day and now the pod escorted Vann home, as they always did. At the edge of SeaWing territory they stopped and the Guardian bid them farewell before continuing on past the border.
SeaWing Guardian





Posts

: 29


Reputation

: 0





All appeared well, the ocean floor appeared to be clear. However with the ebb and flow, the current changed. The scent of the exposed crimson crabs travelling further into colder waters. To think, the wide eyed fish would become bigger. They quickly darted their heads but not towards the school of dolphin nor their predatory friend. No their senses tunneled towards the darker side of the ocean. Where the reef ended, a cliff drop into a black abyss. There, the koi's were fixated, their noses shivering ever so often. A low growl and their breathes stopped. Even the crabs stopped shifting out their shells.

From the throat of darkness a blurring pearl of white, it was rising quickly yet silently. Soon, a ghastly white claw, webbed for easy passage through the cold waters. Then came it's body, a sharp anvil like horn the majority of its face. Its skin, milkly white, devoid of sunlight, riddled with flesh deep scars. It resembled a white goblin shark but as soon as it slithered onto the coral bed it resembled more like... a Serpent.. no it had feet.. It resembled more of a dragon. Crabs and koi alike scrambled out of position but the ocean dweller had no interest in shrimp.




It's yellow eyes slowly scanned what its nose had smelled. Bigger fish to fry. Demon eyes found its mark, the clawed feet launching itself from the reef bed. It spiralled, moving rapidly towards the school of dolphins. It would stop 30 or so meters away. Baring it's needle like teeth it let out a low growl at the dragon, challenging its territory might.


NPC




Posts

: 47


Reputation

: 0





Similar topics
---
Permissions in this forum:
You
cannot
reply to topics in this forum