Quick Links
Site Rules
Contact Staff
Celestia: astral@rpgdragons.org Baldirak: baldirak@rpgdragons.org
Latest topics
»
Once I'm gone
by
Cygnus
Thu Sep 12, 2019 7:32 am
»
To Claim an Island (RISK, DRF Edition)
by
Wake
Thu Sep 12, 2019 7:15 am
»
Advisory Training: Part 2 (Wake)
by
Phantasmas
Tue Sep 10, 2019 6:29 pm
»
Festival of ascendants (Open to All)
by
Incus
Mon Sep 09, 2019 12:29 pm
»
The Hunter's Return ((Open to All))
by
Solomon
Sun Sep 08, 2019 6:10 pm
»
Grey meets Blue (Wake)
by
Tharasis
Sun Sep 08, 2019 8:08 am
»
Akarui
by
Tenebris
Wed Sep 04, 2019 8:21 pm
»
A Knight of Leostonnia Chapters 5-8 [Read only]
by
Tenebris
Wed Sep 04, 2019 7:58 pm
»
Sins of the Fathers (Tenebris)
by
Tenebris
Wed Sep 04, 2019 7:14 pm
»
Nightwing Society
by
Tenebris
Wed Sep 04, 2019 6:45 pm
»
Unexpected Repercussions (Tenebris)
by
Tenebris
Mon Sep 02, 2019 8:36 pm
»
You've Got A Friend in Me (Wake)
by
Wake
Fri Aug 30, 2019 3:43 pm
»
Cyclone and Typhoon: The Twin Storms
by
Baldirak Che'le
Thu Aug 29, 2019 4:46 pm
»
Keeping up Appearances (Vilkas)
by
Vilkas
Wed Aug 21, 2019 8:01 am
»
Kulden, Exploring Griffin
by
Baldirak Che'le
Wed Aug 21, 2019 6:26 am
»
Silent Watch(Open to Twilight)
by
Galeon
Tue Aug 20, 2019 9:08 am
»
Venture Into Adulthood (open)
by
Noctis Umbra
Sat Aug 17, 2019 7:26 pm
»
Noctis Umbra's Characters
by
Noctis Umbra
Tue Aug 13, 2019 9:38 pm
»
Noctis Umbra Jr.
by
Baldirak Che'le
Tue Aug 13, 2019 8:13 pm
»
Adder, the Icewing
by
Baldirak Che'le
Tue Aug 13, 2019 7:59 pm
»
Silence, Lies, and Ink (Hildrhilt)
by
Chogath
Mon Aug 12, 2019 3:03 pm
»
On the Road Again, Part 2 [Open to Everyone]
by
Hildrhilt
Mon Aug 12, 2019 11:28 am
»
Slender, creatures of the Downside Under
by
Bassasail
Sun Aug 11, 2019 4:30 pm
»
Addali the Bounty Hunter
by
Wake
Sun Aug 11, 2019 3:00 pm
»
Lost and Found (Hildrehilt, Destella, Snowscale)
by
Snowscale
Sun Aug 11, 2019 9:34 am
Top posting users this month
Who is online?
In total there are
6
users online :: 0 Registered, 0 Hidden and 6 Guests
None
Most users ever online was
110
on Mon Jan 25, 2016 3:47 pm

Tenebris walked as the vast invisible ocean of moonlight overhead seemed to fall only just upon him, here and there a slender broken steam seemed to clash against the intersecting branches and trickle to the earth, forming small white pools among the clumps of laurel. These leaks of light however were few and served only to accentuate the blackness of Tenebris's environment as he continued to make his way through the thick wood of Absconditus, he allowed his imagination to free his time as he thought of all the unfamiliar shapes within the darkness, both beautifully uncanny to menacing. The solitude and silence in the heart of the great forest had the portentous conspiracy of the very night itself, those oblivious to the tranquillity of the night couldn't comprehend how even the most commonplace or familiar objects take on another character.

Tenebris noted to himself how the trees grouped themselves differently, drawing closer to one another as if in fear. Even the silence now seemed to have a different quality than the quiet of the day. The air seemed to be full of half-heard whispers, notes of strange nocturnal birds and the meaker cries of even small animals who Tenebris could only of assumed had fallen into a sudden encounter with a lurking predator, and even still there seemed to be sounds without a name, forms without a substance. Tenebris relished in it all, the mystery and magic of the night was something only few appreciated, his graceful figure finally reaching his destination within a small clearing in the middle of the vast expanse of forest as his musings came to an end.

Extending his wingspan, Tenebris found pleasure as the Moon's full gaze was cast upon him,  its silver rays seemingly paying him tribute to his form. The unique reflective speckled effect of silver upon his wing membrane seemed to imitate the stars of the night sky, it would seem that from above even in the darkness he would appear as if a small constellation of the stars beauty was fixated to the ground longing to join its brothers and sisters in the sky. Basking in the moon's brilliance Tenebris would finally lower himself, lying down flat pressing his underbelly's soft hide against the cooling ground, his wings remained spread out to their full span as he pondered in the peaceful harmony and freedom which the darkness of the night offered.
_______________________
Tenebris's
Bio
A look at one of Tenebris's
Publications
as a Scholar
"
Destiny isn't a matter of chance, its a matter of choice. Only we can claim our Destiny when the path opens
" ~ Tenebris lamenting.
"
Oftentimes in reality, the realists are in the position of the antihero. Neither those on the side of good, nor the side of bad really trust them, as their truth is universal.
" ~ Tenebris, Archon of the Ebonwing Potentate.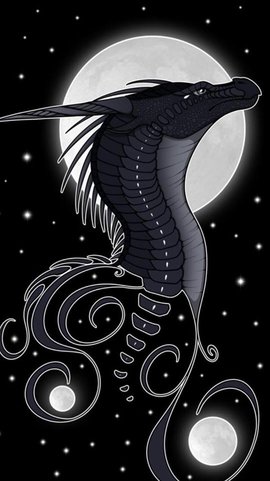 Luna had come to this island not only because it was deserted, which would leave her to collect herbs in peace, but also because she was sure that there was a large variety of herbs she could use for making medicines. She had thought that this was a good idea. Familiarizing herself with this island and noting down the herbs that thrived here would be useful. It would give her something to do when she was bored. And if she had explored this whole island, she could move on to another, right? The EbonWing territory consisted of many islands.

But getting lost was something she had not considered. Luna regretted it now, as she made her way through the forest, which was mostly deserted except for the squirrels that ran across her path every now and then. She'd sworn that she had heard wingbeats once, but maybe that was just her imagination teasing her. She tilted her head back to look at the shadowy trees, which seemed to cluster together with their branches intertwined, and felt like she was in a huge cage. Flying out of here would be the best option, of course, but how was she to do so if the trees did not allow it? She did not wish to crash into anything.

Luna loosed a sigh, and wandered on, wings neatly folded against her side, wishing that she hadn't come in the first place. Not only had she gotten herself lost, she also had not found anything new to take down in her notebook. She was considering the option of trying to fly through the thick leaves of the trees above her, when she saw a clearing. As Luna stepped into it, her eyes, a brilliant hue of green, took in the pile of black on the ground. It was obviously a dragon, a rather familiar-looking one, and his massive wings spread out on either side of him caught the moonlight and reflected it in a beautiful way that made Luna suck in a breath. Her breath did not go unheard, and as the male opened his eyes, she knew why he was so familiar.

Tenebris, Archon of The EbonWing Potentate.

Tenebris, Ruler of The EbonWings was more like it.

She had seen his face before in scrolls. The EbonWings were a new Tribe, but they had made their presence clear to the whole of Pyrrhia. The most recently written scrolls included some information about the EbonWings: about their ranks, their territory, and most important of all, their King. Tenebris's face had been sketched onto the scroll. Magnificent and regal-looking, he looked like he would be a good King, and Luna wanted to meet him. Well, she was meeting him now. She hastily dropped into a bow, and greeted him: "Your Majesty."
Tenebris was caught unawares to the presence which seemed to enclosed towards him, only as Lunara tuck in her breath did Tenebris's subconscious thoughts crash back into reality, craning his neck towards the location of his unexpected guest as his eerie sapphire eyes fixated upon her. At her words Tenebris slowly rose, folding his majestic wings once more close to his figure. Her voice was unfamiliar as she spoke, and Tenebris had to fight the primal urge to go on the defensive but her formalities were highly regarded. Never one to betray his emotions Tenebris continued to examine Lunara as his domineering yet regal stature was ever without falter, his stoic apathetic expression finally lowering in a humble nod of acknowledgement in courtesy towards Lunara.

"There is no need to stand on ceremony out here, Tenebris will do", speaking with his elegant but raspy well cultured tone, Tenebris took the time to admire Lunara even while he was still alert to the other Dragons true intents. "Forgive me, I don't believe we've met". Tenebris took two powerful strides closer to Lunara, intended to be informal in a friendly gesture, however as ever he moved with purpose and an almost ethereal composure. Tenebris wore little of his court attire, these evening strolls of his had no alternative motive to impress retainers and courtiers yet there remained a single silver earring, etched and cosmetically designed as if to appear as a miniature Dragon holding upon a sword as it hung from Tenebris's ear.
_______________________
Tenebris's
Bio
A look at one of Tenebris's
Publications
as a Scholar
"
Destiny isn't a matter of chance, its a matter of choice. Only we can claim our Destiny when the path opens
" ~ Tenebris lamenting.
"
Oftentimes in reality, the realists are in the position of the antihero. Neither those on the side of good, nor the side of bad really trust them, as their truth is universal.
" ~ Tenebris, Archon of the Ebonwing Potentate.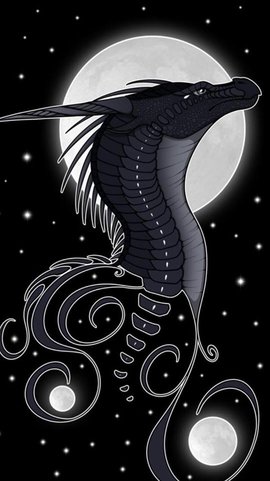 Luna watched Tenebris rise, then tilted her head slightly as he spoke. He had a rather raspy but authorative and well-cultured voice, but he did not seem threatening. Weirdly enough, he even seemed like a normal dragon. She had always thought that Leaders of Tribes would seem scary to her, in some way, but Tenebris was not. In fact, something about him drew her to the male. Maybe it was the way he spoke: cool, yet not hostile? Or it was the way he moved - he seemed to move with feline grace as he took two steps towards her. Luna gave a mental shrug and proceeded on to answer his question.

Lunara Moonbane, at your service. Please call me Luna Her words were accompanied by another bow, though this one was considerably less deep and more of a friendly gesture. Then, after a moment's hesitation, she asked, What brings you here, Tenebris? It felt odd to address the Archon by his name, but he had requested her to do so. Maybe she would get used to it one day. Shaking that thought off, she drew her attention away from her thoughts and focused on Tenebris's face, before realising that she could see every single detail there. That was how close he was. So, so close... The realisation of the fact that their snouts were nearly touching made Luna take a step back, her eye ridges furrowing. Gosh, I hope he doesn't take it the wrong way! she thought regretfully.
Last edited by Artemise on Fri Sep 30, 2016 9:31 pm; edited 3 times in total
Goddess of Ice and Snow





Posts

: 371


Reputation

: 6



"Lunara Moonbane", Tenebris thought allowed, saying the name rang off his tongue in an almost rhythmic sense which seemed as though the name was a phrase from some poetic literature. The intriguing and alluring nature of this Dragon radiated throughout his body from maw and tail yet his facial expression remained stoic and impassive, not allowing such mundane thoughts to command his physical outlook. As Lunara curtsied once more and spoke, he found that he admired this Dragon. Even with Tenebris's notion for less formality very few ever still took the chance and because of which he couldn't help this time grow a small smirk across his maw, briefly showing his uncharacteristically perfectly white fangs. "Luna it'll be then, such a pleasure to meet you. It's a rare occurrence that I meet new scions of the Potentate first hand before a summons to the Citadel", his tone was ever in a soft coo even despite the matter-of-factly voice he couldn't control.

Her next question was what truly took him by surprise, it was a topic very few were ever brazen to ask, after all the Isles were his domain to freely conduct his duties as he saw fit. The Question however only raised the respect he had for the Dragon before him, it was always a quaint solace to speak in small talk and friendly banter which Tenebris longed for and until now only Loque, his own majordomo was ever such a conversation partner. "You could say it's the peace and quiet, only here one can admire the moon and stars in all their brilliance and glory. It's a love which can only be appreciated on nights like these, and in a place such as this", as he spoke Tenebris's gaze firsted turned to the sky as if illustrating his point then to the looming shadows cast by the trees around them until his eyes once more fixated upon Luna.

As Luna recoiled slightly he noted her furrowed ridges upon her brow, the action only plagued his interest more. Perhaps he seemed to overestimate her and that she truly was still afraid due to his position, or something perhaps less trivial. In response he merely releases a slight sigh under his breath while his intense sapphire eyes remained locked upon her visage watching for any more indications of such. "I'm sorry if I've caused some offense, I truly didn't mean to. I forget sometimes that others aren't as infatuated with the night as myself", finally he adder a slight snicker at his own comment as an attempt to withdraw his own thoughts from Luna's sudden reactions.
Last edited by Tenebris on Thu Sep 22, 2016 5:16 am; edited 1 time in total
_______________________
Tenebris's
Bio
A look at one of Tenebris's
Publications
as a Scholar
"
Destiny isn't a matter of chance, its a matter of choice. Only we can claim our Destiny when the path opens
" ~ Tenebris lamenting.
"
Oftentimes in reality, the realists are in the position of the antihero. Neither those on the side of good, nor the side of bad really trust them, as their truth is universal.
" ~ Tenebris, Archon of the Ebonwing Potentate.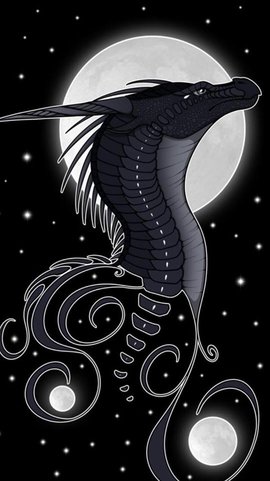 As a smirk spread across his handsome face, Luna saw gleaming white fangs poking out, and for a moment cold claws wrapped themselves around her heart. What if he was out to kill her? What if? Anything could happen. And this male seemed dangerous, what with those perfect fangs and cunning face... Then suddenly, a huge word plastered itself onto her fears. NO, the word said, and the cold claws that had brought fear suddenly vanished. It was not possible. Why would he kill her? She was just a Healer, someone of no importance... Her body, which had tensed, relaxed again. As Tenebris spoke, Luna couldn't help but notice that he seemed to always have a matter-of-factly tone to his voice, even when it was a soft coo. Despite the tone in his voice, she found herself admiring the way his words came out so smoothly. He seemed like that type who never stuttered. And his voice... Oh, how seductive it sounded! Listening to him was like listening to a stream gently flowing over rocks, or so Luna thought. However, she slapped the thoughts away, thinking them disgusting, and just gave him a smile, which had vanished while weird thoughts crossed her mind.

Then she stepped back, realising how close they were. Thankfully, Tenebris didn't take it the wrong way, and a barely audible sigh of relief found its way out of her maw. Then she spoke. No, no, don't worry, you didn't offend me at all, she said hastily, attempting to reassure him. But apparently he didn't need any reassurance, for a snicker escaped him, and Luna's eye ridges pulled together again. What was the snicker for? She dismissed the question as soon as it came, for she decided that it was, like her earlier thoughts about his voice, unnecessary. To be honest, I didn't notice the moon and stars until you pointed them out, she answered, tilting her head back to gaze at the night sky. The night sky was a velvety black colour, with twinkling white stars scattered across it. But what caught her attention was the moon, a crescent shaped beauty. They are pretty... she whispered, awed by the beauty of the night sky. She had never paid attention to how the night sky looked like. But now, as Tenebris pointed it out, she remembered what she was named after. The moon.


Similar topics
---
Permissions in this forum:
You
cannot
reply to topics in this forum