Quick Links
Site Rules
Contact Staff
Celestia: astral@rpgdragons.org Baldirak: baldirak@rpgdragons.org
Latest topics
»
Once I'm gone
by
Cygnus
Thu Sep 12, 2019 7:32 am
»
To Claim an Island (RISK, DRF Edition)
by
Wake
Thu Sep 12, 2019 7:15 am
»
Advisory Training: Part 2 (Wake)
by
Phantasmas
Tue Sep 10, 2019 6:29 pm
»
Festival of ascendants (Open to All)
by
Incus
Mon Sep 09, 2019 12:29 pm
»
The Hunter's Return ((Open to All))
by
Solomon
Sun Sep 08, 2019 6:10 pm
»
Grey meets Blue (Wake)
by
Tharasis
Sun Sep 08, 2019 8:08 am
»
Akarui
by
Tenebris
Wed Sep 04, 2019 8:21 pm
»
A Knight of Leostonnia Chapters 5-8 [Read only]
by
Tenebris
Wed Sep 04, 2019 7:58 pm
»
Sins of the Fathers (Tenebris)
by
Tenebris
Wed Sep 04, 2019 7:14 pm
»
Nightwing Society
by
Tenebris
Wed Sep 04, 2019 6:45 pm
»
Unexpected Repercussions (Tenebris)
by
Tenebris
Mon Sep 02, 2019 8:36 pm
»
You've Got A Friend in Me (Wake)
by
Wake
Fri Aug 30, 2019 3:43 pm
»
Cyclone and Typhoon: The Twin Storms
by
Baldirak Che'le
Thu Aug 29, 2019 4:46 pm
»
Keeping up Appearances (Vilkas)
by
Vilkas
Wed Aug 21, 2019 8:01 am
»
Kulden, Exploring Griffin
by
Baldirak Che'le
Wed Aug 21, 2019 6:26 am
»
Silent Watch(Open to Twilight)
by
Galeon
Tue Aug 20, 2019 9:08 am
»
Venture Into Adulthood (open)
by
Noctis Umbra
Sat Aug 17, 2019 7:26 pm
»
Noctis Umbra's Characters
by
Noctis Umbra
Tue Aug 13, 2019 9:38 pm
»
Noctis Umbra Jr.
by
Baldirak Che'le
Tue Aug 13, 2019 8:13 pm
»
Adder, the Icewing
by
Baldirak Che'le
Tue Aug 13, 2019 7:59 pm
»
Silence, Lies, and Ink (Hildrhilt)
by
Chogath
Mon Aug 12, 2019 3:03 pm
»
On the Road Again, Part 2 [Open to Everyone]
by
Hildrhilt
Mon Aug 12, 2019 11:28 am
»
Slender, creatures of the Downside Under
by
Bassasail
Sun Aug 11, 2019 4:30 pm
»
Addali the Bounty Hunter
by
Wake
Sun Aug 11, 2019 3:00 pm
»
Lost and Found (Hildrehilt, Destella, Snowscale)
by
Snowscale
Sun Aug 11, 2019 9:34 am
Top posting users this month
Who is online?
In total there are
5
users online :: 0 Registered, 0 Hidden and 5 Guests :: 1 Bot
None
Most users ever online was
110
on Mon Jan 25, 2016 3:47 pm

It was a fine day on the island of Angus. The sun was shining brightly in this summer day, heating land and dragons alike. The landscapes of the island made it prone for sunny days like these, and it wasn't unusual to see dragons laying outside, either in the sun or in the shade depending on the tastes. Because one was a former Nightwing didn't mean they couldn't enjoy some warmth, did it?

Among the islands of the Ebonwing Potentate, Angus was the one providing the most food. Its mix of open landscapes and forests made it a heaven for preys, and as a consequence a heaven for predators. And for novice or veteran alike, the landscapes of the islands made it always a pleasure to hunt. The climate was a bit dry, sometimes dry enough to cause slight water shortage problems, but it didn't prevent pine forests to dominate. The island was probably old by itself, as the rivers and other small streams seem to have caused quite a considerable erosion.

Loque had chosen to settle at the northern point of the island. There the landscape was meeting a sharp cliff, facing the ocean. He had settled his cave there, at a place where there even was a path large enough to access the cave without worry. There were quite a few other nice caves nearby, but they were all inhabited. Loque never ever made a claim on a piece of land with his rank, but it seemed that residents of the island decided to leave him one. It was to say that Loque was rather appreciated by the population, as despite his rank he remained humble and pragmatic.

But today Loque wasn't Duke, he was a mere dragon enjoying the end of the week. And like every end of the week, he was sleeping in rather late, recovering from his usual packed schedule. The sun was raised since long, lighting the cave with a soft light, but the light wasn't reaching Loque's eyes yet. Nor they would ever, as he had dug his head among the furs that made his bed. His chest was softly ascending and descending at the rhythm of his slow breathing as he enjoyed a rest that was well deserved.
Kaora had woken up early that day. She could have slept in if he wanted to, having similar reasons to her mate, Loque. Even through all of the hardships of being a Dutchess she still enjoyed a hunt, and this island was perfect for the two lean dragons. Prey was plentiful here, with some flat plains and covered forests scattered around the island not to mention a few rolling hills. There were a few large rocks spread around, perfect for sunbathing on this lovely day.

The female decided to use today to hunt instead of sunbathing or sleeping. Life here was calm, and the inhabitants of this island actually liked the Dutch and Dutchess. They didn't act too highly, rather like they were normal dragons themselves. Especially on days like this where Loque was probably still asleep in their cave.

She wasn't great at staying still like Loque was. To much time sitting or standing still would make her restless, and she couldn't spend the day sleeping either. It didn't bother that he was asleep, he probably needed all of the sleepisode he could get. If anything, it gave her a chance to think and relax by herself in the wilderness.

The Dragoness stopped by the storage to drop off one if her deer. She had plans for her second one. The walk to their cave was nice, it had a wide path and stopped at a cliff that looked over the ocean. The wind could still be felt here, along with the scent of fish and salt. Moving her gaze from the endless water she quietly stepped inside their cave.

Smiling at the sleeping mound nestled in the blankets she took the deer over to a clean slab on the floor that she used to prepare her deer. She quickly skinned it, prearing the hide before putting it out in the warm sun to dry. Then she cut up the rest of it, putting the hooves aside for latter use. Kaora believed in using all parts of the animal, as they were on an island where if they weren't careful their food supply could get low.

Storing most of the meat she began to cook a meal for when the Duke woke up. He'd be hungry after all, as she doubted that he woke up earlier to eat. As it was cooking she decided to prep the table, putting down some plates and glasses of water. The Dutchess went in between cooking and preparing the table as she waited for it to be done, and for her mate to wake up. Maybe the smell or slight sound would wake him up.
_______________________
Aero Dynamic
|
Dynamic Oreo
|
Wolf
|
Evaleen
|
Kaora
|
Rye
|
Atmosphere
|
Kayin
|
Khusavir
|
Thermo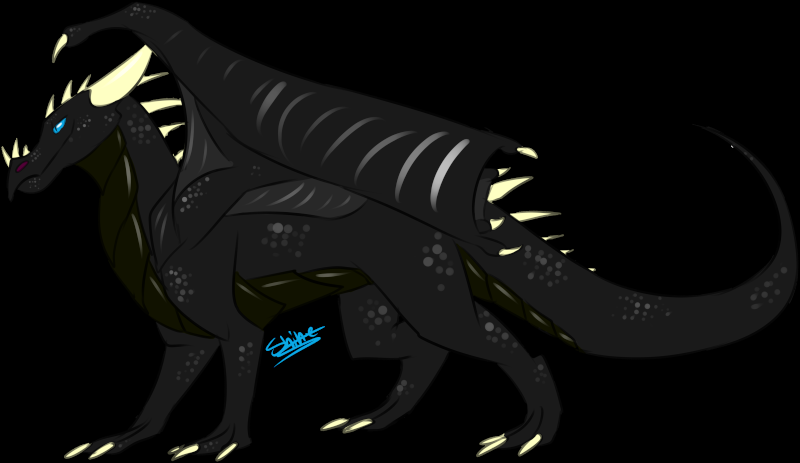 Posts

: 1136


Reputation

: 26


Age

: 17


Location

: Wherever I want



Loque very slowly woke up as the smell of cooked meat started to reach his nose. At first he didn't open his eyes or move an inch, feeling incredibly drowsy. He was feeling so good, finally being able to rest all he wanted... If it wasn't for the smell Loque would have fallen asleep again. The smell kept his attention enough to very, very slowly wake up.

It took a few minutes before he felt a bit more awoken, and started to process what the smell was. Breakfast? It smelt like breakfast. Kaora was probably cooking, like she liked to do every weekend. The black dragon slowly opened his eyes, needing a dozen of seconds to adjust to the luminosity. He didn't even bother raising his head as he started to look in the direction he had available. Kaora was straight in his line of field, working on the food the was cooking. Loque couldn't help but observe her doing it. He was still really drowsy, and soon found himself detailing her lean body, a small stupid smile stretching his maw. Who could blame him when he had such a nice view on such a beautiful dragoness? The angle was just perfect, as he could admire her body from a low angle underside. A small purr betrayed him as he just laid there, observing his mate. If he wasn't that drowsy, he might have blushed a bit...
Kaora continued to cook, occasionally glancing at the sleeping mound. eventually, she got too distracted by her cooking to realize that he woke up. After putting her food on the table, keeping his on the stove in case he was still asleep, did she see him spying on her. She chuckled, moving over to him and licking the underside of his maw before engaging him in a short kiss. "I'm glad you're awake, I just got finished cooking. Want to come enjoy breakfast with me?" she asked with a smile, turning and running her tail gently under his chin. She went over and took his meat off, placing it on his plate.

Weekends had to be her favorite part, there was free time with just Loque, barely any responsibilities, and everyone was so relaxed. It also helped that in the summer it was warm, with only a gentle salty breeze coming from the waters below. In the winter they'd huddle up with a fire, a fur or two draped over the two. It really was a great life.
_______________________
Aero Dynamic
|
Dynamic Oreo
|
Wolf
|
Evaleen
|
Kaora
|
Rye
|
Atmosphere
|
Kayin
|
Khusavir
|
Thermo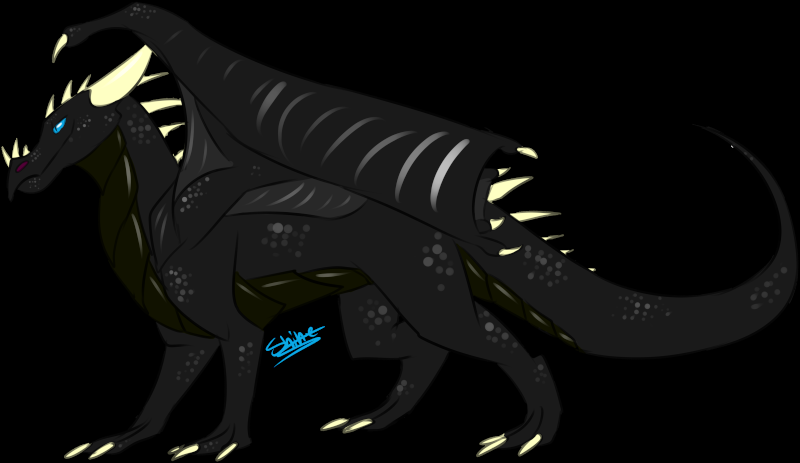 Posts

: 1136


Reputation

: 26


Age

: 17


Location

: Wherever I want



Loque had a loud purr as Kaora turned toward him and gave him a quick kiss. Still slightly hazy, he enjoyed the small kiss to the fullest, closing his eyes for a moment while their jaws were locked. His purr became louder when Kaora taunted him and ran her tail under his chin after turning around. He had a small blush as he nodded to her.
"Hrmm... Sure thing. My, what a lovely way to wake up..." he purred as he stood up.
And indeed what more could a dragon wish for ? Waking up to the lovely sight of his mate and the smell of a good breakfast... He must have had gotten on the good side of Kelarth.


Similar topics
---
Permissions in this forum:
You
cannot
reply to topics in this forum