Quick Links
Site Rules
Contact Staff
Celestia: astral@rpgdragons.org Baldirak: baldirak@rpgdragons.org
Latest topics
»
Tharasis App
by
Tharasis
Yesterday at 9:47 pm
»
Nearan's Character Sheet
by
Baldirak Sapiens Draco
Yesterday at 2:32 pm
»
Audience with the God of Fortune (Wake)
by
Wake
Yesterday at 10:36 am
»
Searching (Open to Dragons/Lessers)
by
Wake
Yesterday at 10:20 am
»
The Search (Open to All)
by
Hildrhilt
Thu Oct 18, 2018 10:14 pm
»
Trading Post (open)
by
Discord
Thu Oct 18, 2018 9:38 pm
»
Looking for family or mate later on down the road
by
Hildrhilt
Wed Oct 17, 2018 12:09 pm
»
Updated Active Characters List
by
Baldirak Sapiens Draco
Tue Oct 16, 2018 9:37 am
»
Hildrhilt's Character List
by
Hildrhilt
Tue Oct 16, 2018 12:31 am
»
Hildrhilt of Storm and Earth
by
Baldirak Sapiens Draco
Mon Oct 15, 2018 10:51 pm
»
Father and Child Bonding Time (Cygnus/Sul and El)
by
Svadilfare
Mon Oct 15, 2018 7:00 pm
»
Dominion Realms,the construction of a unique sci-fi fantasy forum!
by
Bassasail
Sat Oct 13, 2018 12:31 am
»
In Hunt of Survivors (Twilight Imperium, Open to all)
by
Tharasis
Wed Oct 10, 2018 8:54 am
»
Field Hospital(Sherlock)
by
malaki
Tue Oct 02, 2018 8:06 am
»
Edge of Success (Aftermath continued)
by
Attor
Sun Sep 30, 2018 10:15 pm
»
A Glimmer of Hope in the Darkness (Starlight Order only)
by
Snowscale
Sun Sep 30, 2018 12:50 pm
»
Super Smash Bros Life Itself
by
Marin
Sat Sep 29, 2018 12:38 pm
»
SkyWing and LightWing Ranks
by
Baldirak Sapiens Draco
Tue Sep 25, 2018 5:31 pm
»
Destella: The Feathered Serpent
by
Baldirak Sapiens Draco
Sun Sep 23, 2018 8:59 am
»
Aevon of Earth and Steel
by
Baldirak Sapiens Draco
Tue Sep 18, 2018 11:23 pm
»
mate or family
by
malaki
Mon Sep 17, 2018 7:23 pm
»
Sherlock
by
Baldirak Sapiens Draco
Mon Sep 17, 2018 8:10 am
»
Uhhh Hello
by
Baldirak Sapiens Draco
Sun Sep 16, 2018 6:01 am
»
Story Submission: A Dragon in the Southern Skies (Multiverse Contest.)
by
Wake
Sat Sep 15, 2018 11:15 am
»
A Dragon in the Southern Skies (Multiverse Contest)
by
Wake
Sat Sep 15, 2018 11:11 am
Who is online?
In total there are
6
users online :: 0 Registered, 0 Hidden and 6 Guests :: 2 Bots
None
Most users ever online was
110
on Mon Jan 25, 2016 3:47 pm

Personal InfoName:
Karitoriki
Alias:
Silver, Kari, Riki
Age:
New born
Gender:
Female
Sexuality:
Bisexual
Personality:
She is very shy abd weary of strangers because she has no real way of defending herself. If she sees someone that see or her family doesn't know she immediatly hides behind a parent or parents, If they aren't around she hides behind a sibling. But if there are no strangers or anything she fears then she is ver playful and observative. If she wants something and doesn't get ot she can be quite stubborn and won't stop till she gets what she wants. luckily she hasn't really big needs.
Interests:
Finding a way to be useful, spending time with her family,
Dislikes:
Evil in general, Not getting any attention,
Fears:
She fears being comepletely useless. She also fears the world because she is so weak.
General AppearanceHeight:
5 Feet, 60 feet as adult
Scales:
Diamond shaped, Pitch black but on each scale it fades into silver
Eyes:
Golden eyes
Appearance:
use the picture only she is smaller and the horn are also smaller
Tribe Information and StatusTribe:
Rogue
Inheritance:
1/4 EW, 1/4 FW, 1/2 NW
Rank:
N/A
Family:
Shade (Father), Soul (Mother), Paradox (Brother), Quicksilver (sister)
Mate:
N/A
Hatchlings:
N/A
Skills and AbilitiesStrengths:
She's small enough to hide almost everywhere. She is stubborn but won't go into battle. She'll just run
Special Abilities:
She can blend into the shadows for about 10 minutes. if she stands still she is comepletely invisible. If she moves around a slight silhouette can be seen. This only works in the shadows if there is light she'll be instantly visible.
Weaknesses:
She's weak, fragile, doesn't have any real strength and can be scared easily
Combat Style:
Going to her parents or siblings
BackgroundHistory:
She came out of an egg
RP Sample:
It's the one and only Nelthy
Last edited by Karitoriki on Mon May 09, 2016 9:55 am; edited 2 times in total
Could you elaborate more on her special ability? How long can she stay blended in? Is it a perfect blend? Also, you need to explain your appearance.
_______________________
Aero Dynamic
|
Dynamic Oreo
|
Wolf
|
Evaleen
|
Kaora
|
Rye
|
Atmosphere
|
Kayin
|
Khusavir
|
Thermo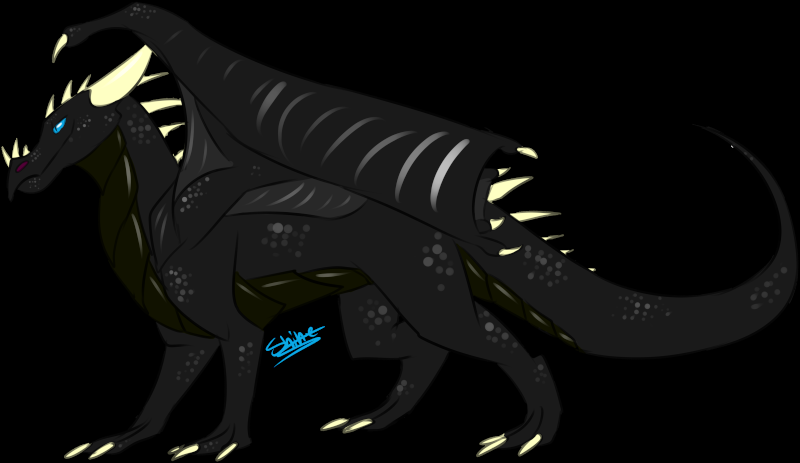 Posts

: 1136


Reputation

: 26


Age

: 16


Location

: Wherever I want



Definetly not a bump or sarcasm. :3
With the shadow blending, what happens if a light is shun onto you? for example do you need a shadow for this to work?
_______________________
Alts: Nebula, Blizzard, Zyailor, Dusk, Monsoon, Devi, Degzauth, Rohkar, Lucy
God of Life and Seas








Posts

: 2649


Reputation

: 41


Age

: 25


Location

: Floating on a random lake (UK)



_______________________
Alts: Nebula, Blizzard, Zyailor, Dusk, Monsoon, Devi, Degzauth, Rohkar, Lucy
God of Life and Seas








Posts

: 2649


Reputation

: 41


Age

: 25


Location

: Floating on a random lake (UK)




---
Permissions in this forum:
You
cannot
reply to topics in this forum