Quick Links
Site Rules
Contact Staff
Celestia: astral@rpgdragons.org Baldirak: baldirak@rpgdragons.org
Latest topics
»
Father and Child Bonding Time (Cygnus/Sul and El)
by
Celestia
Today at 5:37 pm
»
Sulgar
by
Sulgar
Today at 4:49 pm
»
Once I'm gone
by
Cygnus
Thu Sep 12, 2019 7:32 am
»
To Claim an Island (RISK, DRF Edition)
by
Wake
Thu Sep 12, 2019 7:15 am
»
Advisory Training: Part 2 (Wake)
by
Phantasmas
Tue Sep 10, 2019 6:29 pm
»
Festival of ascendants (Open to All)
by
Incus
Mon Sep 09, 2019 12:29 pm
»
The Hunter's Return ((Open to All))
by
Solomon
Sun Sep 08, 2019 6:10 pm
»
Grey meets Blue (Wake)
by
Tharasis
Sun Sep 08, 2019 8:08 am
»
Akarui
by
Tenebris
Wed Sep 04, 2019 8:21 pm
»
A Knight of Leostonnia Chapters 5-8 [Read only]
by
Tenebris
Wed Sep 04, 2019 7:58 pm
»
Sins of the Fathers (Tenebris)
by
Tenebris
Wed Sep 04, 2019 7:14 pm
»
Nightwing Society
by
Tenebris
Wed Sep 04, 2019 6:45 pm
»
Unexpected Repercussions (Tenebris)
by
Tenebris
Mon Sep 02, 2019 8:36 pm
»
You've Got A Friend in Me (Wake)
by
Wake
Fri Aug 30, 2019 3:43 pm
»
Cyclone and Typhoon: The Twin Storms
by
Baldirak Che'le
Thu Aug 29, 2019 4:46 pm
»
Keeping up Appearances (Vilkas)
by
Vilkas
Wed Aug 21, 2019 8:01 am
»
Kulden, Exploring Griffin
by
Baldirak Che'le
Wed Aug 21, 2019 6:26 am
»
Silent Watch(Open to Twilight)
by
Galeon
Tue Aug 20, 2019 9:08 am
»
Venture Into Adulthood (open)
by
Noctis Umbra
Sat Aug 17, 2019 7:26 pm
»
Noctis Umbra's Characters
by
Noctis Umbra
Tue Aug 13, 2019 9:38 pm
»
Noctis Umbra Jr.
by
Baldirak Che'le
Tue Aug 13, 2019 8:13 pm
»
Adder, the Icewing
by
Baldirak Che'le
Tue Aug 13, 2019 7:59 pm
»
Silence, Lies, and Ink (Hildrhilt)
by
Chogath
Mon Aug 12, 2019 3:03 pm
»
On the Road Again, Part 2 [Open to Everyone]
by
Hildrhilt
Mon Aug 12, 2019 11:28 am
»
Slender, creatures of the Downside Under
by
Bassasail
Sun Aug 11, 2019 4:30 pm
Top posting users this month
Who is online?
In total there are
5
users online :: 0 Registered, 0 Hidden and 5 Guests :: 1 Bot
None
Most users ever online was
110
on Mon Jan 25, 2016 3:47 pm

The black dragoness had been wandering around since morning. She flew out early, leaving her hatchlings with MoonWing as she went out to hunt. Maybe she had more on her mind than just that. The dragoness either didn't know or didn't care that she had been wandering on the EarthWing territory, but she was still alert as she smelled scent of humans in various locations. She had expected to see more deer, or at least be able to catch some. The scents have been there, but never lead to anything. It was annoying not to be able to catch things.

She must have been lucky not to go to close to the main base of the EarthWings, or at least where there would've been more guards around. Her scent could have drifted off though, towards them from where she was closest. The dragon wouldn't really know though. For all she knew, the EarthWings were gone, extinct, and only any rogue ones were still alive. If that was true, then there was a lot of new territory for her to claim, or at least hunt on without worry.

As she continued to search she went further into the territory. She'd probably be an easy target for humans, being small and more agile than strong. Of course, she wouldn't be easy either. A scent drifted up to her nose again, maybe this time she'd actually be able to find the deer. She headed off towards it, deeper into the EarthWing's territory.
_______________________
Aero Dynamic
|
Dynamic Oreo
|
Wolf
|
Evaleen
|
Kaora
|
Rye
|
Atmosphere
|
Kayin
|
Khusavir
|
Thermo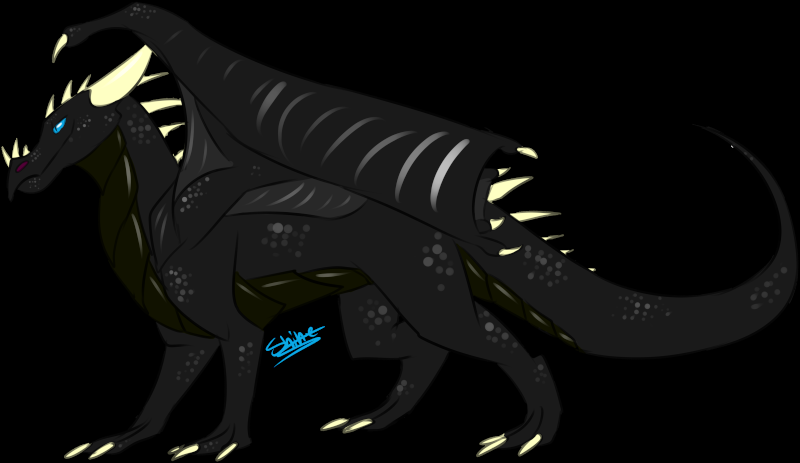 Rii had left her nest, AuSurath, and eggs in the care of Rye. However as Rii did not trust him to keep them safe if things got really bad she also had her patient from the healing area known as Rhune keeping an eye on Rye. She knew that Rhune at least actually cared for her safety as well as the eggs... She trusted him enough to not hurt anyone, and if he did Rii would personally make sure that none of his bones or muscles would work ever again.

Now she was hunting for herself, Au, and Rhune since the earthwing male couldn't hunt just yet. She didn't want to be a leech on the tribes food caches when she was fully able to hunt for herself at the moment. There would be plenty of time once the eggs hatched when Rii wouldn't be able to leave the nest and then had to rely on the tribe for help.

Her sensitive tongue tasted the air for her regular prey items, which usually consisted of deer and other ungulates that roamed the forest and the plains. For now Rii hid in the undergrowth winding her way through the trees and trailing a herd of deer that were nearby.
The dragoness lightly padded through the forest, the trail becoming stronger as she went. Freezing at the edge of a meadow, she slowed her breath, keeping almost perfectly still as her eyes feasted upon a small herd of deer. They hadn't noticed her yet, but there was no where full of foliage that would bring her any closer than this. She'd have to carefully approach them.

Hopeful that her black hide would hide her, the dragon was unknown of the other dragon that could easily see her from the edge of the forest. She approached the deer, watching for any signs that they noticed her. Once close enough, she paused. Now she could pounce and grab her deer, or be interrupted by someone she did not notice.
_______________________
Aero Dynamic
|
Dynamic Oreo
|
Wolf
|
Evaleen
|
Kaora
|
Rye
|
Atmosphere
|
Kayin
|
Khusavir
|
Thermo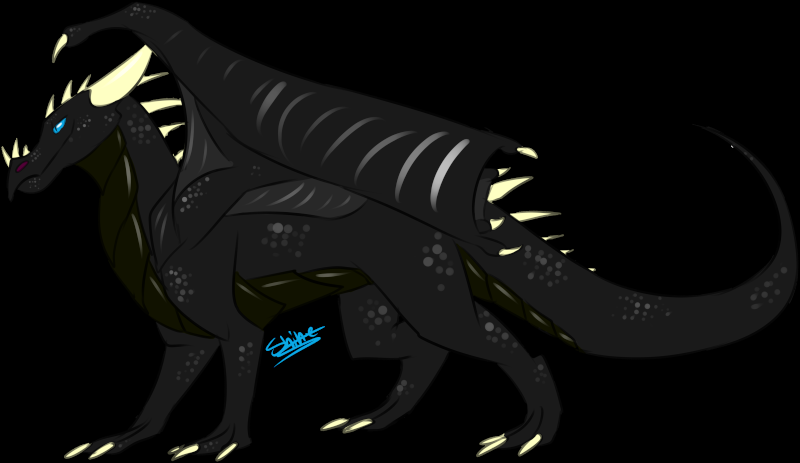 Rii had approached the deer at about the same time Areo had. Her strong sense of smell and taste allowed her to scent Areo since they were already so close to each other. However both dragons were out of view of one another. Rii was distracted as she paused there tasting the air with her forked tongue.

This dragon.. The rogue from when the nightwings attacked? Areo is nearby? Rii thought quietly as her eyes tracked the movements of the deer in the undergrowth. She checked one last time where the wind was coming from, then which direction Areo's scent was coming from, and which direction the deer herd was headed. Then Rii constructed a plan.

If Areo is nearby she is either stalking me or the herd... I'll scare them towards her when I get my catch. Rii slithers silently through the undergrowth positioning herself at the rear end of the herd then coils up around and through the bushes. Her long neck recoils into an S position ready to strike out at the deer when they got close.

Two does and a buck were at the head of the herd. They were within striking distance as Rii readied herself to release her pent up energy. SO long as Areo didn't reveal herself Rii would be able to bag more than enough meat for herself, her tribe, and maybe some to share if Areo didn't catch anything.

A second later Rii launches at the deer. In quick succession she nips the first doe on the head, the second doe in the belly as she tried to turn and run, and then lastly the buck on the hind quarters as he tried to flee. All three bites allowed Rii to inject her venom into her prey. They all fled in different directions while the rest of the herd turned around and headed straight for Areo's location.
Areo blinked as Rii came out, spreading the herd out. She almost didn't notice the deer coming at her until she jumped at it, landing on it's back and cracking it. The rest of the deer were gone by now, but the female turned back to Rii. "Rii? What are you doing out here?" Areo asked, tilting her head at the dragoness from the invasion.
_______________________
Aero Dynamic
|
Dynamic Oreo
|
Wolf
|
Evaleen
|
Kaora
|
Rye
|
Atmosphere
|
Kayin
|
Khusavir
|
Thermo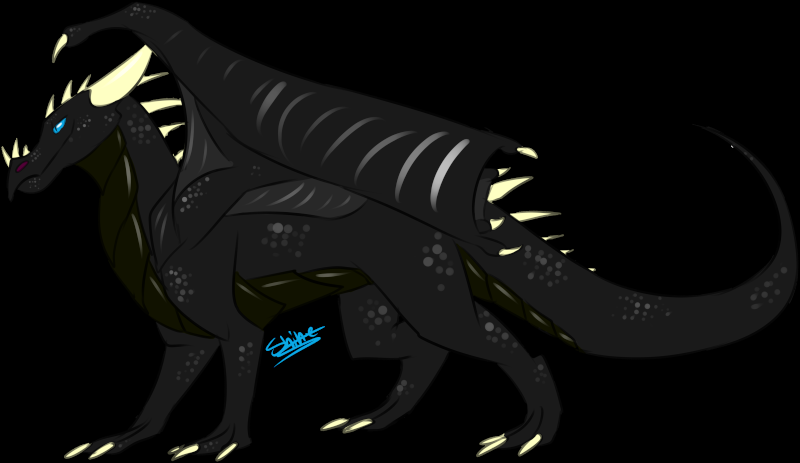 Rii strolled out of the bushes with her head held high and a proud gleam in her eyes. She had bagged three deer at once, though she would have to find and end their lives wherever they would be paralyzed in a few minutes time. She watched Areo curiously as the she dragon pounced on her own deer and killed it with ease. Rii almost envied her ability to hide in the shadows with those gleaming dark scales.

I'm quite obviously hunting in my territory. However... do you mind if we talk while walking? If I leave my prey for too long it might get back up and try to walk away on me. She asked already picking up the trail of the buck with her forked tongue. It tasted heavenly already and made her stomach growl in hunger.

More to the point. What are you doing here? She asked with a raised brow wondering if Areo would pick up her deer and start walking or not.
The dark female nodded, following Rii as they went off to find the remaining deer. "I was just hunting for my children," Aero said, "But what are you doing here? Taking advantage of the unclaimed territory?" She didn't know that the EarthWings were actually still there, moving deep within the ground.
_______________________
Aero Dynamic
|
Dynamic Oreo
|
Wolf
|
Evaleen
|
Kaora
|
Rye
|
Atmosphere
|
Kayin
|
Khusavir
|
Thermo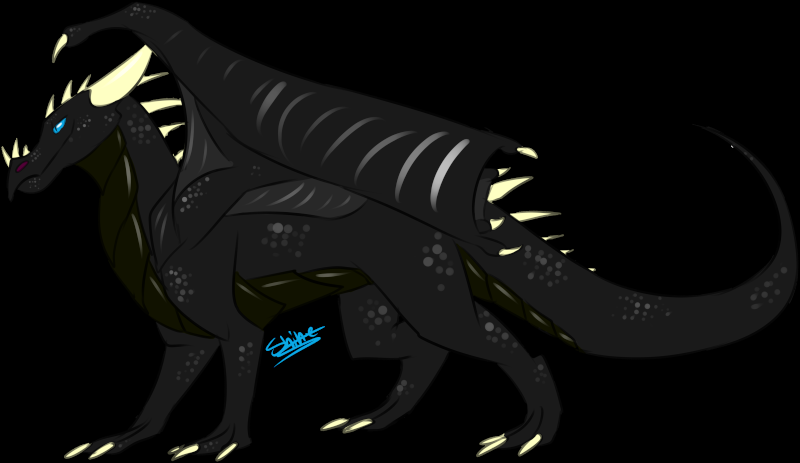 Rii chuckles then blinks at Aero as she slips through the undergrowth along the scent trail of one of her deer.

I was doing the same actually. I picked up a hatchling in the mountains and well... I kept him. He's adorable, but a little ball of trouble who eats a lot. The open territory here makes for good hunting grounds. Rii decided that it was best to keep quiet about the place she had actually come from underneath the very land they walked upon.
Aero glanced at Rii with an interested smile. "A hatchling? Do you have a name for him?" She asked. The female readjusted her shoulders to make sure the deer stayed on her back as they walked. It was nice to meet up with Rii again, a dragon she almost thought she'd never see again.
_______________________
Aero Dynamic
|
Dynamic Oreo
|
Wolf
|
Evaleen
|
Kaora
|
Rye
|
Atmosphere
|
Kayin
|
Khusavir
|
Thermo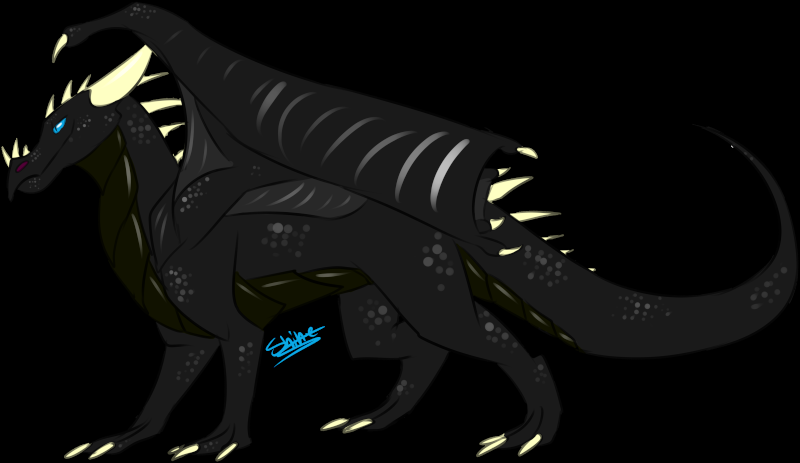 They arrived where one of Rii's deer had fallen to the ground paralyzed. Quickly Rii launches herself onto it breaking its back in the process. Then she drapes it over her thin body to carry. The bluish dragon listened to Aero as she did so.

Oh well he's old enough to somewhat talk. He kept trying to tell me his name, and I thought it was Awooath which made the little guy angry at me. When I got to my new home though a dragon there had met the baby before and knew his name. He said it was AuSurath, and I've been calling him that ever since. Rii finished before heading in the direction she had last seen one of her other deer going. With two deer now, Rii had enough to bring back to the tribe. However if possible she would like to get the final deer she had injected venom into before the venom wore off. Rii didn't have much time though so she picked up the pace.

I don't want to pry or anything, but where did you go after the nightwings let you free? Rii asked curiously tilting her head. The nightwings during the invasion had gathered up all the rogues and offered them freedom for doing whatever, or a life as a servant serving for the emperor. Rii had wanted to go free but one of the dragons had taken her sisters skull and she couldn't leave without it, so she had stayed to live as a servant of the nightwings for a while.


Similar topics
---
Permissions in this forum:
You
cannot
reply to topics in this forum