Quick Links
Site Rules
Contact Staff
Celestia: astral@rpgdragons.org Baldirak: baldirak@rpgdragons.org
Latest topics
»
The Mentor Program
by
Pinmat135
Today at 11:47 am
»
Hi, everyone!
by
Baldirak Sapiens Draco
Yesterday at 5:17 pm
»
Comfort Zones (Hildrhilt)
by
Hildrhilt
Yesterday at 4:14 pm
»
The Search (Open to All)
by
Hildrhilt
Yesterday at 3:48 pm
»
The Hatchling in The Snow (Open)
by
Snowblaze
Mon Feb 18, 2019 11:39 am
»
Father and Child Bonding Time (Cygnus/Sul and El)
by
Súl Iolar
Tue Feb 12, 2019 4:35 pm
»
How to raise your dragons (Private Svad)
by
Cygnus
Sun Feb 10, 2019 1:56 pm
»
Finaly Home(Private/Snowblaze)
by
Snowblaze
Sun Feb 10, 2019 12:23 pm
»
Anguis Tenebris
by
Baldirak Sapiens Draco
Sat Feb 09, 2019 3:39 pm
»
The Hot Spot For Assassins (OPEN)
by
Svadilfare
Fri Feb 08, 2019 10:20 am
»
Drakon the Pet
by
Baldirak Sapiens Draco
Mon Feb 04, 2019 4:59 pm
»
Blood Trail in The Sand (Open)
by
Servius
Mon Feb 04, 2019 1:23 pm
»
A Hatching [OPEN]
by
Ptelea
Mon Feb 04, 2019 1:16 pm
»
the vulpine clans
by
tvc member
Thu Jan 31, 2019 2:42 pm
»
Stricken with a Sickness. . . Or Something More? (Súl Iolar)
by
Súl Iolar
Thu Jan 31, 2019 10:44 am
»
A Walk Through the Cold (Open)
by
Snowblaze
Thu Jan 31, 2019 9:25 am
»
Alternate Origins: A Multiverse Adventure (Open to all)
by
Azorius
Wed Jan 30, 2019 12:12 pm
»
Snowball
by
Wake
Mon Jan 28, 2019 10:49 am
»
On the Hunt (Tharasis)
by
Tharasis
Sat Jan 26, 2019 1:43 pm
»
Character Voices!!
by
Wake
Tue Jan 22, 2019 12:54 pm
»
Phealyn
by
Baldirak Sapiens Draco
Sun Jan 20, 2019 8:30 am
»
An unexpected encounter ( Private w/ Hildrhilt )
by
Tharasis
Sat Jan 19, 2019 6:35 pm
»
Bit of a character builder
by
Hildrhilt
Wed Jan 16, 2019 7:20 pm
»
Soulcry changes his diet, (solo/open)
by
Soulcry
Tue Jan 15, 2019 5:08 pm
»
Soulcry, the Atmosphere Dragon
by
Baldirak Sapiens Draco
Tue Jan 15, 2019 1:20 pm
Top posting users this month
Who is online?
In total there are
4
users online :: 0 Registered, 0 Hidden and 4 Guests :: 1 Bot
None
Most users ever online was
110
on Mon Jan 25, 2016 3:47 pm

Eve was wandering along the outskirts of Nightwing territory, looking for prey. She didn't feel like making her statues today. She was wandering not to far from the border. In fact, the border was only about a tail-length away. Spotting a deer, she tucked in her wings, flattened her mane, and crept slowly along the ground towards it. With a hiss and a leap she pounced, catching it in her claws, tackling it and snapping its neck quickly. She jumped away, ready to eat, then wondered if she should bring it back for the empire instead. She didn't like the new rules, but she was still loyal. Lashing her tail, she realized she was literally halfway outside the borders. Stepping back a little, she dragged the deer back into the territory. She knew it wasn't much, but the rules were so strict, you could never tell. After moving it, she began to eat.
I could feel that I was close to the Nightwing territories, but the smell of deer brought me closer. I walked lightly across the ground, sneaking through the shadows of the trees. I heard the sounds, like someone had killed the lone deer but I kept going to it. Maybe it was anot her rogue, one if which I could take it right out of its claws. I peered from behind one of the trees, noticing another dragon with the deer. This one didn't look terrible strong, so I decided to show myself. I couldn't be close to the border, could I? "Well, what a fine deer you have there." I said.
_______________________
Aero Dynamic
|
Dynamic Oreo
|
Wolf
|
Evaleen
|
Kaora
|
Rye
|
Atmosphere
|
Kayin
|
Khusavir
|
Thermo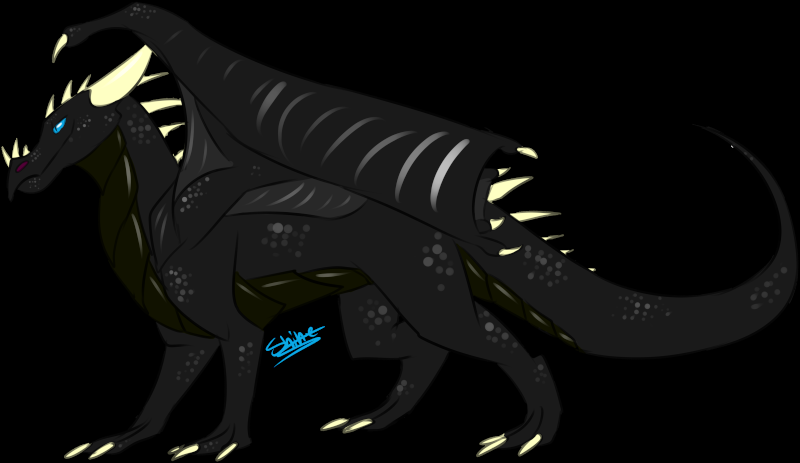 ((Should they all just meet at the summer gathering?))
((I don't mind.))

Exodus was curled up in his pile of treasure in his cavern which served as a den when the pleasing scent of deer reached his scenting glands. He snapped his eyes open. The rogue curled his lip in the beginnings of a snarl. If he could smell any dragon or their prizes, then they were too close to his den. Exodus couldn't afford trespassers that could prove a threat.

I could take that deer from them as well, just for an extra warning, he said in his mind, and got up to his paws. Not pausing to stretch or release a feeble yawn, the dragon spread his wings and flapped out of his cave, letting out a thunderous roar so his victims could hear him and know he was coming.

Exodus soared over what he called his 'territory', though it was near the NightWing border. He could now scent two dragons. He scanned the land below, and saw them. Exodus released a snarl and dove down to the earth. He landed softly before to dragonesses and a deer. He didn't speak as he glared at them, growling to intimidate them.


_______________________
Eve glared at them. Two rouges, come to steal HER hard-earned prey. She flared her wings angrily. "Yes, amazing. No shoo, the Nightwings won't be happy to find rouges on their territory, and that includes me." She glared at them threateningly. Inside, her mind was racing. Oh this is the worst luck! I'm a mason, not a fighter! Why are they even here? This isn't their land! And why do they look so familiar! That one looks almost like my dad! Shaking her head to clear these thoughts, she dragged her deer further into the territory. "Come to think of it, what are you doing so close to Nightwing lands? The empire won't be happy to discover such a thing." She flattened her feathers against her head. "And the most common punishment is death. Now, I'm not a fan of the new rules, but when facing punishment and hunger, I think the choice is obvious." She glared at them, the way she had glared at her siblings when they annoyed her. But that was long ago...
I watched as another dragon landed, a NightWing again. He was bigger and looked stronger. I moves away from him. He almost looked familiar, it was somewhat creeping me out. I turned my head at the other dragon, listening to her talk. At the end of her speech she glared. Was that... Could. I gasped but didn't say anything. I shook my head. What was wrong with me, was I seeing things? I fell to the ground, covering my head with my paws. What was going on, was I becoming crazy?
_______________________
Aero Dynamic
|
Dynamic Oreo
|
Wolf
|
Evaleen
|
Kaora
|
Rye
|
Atmosphere
|
Kayin
|
Khusavir
|
Thermo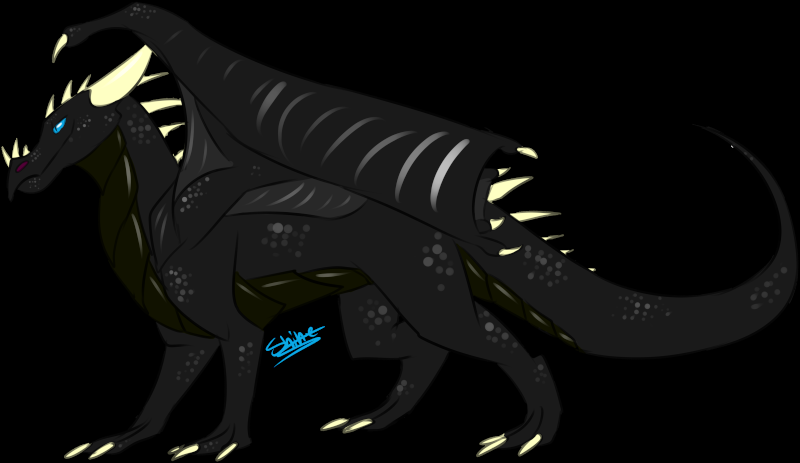 Exodus snapped his head to the NightWing with the deer, and narrowed his eyes with another growl.

"Why I am here?" he snarled. "I live here. As in this is my territory, no matter it being near the border." He spread his wings to gesture to his surroundings. When the other NightWing fell with a gasp and covered her head, Exodus rolled his eyes.

"Being dramatic, are we?" he mumbled sourly, but then he rose his voice. "Look, weep, and see for yourself that you won't get sympathy from me." Exodus paused, and flicked an ear.

"Seriously though, what's up, chica?"
Linus walked across the border of the nightwing territory, how he hated restraints. Could he get in trouble? Yes. Would he get in trouble? Most likely. Would he care? No. He heard a roar overhead, making his senses go alert. The suspected dragon whom it came from was flying overhead at about 50 feet and closing, landing about 200 feet away from him. He sented two other dragons along with the 'Loud One'. He walked closer. Who were these people? Oh wait... Yes... Them... His family... He hated being near them and dreaded this moment. His dad was here... Uhg... Oh well. He'd make up some clever excuse and say its target practice time and they should move, or be crushed by flying object. Yes, that would work. He'd use it later though, maybe things could go well. Maybe he'd actually shell them for target practice. Who knows? He stayed several feet away still hidden in the shaddows
NightWing Trainee





Posts

: 6


Reputation

: 0



((Is Linus the only one who remembers his family? XD Eve and all the other kinda seemed to forget.

))
Eve looked at the Nightwing who had collapsed. "What's happening, is that a seizure?" She asked, half mocking and half concerned. She was a little worried for the dragon, despite only just meeting her. "Well, what are your names anyway? I'll need yours in case I need to report the presence of a nearby rouge." She added, pointing at Exodus. Sniffing the air, she caught Linus's scent on the breeze. "Linus, brother, what are you doing, hiding in the shadows? Why are you even here? I thought you were a seige something, not a tracker or guardian!" She looked around. Had he come with a patrol? She twitched her tail, slightly worried now. What would he do with these rouges?
((I figured since they are both Nightwings, they have probably seen each other around.))



Posts

: 74


Reputation

: 0



I glanced up at the new dragon. Why had I acted so stupidly. I got up sitting down. "You two just look so familiar." I said, acting like that never happened. I frowned, mentally cursing myself for the act. I heard the NightWing mention 'Brother,' and wondered how they knew. I looked back at here, now realizing she had... Feathers... I cocked my head and asked, "Are you at all... Part Skywing?"

(Btw, my last post was terrible, sorry XD)
_______________________
Aero Dynamic
|
Dynamic Oreo
|
Wolf
|
Evaleen
|
Kaora
|
Rye
|
Atmosphere
|
Kayin
|
Khusavir
|
Thermo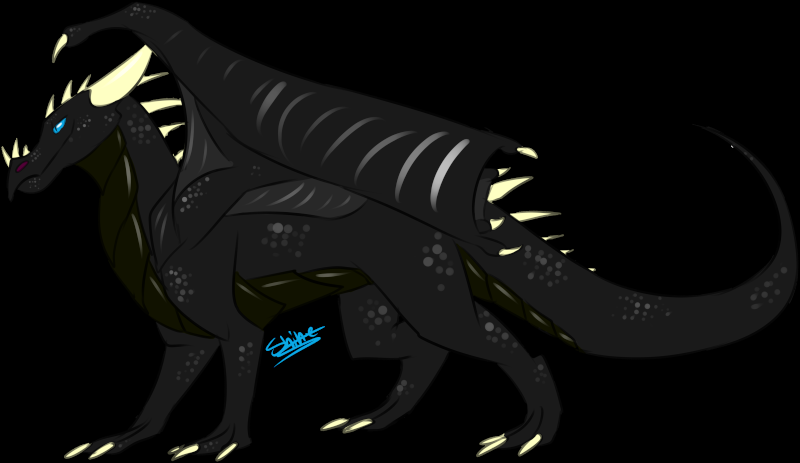 At the feathered NightWing's question, Exodus huffed, but didn't let his muscles get loose in case of an attack. After all, he could smell another NightWing, and he knew the feathered one could as well for when she called him out.

Linus...

Brother...

Exodus hissed suddenly. If Linus was this stuck-up NightWing's brother, then that meant her name was... What was it? Was it Eveningsong?

Well, if it was, it didn't matter. All Exodus knew that this Linus fellow and Eveningsong were his offspring. Lovely. He supposed they would find out soon enough, if they remember his name.

"I'm Exodus," the Rogue said, and when the rogue asked about SkyWings, Exodus flattened his ears. Let's just say that after Exodus left his mate he had a... hatred for SkyWings.
"Yes..." said Eve in response to the rouge's question. How did she know? "My mother was a Skywing and my father was-" She was cut off by the other rouge's name. "You. How did you end up here, of all places?" Now she was confused. This had to be the biggest coincidence in history, her father, and brother at the same place at the same time. She wasn't sure if she was happy, annoyed, or furious. What little memories she could dig up were annoying. Her father, rude and arrogant, Linus, boring and sometimes distant, he didn't seem to like any of them. Areo was okay, she supposed, and Nightstrike, well, she couldn't remember anything about her. She fluffed her feathers as a cold breeze came in, making her shiver a little.



Posts

: 74


Reputation

: 0




---
Permissions in this forum:
You
cannot
reply to topics in this forum