Quick Links
Site Rules
Contact Staff
Celestia: astral@rpgdragons.org Baldirak: baldirak@rpgdragons.org
Latest topics
»
The Mentor Program
by
Pinmat135
Today at 11:47 am
»
Hi, everyone!
by
Baldirak Sapiens Draco
Yesterday at 5:17 pm
»
Comfort Zones (Hildrhilt)
by
Hildrhilt
Yesterday at 4:14 pm
»
The Search (Open to All)
by
Hildrhilt
Yesterday at 3:48 pm
»
The Hatchling in The Snow (Open)
by
Snowblaze
Mon Feb 18, 2019 11:39 am
»
Father and Child Bonding Time (Cygnus/Sul and El)
by
Súl Iolar
Tue Feb 12, 2019 4:35 pm
»
How to raise your dragons (Private Svad)
by
Cygnus
Sun Feb 10, 2019 1:56 pm
»
Finaly Home(Private/Snowblaze)
by
Snowblaze
Sun Feb 10, 2019 12:23 pm
»
Anguis Tenebris
by
Baldirak Sapiens Draco
Sat Feb 09, 2019 3:39 pm
»
The Hot Spot For Assassins (OPEN)
by
Svadilfare
Fri Feb 08, 2019 10:20 am
»
Drakon the Pet
by
Baldirak Sapiens Draco
Mon Feb 04, 2019 4:59 pm
»
Blood Trail in The Sand (Open)
by
Servius
Mon Feb 04, 2019 1:23 pm
»
A Hatching [OPEN]
by
Ptelea
Mon Feb 04, 2019 1:16 pm
»
the vulpine clans
by
tvc member
Thu Jan 31, 2019 2:42 pm
»
Stricken with a Sickness. . . Or Something More? (Súl Iolar)
by
Súl Iolar
Thu Jan 31, 2019 10:44 am
»
A Walk Through the Cold (Open)
by
Snowblaze
Thu Jan 31, 2019 9:25 am
»
Alternate Origins: A Multiverse Adventure (Open to all)
by
Azorius
Wed Jan 30, 2019 12:12 pm
»
Snowball
by
Wake
Mon Jan 28, 2019 10:49 am
»
On the Hunt (Tharasis)
by
Tharasis
Sat Jan 26, 2019 1:43 pm
»
Character Voices!!
by
Wake
Tue Jan 22, 2019 12:54 pm
»
Phealyn
by
Baldirak Sapiens Draco
Sun Jan 20, 2019 8:30 am
»
An unexpected encounter ( Private w/ Hildrhilt )
by
Tharasis
Sat Jan 19, 2019 6:35 pm
»
Bit of a character builder
by
Hildrhilt
Wed Jan 16, 2019 7:20 pm
»
Soulcry changes his diet, (solo/open)
by
Soulcry
Tue Jan 15, 2019 5:08 pm
»
Soulcry, the Atmosphere Dragon
by
Baldirak Sapiens Draco
Tue Jan 15, 2019 1:20 pm
Top posting users this month
Who is online?
In total there are
7
users online :: 0 Registered, 0 Hidden and 7 Guests
None
Most users ever online was
110
on Mon Jan 25, 2016 3:47 pm

The air was murky with low-laying fog. Pebbles were scattered along the rocky earth, jagged pieces of stone jutting up randomly. The land was treacherous for those with soft feet and unwary eyes. The ocean sounded nearby, waves steadily lapping at the shore. The salty spray scented the air like a thick seasoning, mingling with the tangy scent of prey. With the sun still hanging low in the sky, a hunt could still be pursued and goat was on the menu.

The herd was a short distance ahead, hooves tapping against stone at a lazy tempo, each of the sturdy beasts calm and at home in their surroundings. She could hear a snort or a playful bleat every few minutes or so, teasing her, turning her anxious. She could feel her spine stiffen and her fins perked up, but she forced them back down. The soft skin connecting each spike kept them silent, but best not to take any chances.

Rogue licked her lips, the heavy scent of prey making it necessary for her to swallow for fear she would drool all over her feet, which glowed very dimly. The fog did well to hide her bright illumination, and she was very pleased for it to do so. She wondered if the fog would stay past nightfall, and if it occurred often. Fog was her greatest foe, for she was colored black as night, but her glowing skin caused her to stand out plainly against the looming darkness.

The dragon muffled a growl low in her throat before she started forward at a slow trot, mindful of her feet and where she placed them, lest she end up stabbing herself. She kept herself low, perfectly parallel to the ground on which she stalked. The scent of goat was growing palpable in her nostrils, teasing her taste buds. She heard a low bleat surprising close to her and her silver eyes narrowed. As much as she enjoyed the thick cloak of fog to hide her, she could not see all too well herself.

Gauging the approximate location of her prize, she crouched mid-stride, her muscles coiling up and tightening. She felt the warmth of her glow along her skin, but ignored it. She was too close to filling an empty belly.

Rogue leaped up and spread her wings, gracefully gliding to her goal, claws stretched outward. At the last second she spotted the furry hide of her meal, and the shocked look in it's eye; it had realized all too late that it had been too quiet to be safe. Rogue felt her claws dig into it's soft flesh and grinned, standing over her meal, ignoring the frantic bleats and stamping hooves of the herd nearby, running to find somewhere safe. Instead, she dug into her meal, desperate to fill the ache in her stomach and end the reminder of her accursed glow.
The general upkeep and maintenance of the lands governed by Tenebris often took a more direct approach to ensure efficiency, his flight was silent through the eerie atmosphere of the darkness as he glided through the air elegantly, casting a somewhat darker shade of black upon the already brooding land below. Alone with his inner thoughts as his only company his duties wherever tedious and time consuming, but idealistically this solitary island plateau was everything, his personal empire.

For a long period of time it could've been considered mundane, as the usual flight around the land present itself with all the usual sounds and senses, the crash against rocky cliff face from the Sea endless onslaught as well as the soothing sound of the sand dunes on either side of the isolated land. The smell of the sea filled him as it always did, at first in a distant time it was insufferable, now it had become the scent of home and everything he dedicated himself to despite other common NightWing associations to home.

It was the sudden sound of bleating what caught his attention, it felt like he might of well have flown into a mountain side as he was ferociously brought back to reality, his peace and tranquillity seemed to be ripped from him. Regaining his composure he lowered himself into a dive towards the sound radiating in noises of animalistic panic,  plunging through the fog his instinct was his major source of stopping him from impaling a paw upon the rocky surface, a few feet away from the ground, despite his huge size he raised his wings to break into the air to slow his landing.

The landing was still brutal and harsh, although so was his facial expression in unison, ever stern and emotionless as cold calculating eyes began to examine the area, before his gaze finally caught the beast feasting upon one of his herd, his sudden drop would give little time to react, although he didn't take it as an advantage to charge, this is certainly interesting, he maintained his visage as he glared at the other Dragon, his posture domineering and arrogant despite the other Dragons slightly larger size.
_______________________
Tenebris's
Bio
A look at one of Tenebris's
Publications
as a Scholar
"
Destiny isn't a matter of chance, its a matter of choice. Only we can claim our Destiny when the path opens
" ~ Tenebris lamenting.
"
Oftentimes in reality, the realists are in the position of the antihero. Neither those on the side of good, nor the side of bad really trust them, as their truth is universal.
" ~ Tenebris, Archon of the Ebonwing Potentate.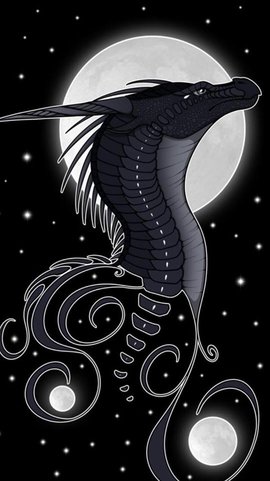 The meat was tender and delicious. A flash of pain ripped through her belly, her glow radiating bright for a brief moment. The food was almost awkward to have in her stomach. She couldn't help herself, she gorged on the small scrap of meat, working to find every last bit of salvageable flesh. She wouldn't take more than one prey in any given herds. She did tend to follow herds, and she did so until the herd was killed off. Once a day she would eat, and then she would follow. It kept her mind busy and her glow at bay. But lately, with no food to be found, even with her keen hunter instinct, the nights of sleepless rest had been harsh.

A flap of wings sounded loud in her ears, and Rogue froze, but not for long. She had no idea whether this newcomer would be friend or foe, and lately it tended to be the former. Large amounts of her skin proved it with their deep gashes and scabbed wounds. She could still feel a piece of her ear mending itself back together, the scabbing there itchy while the wound was still sore and painful.

The young dragon whipped around, crouching slightly. She could feel her claws scrape against the stone uselessly, wishing instead to be tearing into something, but she willed herself to stay still. Her wings had spread out and now showed her impressive wingspan. The dragon did not have much size to offer, but when it came to her wings and to her legs, their lengths were almost overwhelming.

With ears pinned against her head and spikes along her spine stiff and standing tall, Rogue watched as the dragon in the air landed. The way it came down sounded quite clumsy, even when his stance remained proud and graceful. The dragon could feel her bloodied mouth pull back in a silent snarl.

She realized quickly that the scaled beast before her was a male, and older than she. But, strangely, he was smaller than her. In her mind, she was small compared to other dragons. It didn't occur to her that she could be the larger of the two, but here he was standing tall, but still falling short of her lowered head. He was black as night, and purely black. He didn't have the iridescence that she had. His belly was a dark gray, and it was almost as if he was fading into the fog. She met his steady, sapphire gaze with her own steel gray. "What do you want?" She could help the growl in her words, brought on partly by aggression and partly by fear.
Maintaining his stature and posture as his examination of the Dragon before him continued, her hue and colour gradient with its illuminations was fascinating. Folding his wings once more he took a moment in inclining his head before narrowing his eyes, his tail then began to shift back and forth over the rocky crude surface to feel the cold and cultivate himself to the ground after the weightless feel of the air.

His emotionless visage turned somewhat to a grimace once he saw the slightest of snarls from the other Dragon, he then gave a scoff of disdain and scorn as if the Dragon should clearly know something she didn't. For a moment the thought crossed that this was some feral Dragon who had fallen to insanity, although as of yet she hadn't attacked mindlessly. Shifting in his demeanour he took several steps forward as if he was sizing up a much smaller Dragon, despite him having to look up at the Dragoness, disregarding her words.

He gave a slight nod as if in a formal greeting of acknowledgement, although he ensured it was ever slight and firm as to not be misinterpreted as a sign of submission, before he finally opened his mouth "Well… Don't you finally break up the monotony", the words left his mouth smooth and cultured in a raspy tone of formalities despite ringing with a tone of superiority. "Clearly you haven't been educated as to who these lands belong to, a smarter being would have drifted far from such an isolated area, I'm interested to note if you're brave or just a fool, first glance you may be the latter". Allowing for a moment for his words to be registered he then soon follows, his attention ever locked upon her eyes "Now… I'd like to know your name" the statement cut through the ever formal pleasantries as his attitude and body language as he shifts in between his words although not a sign of ferociousness to fight are clearly a sign of dominance even with his smaller size.
_______________________
Tenebris's
Bio
A look at one of Tenebris's
Publications
as a Scholar
"
Destiny isn't a matter of chance, its a matter of choice. Only we can claim our Destiny when the path opens
" ~ Tenebris lamenting.
"
Oftentimes in reality, the realists are in the position of the antihero. Neither those on the side of good, nor the side of bad really trust them, as their truth is universal.
" ~ Tenebris, Archon of the Ebonwing Potentate.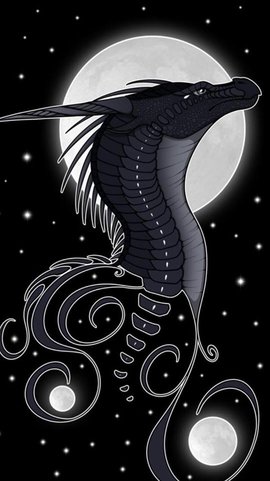 Rogue couldn't help but raise an eyebrow at his scoff. A scoff? What had she done to cause that? She expected a growl, maybe some harsh words, even an attempted blow from his claws, but not a scoff. Who was this dragon?

The male stepped forward and she instinctively stepped back, muscles stiffening with anticipation. She waited for an attack, but there was none to be seen. Instead, he spoke to her, rather.... insultingly so. His voice was fluid and icy, polished like a gem. She couldn't say she enjoyed hearing it, but it did not rub her the wrong way. She noticed the posture he took on: a tall stance that showed off his dominance. She recognized it from many dragons she had come across as a wanderer. Usually things did not end up so well.

At seeing such a posture, she did the same, straightening her neck and holding her wings slightly opened against her sides in response to feeling disrespected. She was a Princess! This male had no right to treat her like some hatchling. Only, she wasn't a princess. Not anymore. She blinked hard at the realization, remembering the reason why. So, she really didn't have a reason to act dominantly, but that didn't mean she still wouldn't. It was too late to try and destroy the habit; she'd been bred into it.

Rogue snorted, feeling insulted. She felt her tail tip's sharp edge graze against stone, though it remained silent. "The land looked uninhabited. I came for the fog and the prey, nothing more." She hadn't ever hunted in fog before, but after scenting a possible meal in the air, she couldn't resist at least trying. Now that she thought of it, she couldn't understand why she hadn't done so before, since the cloudy mist hid her perfectly.

The male asked for her name and she opened her maw, ready to reply, but slightly blindsided. No other dragon had asked her for a name, they only gave her warnings to leave and savage growls. Her jaw snapped shut again as she realized she wasn't really Era anymore. She didn't have a name. More importantly, though, this dragon had no need to know who she really was anyway. She frowned, staring at the ground before meeting his gaze again with empty eyes. "I'm just a rogue. Names are not important."
_______________________
Abilites:
-Can see in the dark
-Glows whitish-blue along her extremities (ears, wings, tail, feet)
Color:
Iridescent Blue (Black that shines blue)
Tribe:
None, She wanders
*Bio*
Tenebris looked through narrowed eyes as he continued his examination, watching every shift in the other Dragons stance weighing her up. Under close inspection it was clear this Dragon's visage didn't match any names notable enough what entered his mind, the first assumption was that she was a NightWing even despite her illuminant aspects, although the theoretical sense of her maintaining an authoritative stance and attitude was certainly interesting.

He continued his disinterested attitude of her words when she spoke of the territory, any NightWing knew fine well this land was inhabited. The thought did occur to him that perhaps this was a lackey of one of his rival peers, the other Governors could be making a statement of power over him by hunting on his lands to see if they could exploit a source of weakness, the thought gave him the desire to give a sadistic grin, although with the situation his stern apathetic face was unfaltering.

Arching his neck as if the Dragoness's presence was insignificant altogether he looked down at the remnants of blood and gore upon where the prey had its last moments. As his glare moved back up to view her crimson stained maw, his mind was flared with the fact he hadn't had the thrill of a hunt for far too longer than he would of liked, upon the Island he knew all the major grazing zones of the herd and with his speed and patrol routes, unless they were in a particular difficult position up against the rocky plateau he would glide down and simply snatch up a unsuspecting prey in his talons before it could bleat its last insufferable cry, of course on a good day in addition if off shore winds were calm he would simply eat on the fly, it was easy and simple but so mundane as it had now become effortless on routine.

The word Rogue brought him back to reality, he couldn't deny it would make far more sense although he wasn't going to be caught out to be a fool, the threat of it being one of his associated Lord's hoodlums still persisted. "Names are everything of import, its what define us. There are only two things in this world whose names I could care less of, that of prey and that of those Human scavengers who so delight in persisting to thwart Dragon affairs", he took a small inhale before releasing a sigh under his breath. "Formalities then… If you're indeed a Rogue and -clearly- unaware that you're within NightWing territory, I am Lord Tenebris, one of four Governors of the greater NightWing realm and advisor to our Sovereign Queen, now I'll ask again, it would delight me if I could have at least a word to address you by -Rogue-".
_______________________
Tenebris's
Bio
A look at one of Tenebris's
Publications
as a Scholar
"
Destiny isn't a matter of chance, its a matter of choice. Only we can claim our Destiny when the path opens
" ~ Tenebris lamenting.
"
Oftentimes in reality, the realists are in the position of the antihero. Neither those on the side of good, nor the side of bad really trust them, as their truth is universal.
" ~ Tenebris, Archon of the Ebonwing Potentate.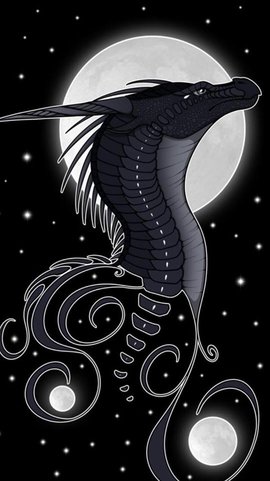 Rogue felt her skin burn and crawl as the male continued to inspect her very closely. She felt as if she were an animal he wasn't sure he would consider as a meal or not, as if he was still trying to decide whether or not he was hungry. He continued speaking after a moment, replying to her words which he seemed to find unsatisfactory as an answer to his questions. She noticed the sharp points of his fangs, the white gleam, how high they rose in his jaws. Still, despite his long teeth, he spoke clearly and precisely. He, as a dragon, didn't abnormally long or sharp teeth, but she didn't ever recall taking the time looking at fangs of other dragons and simply observing them. Often times, the only experience she had with fangs was avoiding them, and quickly. Silently, she wondered what her own teeth looked like. If they were as white as his, as long as his, and if it would cause her to wonder how she could speak so well with such pronounced fangs.

He spoked of 'NightWing' territory. He must belong to a tribe then, no doubt. Rogue was intrigued, she hadn't actually come across many tribes. The ones she did had very strong scent markers outlining their territories. She couldn't pick up much of a trace of anything but fog and sea here. She'd done well to avoid other tribes, for fear they might have gotten word of her from her own. But this male didn't seem to know who she was simply by seeing her and this land was far from her homeland. The chances that she would have been heard of here were slim.

The ebony dragon identified himself as Tenebris, and he was a Govenor of the NightWings. She had to assume that it meant he was some sort of official that spoke for the queen. Within moments he confirmed her guess without her asking. She almost smiled; so many things can be learned simply by listening and observing. Just as her mother had taught her. The urge to smile fell away.

He, again, asked for a name or at least something to identify her with. "You've already got one." She felt her throat tighten and her voice was stern and almost frosty. She didn't relax her muscles, even though she was sure that this male wasn't going to attack her. If he were, he would have done so already. She couldn't deny that she was still nervous; she had no idea, really, where this terse conversation was heading and what was to come from it. At the best of things, she could hope to have at least made an acquaintance. At the worst of things, she'd have acquired a few new scars instead. To keep herself from messing with the possibility of positive outcomes, she decided she'd let this Tenebris do the talking. She was more of an action dragon, anyway.
_______________________
Abilites:
-Can see in the dark
-Glows whitish-blue along her extremities (ears, wings, tail, feet)
Color:
Iridescent Blue (Black that shines blue)
Tribe:
None, She wanders
*Bio*
((Sorry for the late reply, haven't had the most time this week, haha))
Tenebris raised his right clawed paw as he turned it back and forth, disregarding his inspection of the Dragoness as if he had found what he was scrutinising her for and had come up with his assumption. He has spotted a hint of pain in her eyes, as of yet he didn't understand what that pain was or the thought which crossed her mind to bolster it, however he knew it was there. His claws at first glance would assume to be burnt, although the dark taint wasn't well defined enough for simple burn marks at closer inspection. The Dark marks came from ink and were a sacrifice for the trade of a scholar so that their words would last millennium, his gaze continually inspecting them as he mused to himself, thinking about the possibilities of this encounter and what will truly come of it.

At her words, they went through him sharp and hard, although his facial emotionless expression didn't falter until a few brief moments following, to which a large toothed grin spread across his face like that of a Cheshire cat, showing his fangs ever clearer as his tongue flashed over them, his eyes met the Rogues once more. The thought crossed him that being a Rogue, she might be an exile of the NightWing Tribe given her Scale hues, although at the same essence it fetches forth the original idea that she has no idea of this area, perhaps her parents were exiles and she was grown in the free territories the melancholy is horrid. There was finally the other possibility that she was a foreigner and his knowledge was limited to such topics.

With his curiosity peaked he coiled his tail around himself so that it ran over his left talons, his right still being in the air as he began he moved it with passion as he began to speak as if adding emphasis to his words in expressing his point, his charismatic calm collected voice never faltering "Now then, Rogue, it's a pleasure… But the question arises to me, what should I do with you, a paranoid Dragon would perhaps kill you now". At his words his mind flooded with possibilities, he wasn't skilled in aerial combat or had overpowering strength but he debated due to his smaller size if he could lunge forward and latch onto her neck to then hold until she collapsed lifeless.

He waved with his claw as to dismiss his own thoughts, before placing his right paw once more to the ground, being careful not to stand on his own coiled tail, despite his gaze never turning from Rogue. "Then again, it would be a foolish Dragon to just let you fly off unhindered, so then after so delightfully slaughtering my property out here I think you owe me, and at the very least I hope you'll accept an invitation of mine. I have a keep upon this island, my lair if you will, please it would be a pleasure for me to host you, there we can continue this confrontational conversation". His charming voice was pleasant and it was accompanied by his continued wolfish grin.
_______________________
Tenebris's
Bio
A look at one of Tenebris's
Publications
as a Scholar
"
Destiny isn't a matter of chance, its a matter of choice. Only we can claim our Destiny when the path opens
" ~ Tenebris lamenting.
"
Oftentimes in reality, the realists are in the position of the antihero. Neither those on the side of good, nor the side of bad really trust them, as their truth is universal.
" ~ Tenebris, Archon of the Ebonwing Potentate.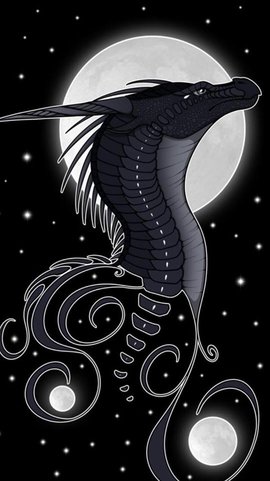 (Topics until Opal becomes Night 5/7, 2 more to go.)

Walking through the ominous darkness walked a pure black dragoness, with forboding purple eyes, an a ghostly purple aura. The dragoness walked in a posture only the top-class and most dignified royals could achieve. She walked through the darkness like a queen. But this was merely instinct. Despite this dignified look, Opal, the black dragoness, was a coward, she simply walked like this because that was how she walked when she was alone. Almost as if something was controlling her body.... Opal would much rather crouch down in a submissive stance if anything, and that's exactly what she did when she heard voices. She crouched down and tucked her tail under her legs, whimpering like a new born puppy who had just lost their mother.

Voices became more distinguished as the black dragoness listened, but she didn't want to get closer. She had wandered too far off, hadn't she? Oh, Gemini would be worried! Whimpering, Opal turned around. She wasn't the best at stealth in this state, and so many leave crunched under her weight. The dragons surely must have heard her by now! Growling in a frightened manner, Opal began to run off... but.... she slipped on a steep incline, and instead went tumbling down in a frenzy of limps, until she cam to a halted stop at Tenebris' feet.

"H-hi..." She said timidly, looking up at him with timid and apologetic eyes, curling her body up to make her look smaller. Opal also noticed a strange dragon..... a rogue? Why hadn't he chased her out yet? She was trespassing. Opal let out a frightened growl, glancing at the two dragons.
NightWing Advisor





Posts

: 236


Reputation

: 3


Location

: Somewhere within the NightWings



((my laptop was getting repairs, sorry :/))

He didn't frown at her reply, but he meant to. She could smell the frustration, as strange as it sounded. Instead, after a few tense moments, the scaled dragon grinned. Every one of his sharp fangs gleamed brightly in the dim gloom. The strange reaction to her reply left her skin  prickling. She felt a growl rise up in her throat and she only just managed to stuff it back down before it surfaced.

Tenebris suggested her death would be an appropriate punishment for any paranoid dragon protecting it's territory. At that she felt her frown sink lower, the muscles in her cheeks stiffening with the effort. "You don't seem the type," Rogue replied calmly. Or at least, as calmly as she felt, which was not at all. Her veins were burning with immense bouts of adrenaline coursing through her veins. She could feel her wing and ear tips radiating warmth, which meant her glow wasn't at full force, but even a blind dragon could see it.

The male went on to suggest going back to his lair to carry on their conversation. She saw it as a double-edged sword. It was an opportunity to perhaps carry on an actual conversation, something she hadn't experienced in a few years easily. But there was also a possibility this dragon was not alone, that perhaps he was plotting a way for him to easily kill her. She eyed the dragon carefully, observing his powerful wings, his sharp claws, again remembering the gleam of his white fangs. How would she fair in a fight with this male? She recalled the way he landed, the clumsy thump his legs had made when his feet made contact. She found herself pushing a snarl away. Maybe she would-

Rogue froze, her ears perking upright. A scrabble of claws upon stone, a small whimper reaching her ears. Her body stiffened, fully standing. She felt like a fox hearing a nearby hound on the hunt, and soon she would have to find a burrow to hide in. Instantly, she felt like a fool. Tenebris must have set up some sort of ambush, if that was who he said he was to begin with.

She stepped back with a nervous step, claws curling uselessly against stone. Rogue watched as a black dragon, female she judged by the slenderness of it's limbs, scrambled to a stop at Tenebris's feet. She muttered something to the larger male, then seemed to spot Rogue. At her sight, the small dragoness growled at her, nothing too threatening, but certainly noticeable.

Rogue couldn't stop instinct and years of neglect, in response she snarled hard, feeling her wings whip out and her body shift into a full defensive position. Her spine stiffened and the spikes running along it stood fully erect. Of course, after she realized what she'd done, after noticing the way the dragon held herself low to the ground, huddled defensively, Rogue pulled herself back. She shook her body, banishing the tense fear and urge to defend, and forced herself to sit. She sat loosely, albeit, but at least she sat. She dipped her head slightly to the smaller dragon, the closest to an apology she could manage in such a stressful situation.
_______________________
Abilites:
-Can see in the dark
-Glows whitish-blue along her extremities (ears, wings, tail, feet)
Color:
Iridescent Blue (Black that shines blue)
Tribe:
None, She wanders
*Bio*

---
Permissions in this forum:
You
cannot
reply to topics in this forum