Quick Links
Site Rules
Contact Staff
Celestia: astral@rpgdragons.org Baldirak: baldirak@rpgdragons.org
Latest topics
»
History Repeating (Baldi)
by
Baldirak Che'le
Yesterday at 7:54 pm
»
Finally Meeting (Paradox)
by
Soshi
Wed Jan 22, 2020 10:22 am
»
Passing the Torch... One Day.. For Now, We Train (Cygnus)
by
Cygnus
Sat Jan 18, 2020 8:11 am
»
Colonies of Avan ( W.I.P ) ( Phase 1 )
by
Tharasis
Sat Jan 18, 2020 7:51 am
»
Cygnus
by
Baldirak Che'le
Fri Jan 17, 2020 9:18 am
»
Elara
by
Wake
Thu Jan 16, 2020 5:28 pm
»
What is an "Ebonwing"?
by
Baldirak Che'le
Thu Jan 16, 2020 5:19 pm
»
Father and Child Bonding Time (Cygnus/Sul and El)
by
Svadilfare
Wed Jan 15, 2020 12:14 pm
»
On The Moon (Baldi)
by
Baldirak Che'le
Wed Jan 15, 2020 10:55 am
»
Festival of ascendants (Open to All)
by
Noctis Umbra
Wed Jan 15, 2020 9:39 am
»
OATHIA AFFILIATE REQUEST
by
Grimone
Fri Jan 10, 2020 3:37 am
»
The Mentor Program
by
Baldirak Che'le
Sun Dec 29, 2019 11:21 pm
»
Dragon Naming Game
by
Crag
Sun Dec 22, 2019 8:10 pm
»
Greatest Naruto RP (Celestia lolol ahem ahem)
by
Robo
Sun Dec 08, 2019 12:08 pm
»
Soshi: Goddess of the Elements
by
Astral
Thu Dec 05, 2019 12:26 pm
»
Ragnarock (Finished)
by
Baldirak Che'le
Fri Nov 22, 2019 5:25 pm
»
Draciel (Ready For Review!)
by
Baldirak Che'le
Fri Nov 22, 2019 5:20 pm
»
You know, a mate could do her well
by
Draciel
Fri Nov 22, 2019 11:11 am
»
Left to the Forest (Starlight order)
by
Attor
Mon Nov 18, 2019 6:41 am
»
Zio, a Lightwing trainee
by
Zio
Sun Nov 17, 2019 9:39 am
»
Introducing: RISK, DRF Edition!
by
Baldirak Che'le
Tue Nov 05, 2019 3:58 pm
»
Tundra the Icewing/nightwing assassin
by
Baldirak Che'le
Tue Nov 05, 2019 3:57 pm
»
Live Finds a Way (Order of Starlights)
by
Destella
Sun Oct 27, 2019 4:31 pm
»
EarthWing Ranks
by
Baldirak Che'le
Sat Oct 26, 2019 6:27 pm
»
Our Ruin (Hanuel)
by
Attor
Sat Oct 26, 2019 12:32 pm
Top posting users this month
Who is online?
In total there are
8
users online :: 0 Registered, 0 Hidden and 8 Guests
None
Most users ever online was
315
on Mon Nov 04, 2019 1:22 pm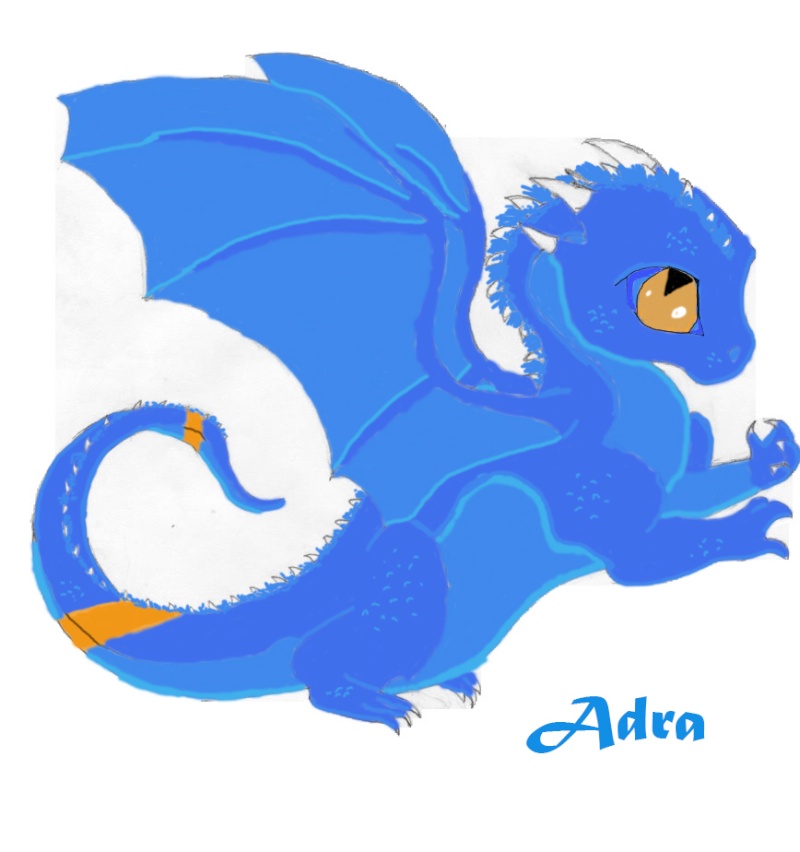 Personal InfoName:
Adra
Alias:
N/A
Age:
Newborn
Gender:
Female
Personality:
Adra, all in all, is a curious mind. A question often pops out of her mouth before she thinks about what the answer might be. Due to this, barely a few seconds later she'll make some sort of exclamation if she figures it out.
Interests:
Climbing pretty much anything, chasing after fish in the ocean, and she LOVES shiny things. Anything shiny, or interesting at all. She will eventually have a large collection of shells.
Dislikes:
She doesn't like being dirty, especially on her feet. She hates being trapped under things, and will let out a high-pitched squeal when that happens. She doesn't like prey with shells or scales, as it makes them harder to eat, in her mind.
Fears:
She is terrified of humans, and will often hide at the sight of one. When she gets older, this fear will tend to come out as aggression instead of simply hiding.
General AppearanceHeight:
Barely 5 feet right now. Will be 20 ft as an adult.
Scales:
Aqua and sky blue, with one orange stripe. The scales are rounder in shape rather than diamond-shaped.
Eyes:
A light orange-yellow
Appearance:
Her claws, spikes, and horns are all pure white, in contrast to her body color. Her back and tail spikes are surrounded by a soft, almost fur-like substance. A two yellow-orange stripes similar in color two her eyes are on her tail. As an adult, she will have a light amount of armor, so she can move better. Will find a small, blue gem that she will have put on a chain. Adra wears this around most always.
Tribe Information and StatusTribe:
SeaWings
Rank:
Hatchling
Family:
Mother: Oceana
Father: Arkhor
Sister: Fraya
Brother: Delphin
Mate:
N/A
Hatchlings:
N/A
Skills and AbilitiesStrengths:
She is good at swimming, as all SeaWings are, and is pretty acrobatic in the air. She is also good at climbing things.
Special Abilities:
Can pull water to her. Like how a magnet attracts metal, Adra is the magnet and water is the metal. Unlike a magnet, though, she can turn this on and off.
Weaknesses:
She's a bit clumsy on the ground, and avoids fighting on the ground at all occasions.
Combat Style:
((All after she learns to fight)) She prefers to fight near water, though she will fly if need be. She hates fighting on the ground at all. Her style will tend to be more trickster-like, and she will lean more towards the speed side than relying on strength.
BackgroundHistory:
((Too young..))
RP Sample:
((See Wisp's sign-up))

Adra

SeaWing Hatchling





Posts

: 110


Reputation

: 5



New hatcling

Approved ^^
_______________________
Watch out about my other account: Xangor

Atlantis

SeaWing Scholar





Posts

: 742


Reputation

: 8


Location

: From the Atlantic Ocean




---
Permissions in this forum:
You
cannot
reply to topics in this forum